Please use this identifier to cite or link to this item: https://hdl.handle.net/11000/6815
Componentes de calidad sensorial, caracterización físico-química y funcional de la granada Mollar de Elche (Punica granatum L.)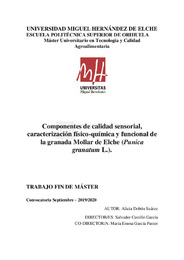 View/Open:
TFM Dobón Suaréz, Alicia.pdf
4,03 MB
Adobe PDF
Share:
Title:
Componentes de calidad sensorial, caracterización físico-química y funcional de la granada Mollar de Elche (Punica granatum L.)
Authors:
Dobón Suárez, Alicia
Tutor:
Castillo García, Salvador
García Pastor, María Emma
Issue Date:
2019
URI:
http://hdl.handle.net/11000/6815
Abstract:
El cultivo del granado en el sur de la provincia de Alicante es tradicional y se caracteriza por presentar una diversidad genética muy amplia. El manejo puede considerarse, al igual que en otras explotaciones, como convencional o ecológico. En concreto, la variedad de granada Mollar es un producto amparado por la Denominación de Origen Protegida (DOP) 'Granada Mollar de Elche'/'Granada de Elche' y, a pesar de existir, un pliego de condiciones específicas para dicha DOP, quedan sin especificar en dicha normativa muchas de las propiedades tanto físico-químicas como funcionales que caracterizan a esta variedad y que determinan su elevada calidad. Por ello, se ha realizado un estudio experimental sobre la granada Mollar de Elche dentro del proyecto 'Estudio de la influencia de los agroecosistemas y el manejo convencional y ecológico en las características cualitativas de la producción de la granada Mollar de Elche' (2019/VALORIZA/VSC/016) con el objetivo de valorizar dicho producto y caracterizar los distintos parámetros que influyen en la calidad del mismo. Para ello, se han caracterizado muestras homogéneas provenientes de 10 parcelas localizadas en la zona geográfica de la DOP y se han estudiado los componentes que determinan la calidad organoléptica o sensorial y que promueven al consumidor en el momento de decisión de compra del fruto en el mercado, como son: la firmeza, el color externo e interno, los sólidos solubles totales (SST), la acidez titulable (AT) y el contenido en ácidos y azúcares individuales, responsables del dulzor característico de dicha variedad. Además, se ha determinado la tasa de respiración, así como el contenido de compuestos bioactivos y la capacidad antioxidante del fruto, realizándose una caracterización físico-química y funcional en distintos momentos de la recolección durante el ciclo de cultivo. Los resultados mostraron que esta variedad de granada se caracteriza por presentar una tasa de respiración baja en comparación con otras variedades, unos valores de firmeza entre 22 y 28 N mm-1, un contenido en SST mínimo de 14 g sacarosa 100 g-1 así como una AT de entre 0,25 y 0,40 g ácido málico 100 g-1. La proporción de glucosa y fructosa fue similar para dicha variedad, mientras que el ácido orgánico mayoritario era el ácido málico. Finalmente, el color interno de los arilos fue el único parámetro que presentó diferencias significativas entre las distintas recolecciones, no observándose dicho efecto para el color externo. Respecto a los compuestos bioactivos, la granada Mollar presenta un alto contenido en polifenoles y antocianos que le otorgan una elevada actividad antioxidante hidrofílica. En conclusión, este trabajo aporta una caracterización de parámetros que no se contemplaban en el pliego de condiciones para dicha DOP y que permitirían su actualización. Se recomiendan líneas de ensayo futuras para comparar los resultados obtenidos entre distintos años incluyendo como factor de estudio el efecto de las condiciones ambientales.
Pomegranate tree crop in the south of Alicante province is traditional and its characterized by presenting a very wide genetic diversity. Management can be considered, as in other farms, as conventional or organic. Specifically, Mollar pomegranate cultivar is a product safeguarded by 'Granada Mollar de Elche' / 'Granada de Elche' Protected Designation of Origin (PDO) and, despite the existence of a list of specific conditions for this PDO, they remain without specifying in this regulation many of the physico-chemical and functional properties that characterize this cultivar and that determine its high quality. Therefore, an experimental study has been performed in Mollar de Elche pomegranate within the project 'Study of the influence of agroecosystems and conventional and ecological management on the qualitative characteristics of the production of the Mollar de Elche pomegranate' (2019/VALORIZA/VSC/016) with the aim of valuing this product and characterizing the different parameters that influence its quality. For this, homogeneous samples from 10 plots located in the geographical area of PDO have been characterized and the components that determine the organoleptic or sensory quality and that promote the consumer at decision time to buy the fruit in the market have been studied, such as: firmness, external and internal colour, total soluble solids (TSS), total acidity (TA) and individual organic acid and sugar content, responsible for the characteristic sweetness of this cultivar. In addition, respiration rate has been determined, as well as the content of bioactive compounds and fruit antioxidant capacity, carrying out a physico-chemical and functional characterization at different harvesting dates during the growing cycle. The results showed that this pomegranate cultivar is characterized by showing a low respiration rate compared to other cultivars, firmness values between 22 and 28 N mm-1, a minimum TSS content of 14 g of sucrose 100 g-1, as well as a TA range between 0.25 and 0.40 g of malic acid 100 g-1. Glucose and fructose proportion was similar for this cultivar, while the main organic acid was malic acid. Finally, the internal colour of the arils was the only parameter that presented significant differences between the different harvesting dates, not observing this effect for the external colour. With regard to bioactive compounds, Mollar pomegranate has a high content of polyphenols and total anthocyanins that provide it with a high hydrophilic total antioxidant activity. In conclusion, this work provides a characterization of parameters that were not contemplated in the specifications for this PDO and that would allow its updating. Future test lines are recommended to compare the results obtained between different years, including the effect of environmental conditions as a study factor.
Keywords/Subjects:
Granada Mollar
Knowledge area:
CDU: Ciencias aplicadas: Agricultura. Silvicultura. Zootecnia. Caza. Pesca
Type of document:
application/pdf
Access rights:
info:eu-repo/semantics/openAccess
Appears in Collections:
TFM- M.U en Tecnología y Calidad Agroalimentaria

???jsp.display-item.text9???