Please use this identifier to cite or link to this item: https://hdl.handle.net/11000/6404
"Papeles de Panamá", un espejo del futuro del periodismo de investigación: colaborativo, especializado y global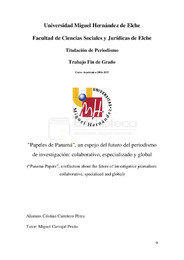 View/Open:
PER_TFG_CARRETERO_PEREZ_CRISTIAN.pdf
2,68 MB
Adobe PDF
Share:
Title:
"Papeles de Panamá", un espejo del futuro del periodismo de investigación: colaborativo, especializado y global
Authors:
Carretero Pérez, Cristian
Tutor:
Carvajal Prieto, Miguel
Department:
Departamentos de la UMH::Ciencias Sociales y Humanas
Issue Date:
2017-06
URI:
http://hdl.handle.net/11000/6404
Abstract:
El presente Trabajo Fin de Grado se centra en el análisis de la investigación periodística "Papeles de Panamá", un proyecto de alcance global en el que la colaboración ha sido un factor decisivo. Casi 4001 profesionales de la información trabajaron para relacionar y dar luz al contenido de la mayor filtración periodística conocida hasta ahora2: 11,5 millones de documentos. Esta labor de colaboración entre miembros del Consorcio Internacional de Periodistas de Investigación (ICIJ por sus siglas en inglés) y periodistas asociados de diferentes medios de hasta 80 países diferentes (incluidos dos españoles, El Confidencial y La Sexta) ha ganado el premio Pulitzer3 2017 en la categoría de Periodismo Explicativo. Además, en España, la Asociación de la Prensa de Madrid4 ha premiado por primera vez a un colectivo en la categoría de "Mejor periodista del año". Como destaca en su web El Confidencial, si el análisis de esta filtración lo hubiera realizado un solo periodista habría dedicado un tiempo aproximado de 26 años en leer todos los documentos. Sin embargo, gracias a este periodismo colaborativo, se han alcanzado objetivos periodísticos de relevancia internacional en un solo año. Este trabajo refleja la evolución del periodismo de investigación en el contexto digital, donde se pasa de pequeños dosieres a grandes filtraciones de bases de datos, dato que fomenta la necesidad de colaborar periodísticamente. Los miembros del ICIJ, junto con el diario alemán Süddeutsche Zeitung, fueron los primeros en apostar por este tipo de periodismo colaborativo en las investigaciones de "Swiss Leaks", "Lux Leaks", "China Leaks". Posteriormente, en el apartado de estado de la cuestión se revisará el marco teórico fundamental para el propósito de esta investigación. En concreto, se analizará la evolución del perfil del periodista de investigación hacia el periodista de datos causado por el crecimiento de las filtraciones. Además, se explicarán las principales características de las primeras investigaciones colaborativas5, precedentes del periodismo colaborativo. Además se hará un acercamiento al periodismo de datos y su metodología de trabajo y a los fundamentos del periodismo colaborativo en el contexto de transformación de las redacciones periodísticas. Con el fin de aportarle un punto de vista práctico a este trabajo fin de grado, también se analizarán las fases de una investigación periodística con datos, así como las plataformas comunicativas que facilitan la colaboración periodística: plataformas con protocolos de seguridad muy altos que garantizan la confidencialidad en comunicaciones a larga distancia. A continuación, a la luz del marco teórico, se explicará la metodología cualitativa empleada en este trabajo, que consiste en la realización de entrevistas telefónicas a tres de los periodistas implicados en el capítulo español de la investigación. Finalmente, se expondrán los resultados de manera sintética a partir de las entrevistas mediante un cuestionario que busca analizar este tipo de trabajo en el periodismo de investigación. Las conclusiones del presente estudio indican que este periodismo no cambia de forma radical el periodismo tradicional, pero sí alumbra un modelo cada vez más necesario en un contexto digital y global en paralelo a la economía y la política internacional. Cada vez más, surgirán investigaciones que, por el volumen y la temática, exigirán la colaboración de muchos profesionales y la creación de equipos multidisciplinares: para hacer frente a delitos globales hay que hacer periodismo global.
This Bachelor Thesis focuses on the analysis of the journalistic investigation "Panama Papers", a project of global scope in which collaboration has been a decisive factor. Almost 400 information professionals worked to relate and give light to the content of the largest journalistic leak known so far: 11.5 million documents. This collaboration between members of the International Consortium of Investigative Journalists (ICIJ) and associated journalists from different media in up to 80 different countries (including two Spanish, "El Confidencial" and "La Sexta") has won the Pulitzer Prize in 2017 in the category of Explanatory Journalism. In addition, in Spain, the Madrid Press Association has for the first time awarded a collective in the category of "Best Journalist of the Year". As highlighted in its website El Confidencial, if the analysis of this leak had been made by a single journalist, he would have spent approximately 26 years reading all the documents. However, thanks to this collaborative journalism, journalistic objectives of international relevance have been achieved in a single year. This work reflects the evolution of investigative journalism in a digital context, from small dossiers to large leaks of databases, a fact that encourages the need to do collaborative journalism. ICIJ members, together with the German newspaper Süddeutsche Zeitung, were the pioneers on this type of collaborative journalism in Swiss Leaks, Lux Leaks and China Leaks. In the following sections, the state of the art will review the fundamental theoretical framework for the purpose of this research. Specifically, the evolution of the modus operandi from the investigative journalist to the data journalist caused by the growth of the leaks will be analyzed. In addition, the main characteristics of the first collaborative researches, primary attempts of collaborative journalism, will be explained. Then, data journalism, its methodology of work and the foundations of collaborative journalism in the context of the transformation of journalistic newsrooms will be discussed. In order to provide a practical point of view to this Bachelor Thesis, the phases of a journalistic investigation with data, as well as the communicative platforms that facilitate journalistic collaboration will also be analyzed: platforms with very high security protocols that guarantee the confidentiality in long distance communications. Next, in light of the theoretical framework, the qualitative methodology used in this work will be explained, which consists in telephone interviews with three of the journalists involved in the Spanish chapter of the research. Finally, the results will be presented in a synthetic way from the interviews through a questionnaire that seeks to analyze this type of work in investigative journalism. The conclusions of the present study indicate that this journalism does not radically change traditional journalism, but it does illuminate an increasingly necessary model in a digital and global context parallel to the economy and international politics. It can be concluded that in the coming years, the collaboration of many professionals will be more and more required in investigations that, due to the volume and the theme, will call for the creation of multidisciplinary teams: to deal with global crimes, we must do global journalism.
Keywords/Subjects:
periodismo colaborativo
collaborative journalism
periodismo de investigación
periodismo de datos
papeles de Panamá
sociedad Offshore
investigation journalism
journalism of data
papers from Panama
Offshore Company
Knowledge area:
CDU: Generalidades.: Periódicos. Prensa. Periodismo. Ciencias de la información
Type of document:
application/pdf
Access rights:
info:eu-repo/semantics/openAccess
Appears in Collections:
TFG- Periodismo

???jsp.display-item.text9???