Please use this identifier to cite or link to this item: https://hdl.handle.net/11000/6801
La empresa social como modelo de negocio innovador y nueva forma de emprendimiento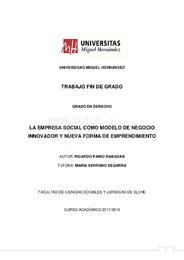 View/Open:
TFG DERECHO RICARDO PAINO RABADAN.pdf
1,83 MB
Adobe PDF
Share:
Title:
La empresa social como modelo de negocio innovador y nueva forma de emprendimiento
Authors:
Paino Rabadán, Ricardo
Tutor:
Serrano Segarra, María
Univerity:
Universidad Miguel Hernández de Elche
Department:
Departamentos de la UMH::Ciencia Jurídica
Issue Date:
2018-07
URI:
http://hdl.handle.net/11000/6801
Abstract:
En el presente Trabajo de Fin de Grado se lleva a cabo un estudio sobre la empresa de inserción como tipología de empresa social. Este documento pretende estudiar un tipo de empresa que constituye una nueva forma de emprendimiento en nuestra sociedad siendo capaz de convertirse en un negocio innovador en muchos casos. Tras una introducción sobre la economía social y la exposición de la normativa general reguladora de las empresas sociales, se procederá al análisis concreto de la normativa reguladora de la empresa de inserción. La misma será objeto de estudio en el desarrollo de la empleabilidad e implantación de sus planes sociales considerando su papel de ayuda o auxilio a los agentes sociales o administraciones públicas. Tras el tratamiento de estos extremos, el trabajo pretende, mediante el análisis del caso, detenerse en el estudio particular de una empresa de inserción que se revelará al mismo tiempo como ejemplo paradigmático y claro exponente de emprendimiento social. Para poder calificarse así, se relacionarán y justificarán todos aquellos extremos que permiten considerarla así. "A Puntadas Empresa Social, s.l.", ha sido la empresa de inserción escogida para desarrollar este estudio. Dicha empresa está domiciliada en Elche Parque Empresarial bajo la dirección de su fundadora, que ha colaborado en el desarrollo de este TFG brindándome la posibilidad de acceder a sus instalaciones y pudiendo conocer así, gracias a las diferentes visitas realizadas y entrevistas mantenidas, el funcionamiento real de una empresa de inserción a la que he podido calificar finalmente como un claro referente entre las empresas sociales de inserción a partir de las características que destacaré más adelante. El presente trabajo se involucra en la Clínica Jurídica de la UMH pues "A Puntadas, Empresa Social, s.l.", está vinculada a la asociación sin ánimo de lucro PRM -programa de reinserción de mujeres-. Dicha asociación manifestó la necesidad de asesoramiento mercantil sobre la regulación legal de las empresas de inserción el pasado 30 de enero de 2018, cuando daba comienzo este ilusionante proyecto. "A Puntadas Empresa Social, s.l." como ejemplo de empresa de inserción, nace de dicha asociación, que gestiona en la actualidad talleres de formación en confección textil dirigidos a mujeres en riesgo de exclusión. Estas mujeres, son pues, las futuras empleadas de la empresa de inserción. Dando respuesta al conjunto de las cuestiones legales que planteó la asociación sobre determinados aspectos de la regulación jurídica de la empresa de inserción, he puesto en práctica el aprendizaje-servicio pretendido por la Clínica Jurídica enriqueciendo mi formación académica y ofreciendo al colectivo desfavorecido integrante de dicha asociación, una solución legal a las preguntas formuladas sobre la empresa de inserción de la que forman parte. Al mismo tiempo, la realización de esta investigación, me ha hecho adquirir conciencia de la gran labor social que desempeña dicha empresa, superando ésta los objetivos de beneficio económico que son perseguidos por las empresas "típicas" objeto de estudio a lo largo de las diferentes asignaturas de Derecho Mercantil, tales como Introducción al Derecho Mercantil (2º curso) o Sociedades Mercantiles (3º curso). En otro orden de cosas, este trabajo forma parte también de un proyecto (JIC 2018/15) de innovación educativa universitaria PIEU-UMH en su actual edición para la promoción estratégica de la innovación y la mejora educativa dentro de nuestra Universidad. Todos los proyectos propuestos consideran entre sus objetivos la integración del aprendizaje-servicio en el plan formativo de asignaturas de grado y máster promoviendo así el aprendizaje y realizando a la par un servicio a la comunidad
In this end-of-degree assignment, a new study about the inclusive business as a socially conscious company is carried out. This essay aims to ntroduce a new type of company that represents a way of entrepeneurship in our ociety, resulting in an innovative business in many cases. Following an introduction about the concept of social economy and the relevant regulations concerning these social companies, a detailed analysis of the subsequent regulations will be provided. This type of business will be the object of study in the development of the employability and the establishment of its social plans considering its helping role or assistance to the social agents or public administrations. After the treatment of these extremes, this paper aims, once the case is analysed, to dwell into the study of an inclusive company in particular, which will reveal itself as a paradigmatic and clear example of social entrepreneurship. In order to be qualified as such, all the extremes that allow this company to be considered as a role model will be related and justified. "A Puntadas Empresa Social, s.l.", has been the social company that was chosen to develop this study. This business is addressed in 'Parque Empresarial' in Elche, under the direction of her foundress, who has assisted me in the achieving of this end-of-degree paper, giving me the opportunity to access its facilities and being able to get to know, thanks to the different visits that were carried out and the interviews maintained, the real functioning of a social company that is a clear role model for other social businesses, regarding all the features that will be highlighted in the following lines. This paper is involved with the Legal Clinic of the University Miguel Hernández and the so-called company "A Puntadas, Empresa Social, s.l.", linked to the non-profit PRM (Women's Reintegration Programme). This organisation demonstrated the need for commercial advice regarding the legal regulation of companies of insertion on January the 30th, 2018, which resulted in the starting point of this acclaimed project. "A Puntadas Empresa Social, s.l." as an example of inclusive company is created from this association, which manages training workshops in textile dressmaking addressed to women under risk of exclusion. These women are hence future employees of this inclusive company. As a consequence of all the legal questions that the association contemplated about the legal regulations of an inclusive company, I have implemented the learning service of the Legal Clinic, which has nurtured my academic education when assisting the disadvantaged group that has been trained for this organisation, a legal solution to the questions that have been made regarding this venture. All in all, this paper is part of a Project (JIC 2018/15) of innovative university education PIEU-UMH on its recent edition for the strategic promotion for the innovation and educative improvement at our University. All of our proposed projects consider among its objectives the inclusion of the learning service in the educational programme of the degree and master's modules, promoting the learning as well as providing with a service for the community
Keywords/Subjects:
inserción
inclusion
emprendimiento
empresa social
economía social
negocio
innovación
entrepreneurship
social company
social economy
business
innovation
Knowledge area:
CDU: Ciencias sociales:Derecho:
Type of document:
application/pdf
Access rights:
info:eu-repo/semantics/openAccess
Appears in Collections:
TFG- Derecho

???jsp.display-item.text9???