Please use this identifier to cite or link to this item: http://dspace.umh.es/handle/11000/6427
La innovación en los laboratorios de medios: los casos de El Confidencial Lab y DN Lab-Diario de Navarra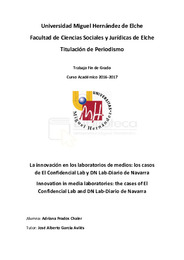 View/Open:
PRADOS CHALER ADRIANA.pdf
2,35 MB
Adobe PDF
Title:
La innovación en los laboratorios de medios: los casos de El Confidencial Lab y DN Lab-Diario de Navarra
Authors:
Prados Chaler, Adriana
Tutor:
García Avilés, José Alberto
Department:
Departamentos de la UMH::Ciencias Sociales y Humanas
Issue Date:
2020-09-24
Abstract:
En este Trabajo de Fin de Grado titulado "La innovación en los laboratorios de medios: los casos de El Confidencial Lab y DN Lab-Diario de Navarra", se han analizado las áreas de producto y contenidos, los perfiles profesionales de los periodistas, las apuestas tecnológicas y herramientas, la relación con la audiencia y el modelo de negocio de los laboratorios de El Confidencial y del Diario de Navarra para determinar el nivel de innovación periodística en cada uno de dichos medios. Además, se ha llevado a cabo la revisión bibliográfica de literatura académica sobre la innovación en periodismo y el caso de los laboratorios de innovación periodística. Para la investigación se han realizado cuatro entrevistas a profesionales de la comunicación de ambos medios entre los meses de febrero y abril de 2017. También se ha visitado la redacción y el laboratorio de El Confidencial, con objeto de observar las rutinas de trabajo de los profesionales a lo largo de la jornada y se ha analizado un caso de formato innovador elaborado por cada uno de los laboratorios, con objeto de identificar sus rasgos esenciales. El objetivo de este Trabajo de Fin de Grado es determinar en qué medida las unidades de innovación e investigación de El Confidencial y del Diario de Navarra introducen aspectos innovadores en cada una de las áreas mencionadas. El método que sigue esta investigación es un estudio de caso, técnica que permite la interpretación detallada de toda la información posible sobre una entidad. El Confidencial Lab y el DN Lab-Diario de Navarra nacieron en 2013 para analizar los cambios en el ecosistema mediático y ser líderes en innovación periodística. Para ello cuentan con equipos multidisciplinares que se encargan de estudiar y generar nuevos formatos con la utilización de la informática y las nuevas tecnologías en base a las demandas de la audiencia en el día a día. En el transcurso de estos años ambos laboratorios han introducido variedad de aspectos innovadores en la organización de la redacción y la distribución de labores, en los formatos y el contenido de sus trabajos. Ambas unidades han resultado innovadoras también en el uso de las redes sociales y en la relación con las audiencias.
In this research project entitled: "Innovation in the laboratories of media: the cases of El Confidencial Lab and DN Lab-Diario de Navarra", we have analyzed the areas of product and content, professional profiles of journalists, betting technology and tools, relationship with the audience and business model of the laboratories of El Confidencial and el Diario de Navarra to determine the level of journalistic innovation in each of these areas. In addition, it has conducted a literature review of academic literature on innovation in journalism and the case of the laboratories of innovation in journalism. For research we have been carried out four interviews with professionals in the communication of both media between the months of February and April 2017. Also there has been visited the draft and the laboratory of El Confidencial to observe the routines of work of the professionals along the day and there has been analyzed a case of innovative format elaborated by every laboratory, in order to identify his essential features. The aim of this Final Work of the Journalism Degree is to determine in what measure the units of innovation and investigation of El Confidencial one and of El Diario de Navarra introduce innovative aspects in each of the mentioned areas. The method that follows this investigation is a study of case, technology that allows the detailed interpretation of all the possible information about an entity. El Confidencial Lab and the DN Lab-Diario de Navarra were born in 2013 to analyze the changes in the media ecosystem and to be leaders in journalistic innovation. For it, they rely on multidisciplinary teams that they take charge studying and generating new formats with the utilization of the computer science and the new technologies on the basis of the demands of the hearing in day after day. In the course of these years, both laboratories have introduced variety of innovative aspects in the organization of the draft and the distribution of labors, in the formats and the content of his works. Both units of investigation have turned out to be innovative also in the use of the social networks and as for the relation with the hearing.
Keywords/Subjects:
El Confidencial, Diario de Navarra, periodismo, innovación, laboratorios de medios
El Confidencial, Diario de Navarra, journalism, innovation, media laboratories
Type of document:
application/pdf
Access rights:
info:eu-repo/semantics/openAccess
Appears in Collections:
TFG- Periodismo

???jsp.display-item.text9???