Please use this identifier to cite or link to this item: https://hdl.handle.net/11000/4334
La Implementación de Políticas Públicas en materia de terrorismo en España. La política del perdón y su régimen jurídico. Especial atención al caso de ETA.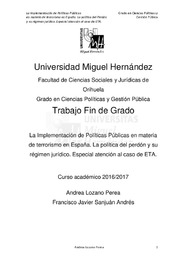 View/Open:
TFG Lozano Perea, Andrea.pdf
1,45 MB
Adobe PDF
Share:
Title:
La Implementación de Políticas Públicas en materia de terrorismo en España. La política del perdón y su régimen jurídico. Especial atención al caso de ETA.
Authors:
Lozano Perea, Andrea
Tutor:
Sanjuán Andrés, Francisco Javier
Issue Date:
2017-09-18
URI:
http://hdl.handle.net/11000/4334
Abstract:
El presente Trabajo Fin de Grado tiene como objetivo entender de una forma más amplia lo que significa el terrorismo desde la perspectiva de la Ciencia Política. Como hemos podido comprobar el terrorismo puede ir desde un acto de terror por el cual el planificador y/o ejecutor de la acción se convierte en terrorista, hasta donde éste mismo se vuelve un combatiente por la libertad. Sin embargo, a pesar de los numerosos actos de terrorismo posibles y de su larga existencia, todavía no se puede dar una definición exacta del mismo. Una de las consecuencias jurídicas del fenómeno del terrorismo es la creación de la "doctrina Parot", con el objetivo de que se cumpliera íntegramente la condena de treinta años de prisión en un centro penitenciario. Hay que puntualizar que treinta años es el límite máximo de tiempo durante el cual un sujeto puede permanecer en prisión. Además del cumplimiento íntegro de la pena de prisión por parte de los terroristas, las organizaciones de víctimas del terrorismo han reivindicado ante la sociedad española cuatro conceptos que consideran que se deben de respetar hacia estas víctimas. Estos conceptos son la memoria, la verdad y con ella la dignidad, y, por encima de todo, se exige justicia. A pesar de la gran actividad de la banda terrorista ETA en nuestro estado, no fue hasta el año 2000 cuando el terrorismo fue considerado un problema de Estado, además de considerarlo incompatible con la acción de la política democrática. El Estado, a través de diversas negociaciones con ETA, pretendía conseguir un alto el fuego de la banda. Éste se consiguió en el año 2011, en el que ETA realizó un comunicado donde afirmaba su cese definitivo, sin acuerdo con las instituciones del Estado. Tras conseguir el alto al fuego, las instituciones públicas solicitan a los terroristas que pidan perdón a las víctimas por los daños causados. Sin embargo, este acto puede considerarse que se realiza con el fin político de conseguir la solución al terrorismo. Todo ello puede considerarse contrario a los valores de igualdad y justicia que son promovidos por la Constitución. Por ello, se exige que para poder otorgar el indulto a un preso se debe de realizar con proporcionalidad y, además, debiendo existir arrepentimiento por parte del penado. En cuanto a las víctimas del terrorismo, existe un reconocimiento por parte de la sociedad. Lo podemos ver reflejado en el movimiento "Basta Ya!", la creación de la Asociación de Mujeres de Policías, la Asociación de Víctimas del Terrorismo, la Asociación por la Paz y Reconciliación, entre otras. Además de estas asociaciones, por parte de los gobiernos se les ha prestado un mayor apoyo económico y su situación ha sido incluida en la agenda política.
The aim of this Final Degree Project is to understand in a broader way what terrorism means from the perspective of Political Science. As we have been able to verify the terrorism may be a nact of terror in which the planner and / or the executor of the action becomes a terrorist, or where he becomes a fighter in name of the freedom. However, in spite of the numerous acts of terrorism and their long existence, an exact definition of this term can not be given yet.One of the legal consequence of the phenomenon of terrorism is the creation of the "Parot doctrine", which requires to fully complete the sentence of thirty years in prison in a penitentiary. It should be noted that thirty years is the máximum limit of time during which the subject can remain in prison. In addition, to be sure that terrorist will fully serve their prison penalty, some organizations of victims from terrorism have claimed against Spanish society four concepts that they believe should be respected towards these victims. These concepts are memory, truth and with it dignity, and, above all, they request justice.In spite of the great activity of the ETA terrorist group in our country, it was not until the year 2000 that terrorism was considered a State problem, besides being considered incompatible with the action of a democratic politics. Our government, through many agreements with ETA, wanted to get a ceasefire from the band. This was achieved in 2011, in which ETA made a release affirming its definitive cessation. Afterobtaining a cease-fire, the public institutions demand the terrorists to ask for the victims' forgiveness for the damages they had caused them. However, this act can be considered to be carried out for the political purpose of finding a solution to terrorism. All this can be considered contrary to the values of equality and justice that are promoted by the Constitution. Therefore, it is required that in order to grant pardon to a prisoner we must take in consideration the proportionality and, in addition, the prisoner must show some repentance Regarding the victims of terrorism, there is some recognition by society. We can see it reflected in the "Basta Ya!" Movement, the creation of the Women Police Association, the Association of Victims of Terrorism, the Association for Peace and Reconciliation, among others. In addition to these partnerships, governments have been given greater financial support and their status have been placed on the political agenda.
Keywords/Subjects:
Terrorismo
ETA
Víctimas
Knowledge area:
CDU: Ciencias sociales: Política
Type of document:
application/pdf
Access rights:
info:eu-repo/semantics/openAccess
Appears in Collections:
TFG- Ciencias Políticas y Gestión Pública

???jsp.display-item.text9???