Please use this identifier to cite or link to this item: https://hdl.handle.net/11000/2876
Análisis de la estrategia de marketing y la innovación de productos de Chocolates Valor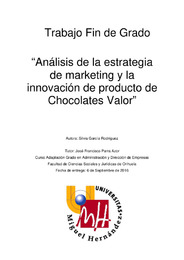 View/Open:
TFG García Rodriguez, Silvia.pdf
2,42 MB
Adobe PDF
Share:
Title:
Análisis de la estrategia de marketing y la innovación de productos de Chocolates Valor
Authors:
García Rodríguez, Silvia
Tutor:
Parra Azor, José Francisco
Issue Date:
2016-09-20
URI:
http://hdl.handle.net/11000/2876
Abstract:
El proyecto titulado "Análisis de la Estrategia de Marketing y la Innovación de Productos de Chocolates Valor", trata de analizar los productos de la empresa Chocolates Valor haciendo hincapié en dos de sus últimos lanzamientos. El objetivo del proyecto es estudiar los productos de una empresa del sector alimentario como es Chocolates Valor. Para ello se ha estudiado el posicionamiento de sus productos en el mercado, así como sus estrategias de innovación y su plan de marketing centrándose en dos de sus productos. Chocolates Valor es una empresa familiar situada en Villajoyosa desde hace más de 130 años. La actividad principal de la empresa es la fabricación y venta de chocolate, bombones y derivados del cacao en el mercado nacional e internacional a través de distribuidores, red de cafeterías y franquicias. Es una de las mayores productoras de chocolate en España y exporta sus productos a más de 60 países. El público objetivo de la empresa es un público adulto, ya que sus principales consumidores son hombres y mujeres mayores de 30 años. En 2013 Chocolates Valor adquirió las marcas "Huesitos" y "Tokke" para acercarse a un público más joven. La empresa refleja su innovación a través de sus productos, en este proyecto se ha estudiado el plan de marketing en "Chocolatium" y "Crocan", dos de sus últimos lanzamientos, que han tenido bastante aceptación entre el público más joven. Demográficamente se han producido algunos cambios en los últimos años los cuales pueden afectar a la empresa, ya que la población ha disminuido a causa de la crisis y ha obligado a muchos jóvenes a buscar oportunidades laborales en otras ciudades. Otra causa de la crisis que afecta a la empresa es que el poder adquisitivo de los consumidores es más bajo pero aun así las ventas de Valor han evolucionado positivamente. Realizando un resumen de la situación de la empresa destacamos los siguientes puntos favorables: - Valor ha aumentado sus ventas en los últimos años. - Exporta sus productos a más de 60 países. 2 - Tiene una nueva gama de productos (Crocan, Chocolatium, Sin Lactosa, Edulcorados…). - Ofrecen productos de mejor calidad con ligero aumento de precio. - Satisface las necesidades de los clientes. - Premio CICOP. - Certificado ISO 9001 para favorecer al medioambiente. El objetivo de la empresa es la calidad y diferenciación de sus productos respecto a los demás competidores. Como la empresa se dirige a un público adulto, uno de los objetivos estudiados en el proyecto es como se ha dirigido a un público más joven con sus últimos lanzamientos y seguir teniendo un buen posicionamiento en el mercado. Se ha visto que Chocolates Valor aplica en su empresa una estrategia de crecimiento de desarrollo de producto, manteniéndose en el mercado actual pero desarrollando e innovando en sus productos y sobretodo manteniendo la calidad. También utiliza estrategias de promoción y comunicación como son las redes sociales y la televisión. Para finalizar el proyecto, se ha realizado un análisis de los últimos productos más novedosos "Crocan" y "Chocolatium". Son productos innovadores, originales y con variedades de sabor. Estos dos productos han tenido bastante aceptación entre el público ya que lo que la empresa pretendía era acercarse a un público más joven y lo ha conseguido. También se ha estrenado formato de estos dos productos, tabletas de100 gramos y de 200. El precio de las tabletas son similares en los puntos de ventas donde se ha comprobado, existen algunas diferencias de precios respecto a cada establecimiento pero no significativo. Por último, comentar que utiliza publicidad para dar a conocer sus productos y se ha visto que tiene diferentes spots para cada una de las variedades de "Crocan" y "Chocolatium"
The project to be title "Análisis de la Estrategia de Marketing y la Innovación de Productos de Chocolates Valor", tries to analyze the products of the company Chocolates Valor talking about the last two new products. The aim of the project is to study the products of a food company as Chocolates Valor. For that, it has studied the positioning of their products in the market, as well as their innovation strategies and marketing plan focusing on new products. Chocolates Valor is a familiar company in Villajoyosa for over 130 years. The main activity of the company is manufacture and sale chocolate in national and international market through of distributors and cafes and franchises. It is one of the most producers of chocolate in Spain and exports their products to over 60 countries. The target of the company is adult people; their consumers are men and women about 30 years old. In 2013, the company buys the brands "Huesitos" and "Tokke" to try to get closer to young people. The company has the innovation through their products and this project has focused the marketing plan about "Chocolatium" and "Crocan", that have been quite popular among young people. Demographically there have been some changes in recent years affecting the company; the population has decreased because of crisis in Spain because many young people go out to other countries to find better labour conditions. Other cause of the crisis that affect to the company is the purchasing power of the costumers is lower; even so Chocolates Valor has grown up economically. The main favorable points of the company are: - Valor has grown up in the last years. - Exports their products around 60 countries. - It has new products. - Offers products with better quality and a little increase of price. - Fulfills the customers needs. - CICOP award. - ISO 9001 Certificate. The goal of the company is the quality and manufacture different products. As the company is directed to an adult people, one of the objectives studied in the 4 project it is as aimed at a younger people with their latest new products and still having a good market position. Chocolates Valor applies a strategy of product development, innovating in new products and keeping the quality. It also uses communication strategies such as social networks and television. Finally, it has analyzed the last two products of the company, "Crocan" and "Chocolatium". These are news, originals, with different flavours and have been too much acceptation in the customers. These products have different formats: squares of 100 gr and squares of 200 gr. The prices of the squares are similar in all the establishments. At last, Valor uses advertisement to publish their products and two products studied have differents spots
Keywords/Subjects:
Chocolates Valor S.A.
Innovación
Calidad
Knowledge area:
CDU: Ciencias aplicadas: Gestión y organización. Administración y dirección de empresas. Publicidad. Relaciones públicas. Medios de comunicación de masas
Type of document:
application/pdf
Access rights:
info:eu-repo/semantics/openAccess
Appears in Collections:
TFG - Administración y dirección de empresa. Orihuela

???jsp.display-item.text9???