Please use this identifier to cite or link to this item: https://hdl.handle.net/11000/28723
Inimputabilidad y protección penal de las personas con discapacidad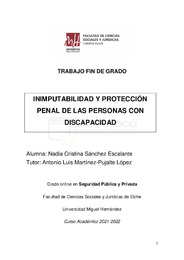 View/Open:
SPP_TFG_SANCHEZ_ESCALANTE_NADIACRISTINA.pdf
1,01 MB
Adobe PDF
Share:
Title:
Inimputabilidad y protección penal de las personas con discapacidad
Authors:
Sánchez Escalante, Nadia Cristina
Tutor:
Martínez-Pujalte, Antonio

Univerity:
Universidad Miguel Hernández de Elche
Department:
Departamentos de la UMH::Ciencia Jurídica
Issue Date:
2022-06-06
URI:
https://hdl.handle.net/11000/28723
Abstract:
En la actualidad, a pesar de que las personas con discapacidad están cada vez más integradas en la sociedad, todavía siguen existiendo situaciones de discriminación hacia este colectivo.Esta situación se agrava más aún si nos centramos en las personas con discapacidad que se encuentran en la cárcel. A nivel jurídico, las personas con discapacidad pueden ser objeto de cierta protección en el ámbito penal, llegando incluso a poder ser declaradas como inimputables ante la comisión de un delito. El concepto de inimputabilidad ha generado una gran controversia a nivel nacional e internacional a lo largo de la historia, y su definición ha sufrido varios cambios con el paso de los años. Tal y como se indica en el Código Penal español, una persona con discapacidad puede ser declarada inimputable cuando esta no es capaz de entender la ilicitud del acto delictivo que ha cometido, y cuando la voluntad de la persona también se ve alteradacomo consecuencia de su discapacidad. En contraposición ala visión proteccionista y paternalista hacia las personas con discapacidad que presenta el Código Penal español, que está vigente desde el año 1996, en el año 2006 se aprobó la Convención Internacional sobre los Derechos de las Personas con Discapacidad,con el sello de la Organización de las Naciones Unidas (ONU), la cual cuenta con una visión mucho más liberacionista e igualitaria. Esta convención supuso un importante cambio de paradigma en el ámbito internacional e introdujo un nuevo modelo en el que la discapacidad constituía más un problema social colectivo en lugar de una desgracia individual. De este modo, se pasó desde el enfoque basado en un modelo médico, asistencial, rehabilitador y caritativo que se defendía en el Código Penal español, hacia un modelo social y de derechos humanos basado en la defensa de la igualdad entre las personas con discapacidad y la población general.En esta Convención también se defendía la capacidad jurídica plena del colectivo y la capacidad que estos tienen para poder ejercer sus derechos de manera efectiva, sin ninguna diferencia con respecto a la población general. Es importante remarcar que, desde ambos puntos de vista,se da la posibilidad de emplear medidas de seguridad sobre aquellos sujetos que hayan sido declarados inimputables, como tratamientos médicos o de rehabilitación, con el objetivo de que estos no vuelvan a cometer delitos en el futuro. Como consecuencia de estos dos puntos de vista contrapuestos, tras la ratificación de la Convención de la ONU por parte de España, se produjo una profunda reforma de la legislación civil y procesal en el país que modificó de manera íntegra la legislación aplicable a las personas con discapacidad y que permitió ajustarla a la Convención Internacional elaboradaquince años atrás. Tras esta reforma, España se integró en el nuevo paradigma, favoreciendo así la promoción de la igualdad en el ámbito jurídico de las personas con discapacidad, así como la defensa de sus derechos, su voluntad y sus preferencias. Tras esta reforma, también se incluyeron algunos conceptos e ideas importantes en este campo, como puede ser la supresión de la incapacitación judicial por parte de las personas con discapacidad o la aparición de la figura de la curatela, una figura encargada de apoyar a una persona con discapacidad en cualquier ámbito que lo requiera, pero siempre desde un punto de vista asistencial y no representativo. Tras llevar a cabo una presentación detallada del contexto legislativo actual en este tema y las implicaciones que existen, en este trabajo se ha elaborado una opinión propia sobre la inimputabilidad de las personas con discapacidad. Bajo mi punto de vista, una persona con discapacidad no debe ser declarada inimputable por el mero hecho de tener una discapacidad.En su lugar, esta decisión debería estar basada en la capacidad que tiene el sujeto para comprender la realidad en el momento en el que ha cometido el acto delictivo, así como la ilicitud del hecho que ha cometido. A la hora de llevar a cabo esta evaluación, se han de tener en cuenta algunos factores, como puede ser el grado de discapacidad que puede tener una persona, o el apoyo socio-familiar del sujeto. Sin embargo, el hecho de tener o no tener una discapacidad no debe ser el factor determinante a la hora de establecer la imputabilidad de una persona en ningún caso, sino que se ha de llevar a cabo una evaluación más precisa y en mayor profundidad. De este modo, se podrá llegar a una situación en la que el colectivo de personas con discapacidad tenga los mismos derechos, deberes y libertades que el resto de la población general, ylograr así una sociedad mucho más igualitaria en cualquier ámbito.
Currently, despitethefactthatpeoplewithdisabilities are increasinglyintegratedintosociety, there are stillsituations of discriminationagainstthisgroup. Thissituationisfurtheraggravatedifwefocusonpeoplewithdisabilitieswho are in prison. At a legal level, peoplewithdisabilities can be theobject of certainprotection in the criminal sphere, and can evenbedeclarednotliableforcommitting a crime. The concept of non-imputability has generatedgreatcontroversy at thenational and internationallevelthroughouthistory, and itsdefinition has undergoneseveralchangesovertheyears. As indicated in theSpanish Penal Code, a personwith a disability can be declarednon-imputablewhenheisunable to understandtheillegality of the criminal acthehascommitted, and whenthewill of thepersonisalsoaltered as a result of hisdisability. Contrary to theprotectionist and paternalisticvisiontowardspeoplewithdisabilitiespresentedbytheSpanish Penal Code, which has been in forcesince 1996, in 2006 the International ConventionontheRights of PersonswithDisabilitieswasapproved, withtheseal of theUnitedNationsOrganization (UN), which has a much more liberationist and egalitarianvision. Thisconventionrepresentedanimportantparadigmshift in theinternationalsphere and introduced a new model in whichdisabilitywas more of a collective social problemratherthanan individual misfortune. In thisway, therewas a shiftfromtheapproachbasedon a medical, assistance, rehabilitation and charitablemodelthatwas defended in theSpanish Penal Code, towards a social and human rightsmodelbasedonthedefense of equalitybetweenpeoplewithdisabilities and the general population. ThisConventionalso defended the full legal capacity of thecollective and thecapacitythattheyhave to be able to exercisetheirrightseffectively, withoutanydifferencewithrespect to the general population. Itisimportant to note that, frombothpoints of view, thereisthepossibility of employingsecuritymeasuresonthosesubjectswhohavebeendeclarednon-imputable, such as medical orrehabilitationtreatment, withtheaimthatthey do notcommitcrimesagain in thefuture. As a consequence of thesetwoopposingpoints of view, aftertheratification of the UN ConventionbySpain, therewas a profoundreform of the civil and procedural legislation in the country thatcompletelymodifiedthelegislationapplicable to peoplewithdisability and thatallowedadjustingit to the International Conventionelaboratedfifteenyearsbeforethat. Afterthisreform, Spainwasintegratedintothe new paradigm, thusfavoringthepromotion of equality in the legal field of peoplewithdisabilities, as well as thedefense of theirrights, theirwill and theirpreferences. Afterthisreform, someimportantconcepts and ideas werealsoincluded in thisfield, such as thesuppression of judicial incapacitationbypeoplewithdisabilitiesortheappearance of the figure of curatorship, a figure in charge of supporting a personwithdisabilities in anyfieldthatrequiresit, butalwaysfrom a care and non-representativepoint of view. Aftercarryingout a detailedpresentation of thecurrentlegislativecontextonthissubject and theimplicationsthatexist, in thisworkanownopinion has beenelaboratedontheinimputability concept of peoplewithdisabilities. Frommypoint of view, a personwith a disabilityshouldnot be declarednon-inimputable forthemerefact of having a disability. Instead, thisdecisionshould be basedonthesubject'sability to understandreality at the time he has committedthe criminal act, as well as theillegality of theact he has committed. Whencarryingoutthisevaluation, somefactorsmust be takenintoaccount, such as thedegree of disabilitythat a personmayhave, orthe socio-familysupport of thesubject. However, thefact of havingornothaving a disabilityshouldnot be thedetermining factor whenestablishingtheimputability of a person in any case, butrather a more precise and in-depthevaluationmust be carriedout. In thisway, itwill be possible to reach a situation in whichthegroup of peoplewithdisabilities has thesamerights, duties and freedoms as therest of the general population, and thusachieve a much more egalitariansociety in anyfield.
Keywords/Subjects:
Discapacidad
Inimputabilidad
protección penal
código penal
Knowledge area:
CDU: Ciencias sociales: Derecho: Derecho penal. Delitos
Type of document:
application/pdf
Access rights:
info:eu-repo/semantics/openAccess
Attribution-NonCommercial-NoDerivatives 4.0 Internacional
Appears in Collections:
TFG - Grado de Seguridad Pública y Privada

???jsp.display-item.text9???