Please use this identifier to cite or link to this item: https://hdl.handle.net/11000/28722
Importancia de las habilidades sociales en mujeres psicópatas internas de un centro penitenciario y su relación con el riesgo de reincidencia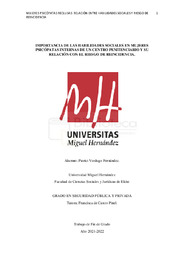 View/Open:
SEPP_TFG_VERDUGO_FERNANDEZ_PATRICI.pdf
1,93 MB
Adobe PDF
Share:
Title:
Importancia de las habilidades sociales en mujeres psicópatas internas de un centro penitenciario y su relación con el riesgo de reincidencia
Authors:
Verdugo Fernández, Patrici
Tutor:
de Castro Pinel, Francisca
Univerity:
Universidad Miguel Hernández de Elche
Department:
Departamentos de la UMH::Ciencia Jurídica
Issue Date:
2022-06-12
URI:
https://hdl.handle.net/11000/28722
Abstract:
En los últimos años la violencia y la psicopatía han ocupado un papel destacado en las investigaciones científicas. Cabe destacar que la figura de las mujeres violentas y en especial las mujeres psicópatas ha tenido una relevancia moderadamente inferior con respecto a la figura masculina. No obstante existe una perfilación respecto de las mujeres violentas en general y psicópatas en particular partiendo de las características de su personalidad atendiendo a tres ámbitos: cognitivo, emocional y conductual. Con respecto a éstas 3 áreas afectadas cabe destacar que varias de esas alteraciones se pueden englobar en una carencia considerable de habilidades sociales. La presente investigación trata de confirmar si implantando un programa de mejora de habilidades sociales en mujeres psicópatas internas de un centro penitenciario , el riesgo de reincidencia disminuirá respectos a otra internas a las que no se les implante dicho programa. El programa de mejora de habilidades sociales estará compuesto por 12 actividades en las que participarán las reclusas del grupo experimental y se realizarán 3 actividades un único día de la semana, repitiendo el programa una vez más cuando haya finalizado por lo que la duración total del mismo será de dos meses. La muestra estará compuesta por 58 mujeres internas psicópatas del módulo de enfermería de un centro penitenciario de la Comunidad Valenciana con edades comprendidas entre los 30 y los 45 años. De ellas, 30 internas formarán el grupo experimental y 28 formarán el grupo de control. A todas las participantes (grupo control y grupo experimental) se les aplicarían dos cuestionarios en dos momentos diferentes, antes y después de la intervención, la Psychopathy Checklist-Revised (PCL-R) y la Escala de Valoración de la Conducta Violenta y Riesgo de reincidencia EVCV-RR. Con ello se pretende asegurar en primer lugar, que desde el inicio todas ellas puntúan en psicopatía (mediante la comprobación con cuestionario PCL-R) y conocer la puntuación obtenida en rasgos psicopáticos para que en post-test se comparen las medidas obtenidas y para poder conocer en el punto de inicio su riesgo de reincidencia antes de comenzar el estudio para compararlo con el obtenido al final. Para confirmar que la implantación del programa disminuye el riesgo de reincidencia se utilizará como instrumento de medida el cuestionario EVCV-RR. Se espera que en los cuestionarios que realicen las 58 participantes al inicio del estudio, ambos grupos obtengan una puntuación similar en rasgos psicopáticos medidos con la PCL-R y en riesgo de reincidencia medido con EVCV-RR y que al finalizar el programa y como consecuencia de la implementación de éste, el grupo experimental presente una menor puntuación en el cuestionario PCL-R y un menor riesgo de reincidencia con una puntuación menor en EVCV-RR respecto a los resultados de la primera aplicación (pre-test).
Over the past few years, violence and psychopathy have played a prominent role in scientific research. It should be noted that violent women and specially psychopathic women have had a moderately lower relevance regarding to men. However, there is a common profile in violent woman in general and psychopaths in particular, associated with characteristics of their personality, related to three areas: cognitive, emotional and behavioral. Regarding to these 3 affected areas, noteworthy, that several of these alterations can be included in a considerable lack of social skills. This research tries to confirm if, implementing a program to improve social skills in psychopathic women inmates, the risk of a recidivism will decrease compared to inmates in whom this program is not applied. The social skills improvement program will be integrated by 12 activities, in wich, the inmates od the experimental group will be the particpants. Also 3 activities will be carried out on a single day of the week, repeating the program so on till the programa will be finished. The total duration will be two months.The sample will be composed by 58 female psychopathic inmates from the nursing module of the penitentiary center of "Comunidad Valenciana", aged between 30 and 45 years old. Of which, 30 will form the experimental group, and 28 will form the control group. To all the participants (control group and experimental group), will be given 2 questionaires at 2 different times: before and after the intervenition. Psychopathy Checklist- Revised (PCL-R) and EVCV-RR questionnaire. This is intented to demonstrate psychopathic behaviors from de beginning in all of them (PCL-R questionnaire), and also to know the score obtained in psychopathic traits, to be able to be compared in the post test. On the other hand, to be able to compare the risk of recurrence at the beginning and at the end of the study. Similar results are expected at the beginning of the study in psychopathic traits (PCL-R) and I the risk of recurrence (EVCV-RR) in both groups, (made up of a total of 58 participants). However, we expect to find a lower score in the PCL-R questionnaire and a lower risk of incidence in the EVCV-RR questionnaire at the end of the program. To verify that the implantation of the program reduces the risk of incidence, the questionnaire EVCV-RR will be used as a control measure.
Keywords/Subjects:
Psicopatía Femenina
Habilidades sociales
Reincidencia
Knowledge area:
CDU: Ciencias sociales: Derecho: Derecho penal. Delitos
Type of document:
application/pdf
Access rights:
info:eu-repo/semantics/openAccess
Attribution-NonCommercial-NoDerivatives 4.0 Internacional
Appears in Collections:
TFG - Grado de Seguridad Pública y Privada

???jsp.display-item.text9???