Please use this identifier to cite or link to this item: https://hdl.handle.net/11000/28538
Evolución de la prescripción antibiótica en un servicio de urgencias pediátricas hospitalarias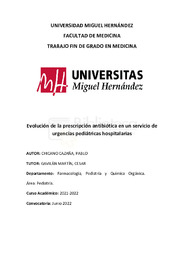 View/Open:
CHICANO CAZAÑA, PABLO, TFG.pdf
947,76 kB
Adobe PDF
Share:
Title:
Evolución de la prescripción antibiótica en un servicio de urgencias pediátricas hospitalarias
Authors:
Chicano Cazaña, Pablo
Tutor:
Gavilán, César

Univerity:
Universidad Miguel Hernández de Elche
Department:
Departamentos de la UMH::Farmacología, Pediatría y Química Orgánica
Issue Date:
2022-05-07
URI:
https://hdl.handle.net/11000/28538
Abstract:
Introducción: El incremento de las resistencias a los antibióticos constituye una de las principales amenazas para la salud pública a nivel global, siendo la prescripción antibiótica inadecuada el principal determinante de este incremento. Esta problemática ha obligado a tomar medidas como la creación del Plan Nacional frente a las Resistencias a los Antibióticos en España. Desde el servicio de pediatría del Hospital Universitario de San Juan de Alicante (HUSJA), se planteó una intervención de mejora basada en la realización de una charla formativa presencial sobre antibioterapia empírica, la difusión de los documentos de consenso de la Asociación Española de Pediatría y la guía ABE y la revisión a posteriori de las prescripciones realizadas en urgencias pediátricas. Objetivo: El objetivo del estudio fue evaluar si esta intervención mejoraba el porcentaje de adecuación en la prescripción de antibioterapia oral al alta en urgencias pediátricas del HUSJA, respecto a un estudio realizado pre-intervención. Material y métodos: Estudio prospectivo observacional realizado tras la intervención formativa. Del total de urgencias atendidas entre el 22/11/2021 y el 22/12/2021 en urgencias pediátricas del HUSJA, se incluyeron en el análisis aquellas en las que se prescribió antibioterapia oral al alta, evaluando el grado de adecuación de la prescripción según documentos de consenso nacionales. Estos resultados se compararon con un estudio previo a la intervención, en enero de 2021. Resultados: En el periodo de estudio se atendieron 987 urgencias, 690 de etiología infecciosa, prescribiéndose antibióticos orales en 71 niños (7.19% del total). Dicha prescripción se consideró inadecuada en el 53.52% de los casos (n=38), lo que supuso 4 una ligera reducción respecto al estudio previo a la intervención, donde la inadecuación fue del 57.70%. Esta diferencia no fue estadísticamente significativa. Discusión: Los resultados muestran que la intervención planteada no fue suficiente para mejorar la adecuación de la prescripción antibiótica, existiendo diversos aspectos que limitaron su impacto. Sin embargo, existe margen de mejora y, con la experiencia de este estudio, se deben plantear nuevas intervenciones que optimicen la prescripción antibiótica en los servicios de urgencias de pediatría.
Introduction: The increase in antibiotics resistance is one of the main threats to global public health, being the inadequate antibiotic prescription the main determinant of this increase. This problem has forced to make measures, such us the creation of the National Plan against Antibotic Resistance in Spain. From the pediatric service of the Universitary Hospital of San Juan de Alicante (HUSJA), an improvement intervention was proposed based on a presencial formative talk on empirical antibiotic therapy, Spanish Pediatric Association consensus documents's and ABE guide difusión and posteriori review of prescriptions done in pediatric emergencies. Objective: The objective was to evaluate if the intervention improves the adequation percentage of oral antibiotics prescriptions in pediatrics emergencies of HUSJA, respect to a pre-intervention studie's. Methods: Observational prospective study realized after formative intervention. Of total emergencies attended between 11/22/2021 and 12/22/2021 in pediatric emergencies at HUSJA, those which oral antibiotic therapy was prescribed at hospital discharge were included in the análisis, evaluating adequacy degree according to national consensus guideline. These results were compared with a pre-intervention study realized in January 2021. Results: During study period, 987 emergencies were attended, 690 of infectious etiology, being prescribing oral antibiotics in 71 children (7.19% of total). This prescription was inadequate in 53.52% of cases (n=38), which represented a slight reduction compared to pre-intervention studie's, in which inadequation was 57.70%. This difference was not statistically significant. Discussion: The results show that the proposed intervention was not enough to improve the antibiotic prescription adequacy, with several aspects that limited its impact. However, there is improvement's margin and, bases on this study experiences, new interventions should be proposed to optimize antibiotic prescriptions in pediatrics emergency services.
Keywords/Subjects:
Antibióticos
Resistencia a los antibióticos
Prescripción antibiótica
Pediatría
Urgencias pediátricas
Asociación Española de Pediatría
Guía ABE
Hospital universitario de San Juan de Alicante
Knowledge area:
CDU: Ciencias aplicadas: Medicina
Type of document:
application/pdf
Access rights:
info:eu-repo/semantics/openAccess
Appears in Collections:
TFG- Medicina

???jsp.display-item.text9???