Please use this identifier to cite or link to this item: https://hdl.handle.net/11000/28534
Influencia de la pandemia COVID sobre la cirugía de la eventración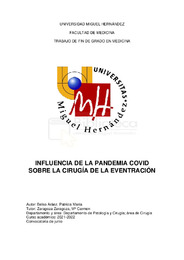 View/Open:
BESLO ARÁEZ,PATRICIA MARÍA, TFG.pdf
1,28 MB
Adobe PDF
Share:
Title:
Influencia de la pandemia COVID sobre la cirugía de la eventración
Authors:
Belso Aráez, Patricia María
Tutor:
Zaragoza Zaragoza, María Carmen
Univerity:
Universidad Miguel Hernández de Elche
Department:
Departamentos de la UMH::Patología y Cirugía
Issue Date:
2022-05-03
URI:
https://hdl.handle.net/11000/28534
Abstract:
Introducción y objetivos: Durante la pandemia causada por SARS -CoVCoV-2 en nuestro centro y a nivel nacional, se ha producido un descenso acusado de toda la actividad quirúrgica programada, no prioritaria. Nuestro objetivo es analizar cómo ha afectado la pandemia a la cirugía de la eventración en el Hospital General Universitario de Alicante Dr. Balmis ( Y a su vez, analizar las características de los pacientes y de las intervenciones que se han realizado en este período. Material y métodos: Se realizó un análisis retrospectivo de cohortes sobre una base de datos confeccionada de forma prospectiva, EVEREG, y se registraron y asignaron en dos grupos a todos aquellos pacientes operados por eventración en el HGUAB, durante los períodos comprendicomprendidos entre marzo de 2019 y marzo de 2020 (pre pre-COVID) y entre marzo de 2020 y marzo de 2021 ( Se tuvieron en cuenta las características preoperatorias del pacientepaciente, de la eventración, de la intervención y postquirúrgicas. Tras el análisis descriptivodescriptivo, para las comparaciones se utilizó la prueba T de Student, y Xi-cuadrado. Resultados: Fueron incluidos un total de 289 pacientes, 103 ( operados durante el período COVID. La edad media de la población fue de 62,10±13,68, y en cuanto al sexo, el 48,4% eran hombres y el 51,6% mujeres. La frecuencia de cirugías urgentes aumenta considerablemente en el grupo COVID ( vs 8,1% p<0,00 1). El porcentaje de pacientes operados de urgencia, con un ASA III y IV es mucho más elevado que en los operados de forma electiva ( vs 19,1% p=0,001). Además se observa una estancia hospitalaria más prolongada en estos pacientes (6,19 ± 6,81 vs 3,55 ± 3,96 p<0,001 0,001) y aparecen más complicaciones postoperatorias en los intervenidos de urgencia ( vs 9,3% p= 0,001). Conclusiones: Durante marzo de 20 20 y marzo de 2021, el número de pacientes operados de eventracióneventración, de forma programadaprogramada, descendió notablemente con respecto al año previo, elevándose las cirugías de urgencia como consecuencia. La cirugía de urgencia urgencia implicaimplica másmás complicacionescomplicaciones y un aumentoaumento de la estanciaestancia hospitalariahospitalaria, por lo que la patologíapatología programadaprogramada, no prioritariaprioritaria, no deberídebería demorarsedemorarse de formaforma indefinida.
Introduction and aims: During the pandemic because of SARS_CoV CoV-2 in our institution and national level, it has been produced a dramatic decline from all the programmed non -priority surgical activity. Our target is to analyse how the pandemic has affected the abdominal wall surgery in the Hospital General Universitario from Alicante Dr. Balmis ( And, at the same time, study the characteristics of the patients and the interventions that have been done during this period. Material and methods: A retrosp ective cohort analysis was done using a data base made up in a prospective way, EVE REG, and all the patients operated on incisional hernia in the HGUAB were registered and assigned in two groups. One for the patients operated in between March 2019 and MarcMarch 2020 (before COVID) and the other for interventions in between March 2020 and March 2021 (COVID period). Preoperative, specific incisional hernia properties and the intervention and postpost-surgery characteristics were considered. Once the descriptive study was completed, the comparations were done using the Student's T-Test and the 𝜒2 method. Results: A total of 289 patients were included on the study, 103 ( operated during the COVID period. The population average age was 62,10 ± 13,68 years, and abo ut sex, 48,4% were men and 51,6% women. The frequency of urgent surgeries increases considerably on the COVID group ( vs 8,1% p<0,001). The percentage of patients urgency -intervened, with ASA III and IV is much greater than the percentage of the ones electiveelective-intervened ( vs 19,1% p=0,001). Also, it has been noticed a longer stay period in these patients (6,19 ± 6,81 vs 3,55 ± 3,96 p<0,001) and there are shown more post operatory complications on the urgency interventions ( vs 9,3% p=0,001) Conclusions: During March 2020 and March 2021, the number of incisional hernia programmed operations decreased significantly with respect to the previous year, increasing the urgency surgeries. These interventions imply more complications and the increase of the hospital stay periodperiod. So, scheduledscheduled, non – priority pathology should no t be delayed indefinitely.
Keywords/Subjects:
Hernia incisional
COVID-19
Cirugía de eventración
Urgencia
Knowledge area:
CDU: Ciencias aplicadas: Medicina
Type of document:
application/pdf
Access rights:
info:eu-repo/semantics/openAccess
Appears in Collections:
TFG- Medicina

???jsp.display-item.text9???