Please use this identifier to cite or link to this item: https://hdl.handle.net/11000/28465
Manejo terapéutico del adenocarcinoma PT1 tras polipectomía endoscópica en el Hospital General Universitario de Alicante. Therapeutic management of PT1 adenocarcinoma after endoscopic polypectomy in the general hospital of Alicante.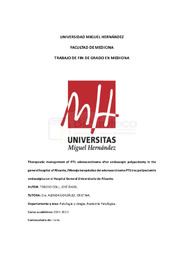 View/Open:
TOBOSO COLL, JOSÉ ÁNGEL, TFG..pdf
1,23 MB
Adobe PDF
Share:

???jsp.display-item.text9???