Please use this identifier to cite or link to this item: https://hdl.handle.net/11000/28321
Prevención de Suicidios en Centros Penitenciarios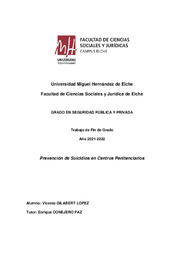 View/Open:
PER_TFG_GILABERT_LOPEZ_VICENTE.pdf
811,77 kB
Adobe PDF
Share:
Title:
Prevención de Suicidios en Centros Penitenciarios
Authors:
Gilabert López, Vicente
Tutor:
Conejero Paz, Enrique
Univerity:
Universidad Miguel Hernández de Elche
Department:
Departamentos de la UMH::Ciencia Jurídica
Issue Date:
2022-06-13
URI:
https://hdl.handle.net/11000/28321
Abstract:
Cuando hablamos de muertes violentas y en concreto el suicidio, nos referimos a una de las principales causas de muerte en instituciones penitenciarias. Estas muertes se ven aumentadas debido a los numerosos factores de riesgo que pueden influir en los internos. Esta problemática es preocupante dentro de los centros penitenciarios. Como dijo Napoleón I" Abandonarse al dolor sin resistir, suicidarse para sustraerse de él, es abandonar el campo de batalla sin haber luchado". En este trabajo trataremos de indagar en las facilidades que tienen los internos para llegar a perpetrar el suicidio o para intervenir en muertes violentas, pasando por el marco legal del suicidio, concepto y pequeñas pinceladas de las posibles causas. Todo ello relacionado con los actuales protocolos de prevención e intervención establecidos en los centros penitenciarios, especialmente el Centro Penitenciario de Picassent, Valencia. Atendiendo a la condición de garante, de los derechos y libertades de los presos, que tiene encomendada la Administración. Es esta, con la que, a través del establecimiento de protocolos, medidas de seguridad, control y demás procedimientos, debe de paliar ciertas circunstancias que se dan en los centros penitenciarios para que no se produzca la muerte de los internos. A esta Administración no solo se le atribuye la obligación de velar por los presos, se le encomienda que trate de confeccionar los mecanismos tendentes a asumir la responsabilidad que venga derivada de esas muertes, ya que, si se producen estas, es por la falta de aplicación o por la existencia de fallos en los protocolos establecidos. El objeto de este trabajo es proceder al estudio de los diferentes protocolos internos de seguridad de los centros penitenciarios, concretamente en el Centro Penitenciario de Picassent, Valencia. Se tratará de incidir tanto en la seguridad interna como en la seguridad externa del centro penitenciario. Asímismo, tal y como hemos comentado anteriormente en los protocolos ya establecidos. Con el ánimo de intentar mejorar algunos aspectos para garantizar una mejor protección de los internos. No solo tiene un papel relevante la seguridad en el centro penitenciario, sino que es de vital importancia la observancia de los presos, sobretodo en esos presos que ya se considera que presentan actitudes o comportamientos que van encaminados a un final suicida. Se intentará indagar en esa observancia que deben de poseer los funcionarios de prisiones, para así paliar esas situaciones.
When we talk about violent deaths and specifically suicide, we are referring to one of the main causes of death in prisons. These deaths are increased due to the many risk factors that can influence inmates. This problem is worrying within prisons. As Napoleon I said "To abandon oneself to pain without resisting, to commit suicide to escape from it, is to abandon the battlefield without having fought". In this work we will try to investigate the facilities that inmates have to commit suicide or to intervene in violent deaths, going through the legal framework of suicide, concept and small brushstrokes of possible causes. All this related to the current prevention and intervention protocols established in prisons, especially the Picassent Penitentiary Center, Valencia. Taking into account the condition of guarantor, of the rights and freedoms of the prisoners, entrusted to the Administration. It is this, with which, through the establishment of protocols, security measures, control and other procedures, it must mitigate certain circumstances that occur in prisons so that the death of inmates does not occur. This Administration is not only attributed the obligation to watch over the prisoners, it is entrusted to try to prepare the mechanisms tending to assume the responsibility that derives from these deaths, since, if these occur, it is due to the lack of application or due to the existence of failures in the established protocols. The purpose of this work is to proceed to the study of the different internal security protocols of the penitentiary centers, specifically in the Picassent Penitentiary Center, Valencia. It will try to influence both the internal security and the external security of the penitentiary. Likewise, as we have previously commented on the already established protocols. With the aim of trying to improve some aspects to ensure better protection for inmates. Not only does security in the penitentiary center have a relevant role, but the observance of prisoners is of vital importance, especially in those prisoners who are already considered to have attitudes or behaviors that are headed for a suicidal end. An attempt will be made to investigate that observance that prison officials must have, in order to alleviate these situations.
Keywords/Subjects:
Centros penitenciarios
Suicidio
Knowledge area:
CDU: Ciencias sociales: Derecho: Derecho penal. Delitos
Type of document:
application/pdf
Access rights:
info:eu-repo/semantics/openAccess
Attribution-NonCommercial-NoDerivatives 4.0 Internacional
Appears in Collections:
TFG - Grado de Seguridad Pública y Privada

???jsp.display-item.text9???