Please use this identifier to cite or link to this item: https://hdl.handle.net/11000/28104
El teletrabajo en el sector público y su evaluación del desempeño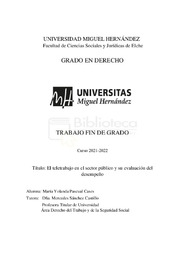 View/Open:
TFG-Pascual Cases, Yolanda.pdf
3,97 MB
Adobe PDF
Share:
Title:
El teletrabajo en el sector público y su evaluación del desempeño
Authors:
Pascual Cases, Yolanda
Tutor:
Sánchez Castillo, Mercedes
Univerity:
Universidad Miguel Hernández de Elche
Department:
Departamentos de la UMH::Ciencia Jurídica
Issue Date:
2022-06
URI:
https://hdl.handle.net/11000/28104
Abstract:
El propósito de este trabajo de fin de grado es realizar una aproximación al análisis de la reinvención del modelo de trabajo en el sector público tal y como lo conocemos tradicionalmente, impulsada, a nivel global, por la crisis que generó la pandemia de la Covid 19, que ha dado un inusitado protagonismo a esa fórmula casi desconocida o poco desarrollada en nuestro país a la que familiarmente conocemos con el nombre de teletrabajo. Fórmula, que, por otra parte, ha permitido dar continuidad a muchas actividades que, por no haber sido en su momento consideradas como esenciales, no admitían el desarrollo de un trabajo presencial y que ha producido y seguirá produciendo cambios importantes en la forma de relacionarnos y de trabajar. El modelo de teletrabajo va unido indefectiblemente al cambio en la gestión organizacional y de personal, a la transformación del mundo digital y tecnológico y a la modernización a la que se ve abocado el sector público y que sin duda reporta beneficios importantes en la conciliación de la vida personal, laboral y familiar, en el ahorro del tiempo, en la productividad y en la orientación hacia los resultados. En definitiva, ventajas tanto para la Administración como para sus empleados. En este trabajo se tratará de ofrecer un análisis de la estructura y concepto del teletrabajo, su marco jurídico normativo, sus ventajas y desventajas, su impacto en la productividad y el rendimiento, sus efectos, así como su regulación en la Universidad Miguel Hernández de Elche. Así mismo, la búsqueda de la calidad y la excelencia por parte de las Administraciones Públicas en el servicio público que prestan sus empleados de forma presencial debe proyectarse igualmente en la persona teletrabajadora. A tal fin, el EBEP ha proporcionado una importante herramienta: la evaluación del desempeño de sus empleados y empleadas, con el objetivo de mejorar la gestión y conducirla hacia una Administración de calidad, eficiente, moderna y cercana a la ciudadanía. La evaluación del desempeño constituye una parte esencial de este trabajo. Se abordará su objetivo, sus requisitos, características, ventajas o retos entre otros epígrafes y con especial acento en su implementación en la Universidad Miguel Hernández. A día de hoy, la UMH no cuenta con una regulación específica que recoja a la persona teletrabajadora en nuestra normativa, utilizando, hasta que no se regule normativamente, los mismos criterios que los establecidos para el personal en régimen presencial. La no presencialidad no debe ser sinónimo de dejadez, desidia, lentitud o retardo en la gestión. Todo ello debe medirse y evaluarse mediante un sistema adecuado y utilizar la retroalimentación a la hora de adoptar decisiones que afecten al funcionamiento de los servicios que permitan adoptar medidas que ayuden a coordinar las políticas públicas y la adecuada planificación estratégica que debe llevar a cabo la Administración. En este trabajo se ha centrado en la asignatura adscrita al área de derecho del trabajo y quizá también, dado el carácter procedimental de la EVD, en el área de derecho administrativo, materias directamente relacionadas con la temática desarrollada a largo de todas estas páginas.
The purpose of this end-of-degree project is to carry out an approach to the analysis of the reinvention of the model work in the public sector as we traditionally know it, driven, at a global level, by the crisis generated by the coronavirus pandemic. Covid 19, which has given unusual prominence to that formula that is largely unknown or underdeveloped in our country, which is familiarly known by the name of teleworking. Formula, which, on the other hand, has allowed the continuity of many activities that, because they were not considered essential at the time, did not allow the development of face-to-face work and that has produced and will continue to produce important changes in the way of relating to each other and how to work. The teleworking model is inevitably linked to the change in organizational and personnel management, to the transformation of the digital and technological world and to the modernization to which the public sector is headed and which undoubtedly brings important benefits in the conciliation of life. personal, work and family, in saving time, in productivity, in orientation towards results. In short, advantages for both the Administration and its employees. This paper will try to offer an analysis of the structure and concept of teleworking, its regulatory legal framework, its advantages and disadvantages, its impact on productivity and performance, its effects, as well as its regulation at the Miguel Hernández University of Elche. Likewise, the search for quality and excellence by Public Administrations in the public service provided by their employees in person must also be projected on the person of the teleworker and the teleworker. For this porpuse, the EBEP has provided an important tool: the evaluation of the performance of its employees, with the aim of improving management and leading it towards a quality, efficient, modern Administration that is close to the citizen. Performance appraisal is an essential part of this work. Its objective, its requirements, characteristics, advantages or challenges will be addressed among other headings and with special emphasis on its implementation at the Miguel Hernández University. To date, we do not have a specific regulation that includes the teleworker in our regulations, using, until it is regulated, the same criteria as those established for personnel in a face-to-face regime. Non-attendance should not be synonymous with carelessness, apathy, slowness or delay in management. All of this must be measured and evaluated by means of an adequate system and feedback must be used by adopting decisions that affect the functioning of the services that allow the adoption of measures that help coordinate public policies and the adequate strategic planning that the Administration must carry out. This work has focused on the subject assigned to the area of labor law and perhaps also, given the procedural nature of the EVD, in the area of administrative law, subjects directly related to the theme developed throughout all these pages.
Keywords/Subjects:
teletrabajo
teletrabajador
trabajo a distancia
evaluación del desempeño
empleado público
Covid 19
teleworking
teleworker
distance work
performance evaluation
public employee
Knowledge area:
CDU: Ciencias sociales: Derecho
Type of document:
application/pdf
Access rights:
info:eu-repo/semantics/openAccess
Attribution-NonCommercial-NoDerivatives 4.0 Internacional
Appears in Collections:
TFG- Derecho

???jsp.display-item.text9???