Please use this identifier to cite or link to this item: https://hdl.handle.net/11000/28092
Efectividad de la terapia de inmersión en agua fría respecto a otras técnicas de crioterapia sobre el DOMS en sujetos con daño muscular inducido por ejercicio. Metaanálisis.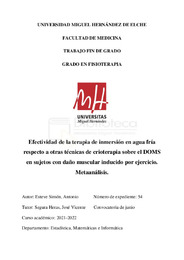 View/Open:
TFG ANTONIO ESTEVE SIMON .pdf
1,44 MB
Adobe PDF
Share:

???jsp.display-item.text9???