Please use this identifier to cite or link to this item: https://hdl.handle.net/11000/27723
Eficacia de los bloqueos canal de los aductores BCA) y bloqueo iPACK respecto a los bloqueos femoral y ciático en el control del dolor postoperatorio (DPO) en cirugía de prótesis total de rodilla (PTR). Ensayo clínico aleatorizado controlado.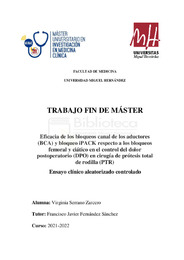 View/Open:
SERRANO ZARCERO, VIRGINIA_849078_assignsubmission_file_Serrano_Zarcero, Virginia.pdf
1,09 MB
Adobe PDF
Share:

???jsp.display-item.text9???