Please use this identifier to cite or link to this item: https://hdl.handle.net/11000/27352
Factores asociados con mal pronóstico en pacientes ingresados por gripe durante la epidemia de 2018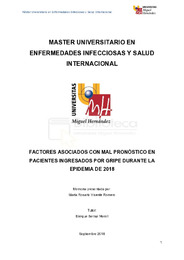 View/Open:
VICENTE ROMERO, MARÍA ROSARIO.pdf
605,69 kB
Adobe PDF
Share:
Title:
Factores asociados con mal pronóstico en pacientes ingresados por gripe durante la epidemia de 2018
Authors:
Vicente Romero, María Rosario
Tutor:
Bernal Morell, Enrique
Univerity:
Universidad Miguel Hernández de Elche
Department:
Departamentos de la UMH::Medicina Clínica
Issue Date:
2018-09-18
URI:
http://hdl.handle.net/11000/27352
Abstract:
Introducción: Nuestro objetivo principal fue determinar los factores asociados con mal pronóstico de los pacientes con gripe confirmada microbiológicamente que han requerido ingreso hospitalario durante la emporada gripal 2017/18 en el Hospital Reina Sofía (HRS) de Murcia. Además, determinar la prevalencia de vacuanción y evaluar su efecto para evitar una mala evolución clínica. Métodos: Se realizó un estudio observacional prospectivo en el que se incluyeron 85 pacientes. Clasificamos a los pacientes en 2 grupos: grupo 1, pacientes con buen pronóstico y grupo 2, pacientes con mal pronóstico. Se consideró mal pronóstico si el paciente ingresaba en UCI, fallecía durante el ingreso o tenía una estancia media hospitalaria igual o superior a 4 días. Para cada paciente registramos información sobre las variables de interés. Recogimos en una tabla EXCEL las distintas variables y efectuamos un análisis univariado y multivariado con el programa estadístico SPSS 24.0. Resultados: Durante la temporada 2017/18 se atendieron en urgencias 698 pacientes con síntomas respiratorios, 85 pacientes (12,18%) fueron diagnosticados de gripe confirmada microbiológicamente y requirieron ingreso hospitalario. El 80% de los pacientes eran mayores de 60 años, un 51,8% fueron varones y un 69,4% presentaban patología de base asociada. La estancia hospitalaria mediana fue de 4 días (RIC: 2-7 días), un paciente requirió ingreso en UCI y se registraron 7 muertes (8,23%). 55 pacientes (64,7%) tuvieron mal pronóstico. En el análsiis multivariado, la única variable que se asoció con mal pronóstico fue la patología crónica asociada. Los pacientes con patología crónica asociada tuvieron un riesgo 6,7 veces mayor de tener un mal pronóstico. La prevalencia de vacunación entre los pacientes del estudio fue de un 47,1 %. La mayoría cumplían criterios de vacunación (88,2%) pero un 48,0% de estos no se habían vacunado. No hubo diferencia significativa en la evolución de los pacientes según su estado vacunal. Conclusiones: Los pacientes ingresados con diagnóstico de gripe confirmada microbiológicamente fueron la mayoría varones, mayores de 60 años y con patología crónica asociada. El factor más importante relacionado con mal pronóstico ha sido tener pluripatología crónica asociada, por lo que su presencia debe alertar al clínico para que adopte las medidas adecuadas y evitar un fatal desenlace. En nuestro estudio, la vacunación no ha influido en el pronóstico de los pacientes ingresados por gripe. La prevalencia de vacunación en los pacientes de nuestro estudio fue baja a pesar de que la mayoría cumplían criterios de vacunación.
Introduction: Our main objective was to determine the factors associated with poor prognosis of patients with microbiologically confirmed influenza who have required hospital admission during the 2017/18 flu season at the Reina Sofía Hospital (HRS) of Murcia. In addition, determine the prevalence of vaccination and evaluate its effect to avoid a poor clinical evolution. Methods: A prospective observational study was conducted in which 85 patients were included. We classify patients into 2 groups: group 1, patients with good prognosis and group 2, patients with poor prognosis. A poor prognosis was considered if the patient was admitted to the ICU, died during admission or had a mean hospital stay of 4 days or more. For each patient we recorded information about the variables of interest. We collected the different variables in an EXCEL table and carried out a univariate and multivariate analysis with the statistical program SPSS 24.0. Results: During the 2017/18 season, 698 patients with respiratory symptoms were treated in the emergency room; 85 patients (12.18%) were diagnosed with microbiologically confirmed influenza and required hospital admission. 80% of the patients were older than 60 years, 51.8% were male and 69.4% had associated base pathology. The median hospital stay was 4 days (RIC: 2-7 days), one patient required admission to the ICU, and 7 deaths were recorded (8.23%). 55 patients (64.7%) had a poor prognosis. In the multivariate analysis, the only variable that was associated with a poor prognosis was the associated chronic pathology. Patients with associated chronic pathology had a 6.7 times greater risk of having a poor prognosis. The prevalence of vaccination among the patients in the study was 47.1%. Most met vaccination criteria (88.2%) of which 48.0% had not been vaccinated. There was no significant difference in the evolution of the patients according to their vaccination status. Conclusions: The admitted patients with diagnosis of microbiologically confirmed influenza were the majority males, older than 60 years and with associated chronic pathology. The most important factor related to poor prognosis has been having associated chronic pluripathology, so its presence should alert the clinician to take appropriate measures and avoid a fatal outcome. In our study, vaccination has not influenced the prognosis of patients admitted for influenza. The prevalence of vaccination in the patients in our study was low despite the fact that most of them met the vaccination criteria.
Keywords/Subjects:
Gripe
Vacunación
Factores de mal pronóstico
Knowledge area:
CDU: Ciencias aplicadas: Medicina: Patología. Medicina clínica. Oncología
Type of document:
application/pdf
Access rights:
info:eu-repo/semantics/openAccess
Appears in Collections:
TFM-M.U Enfermedades Infecciosas y Salud Internacional

???jsp.display-item.text9???