Please use this identifier to cite or link to this item: https://hdl.handle.net/11000/26655
El incendio de un vehículo estacionado en un garaje privado constituye un "hecho de circulación". La doctrina del Tribunal de Justicia de la Unión Europea y la sentencia del Tribunal Supremo (Sala de lo Civil, pleno) de 17 de diciembre de 2019.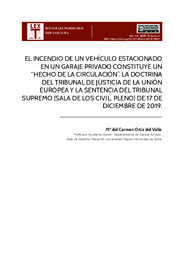 View/Open:
920-Texto del artículo-4097-1-10-20200925.pdf
151,71 kB
Adobe PDF
Share:

???jsp.display-item.text9???