Please use this identifier to cite or link to this item: https://hdl.handle.net/11000/26245
Derecho y periodismo. Los límites entre el derecho a la información, la intimidad y el honor de las personas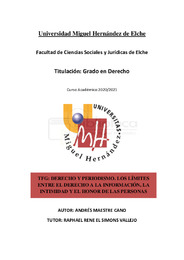 View/Open:
TFG-Maestre Cano, Andrés.pdf
2,99 MB
Adobe PDF
Share:
Title:
Derecho y periodismo. Los límites entre el derecho a la información, la intimidad y el honor de las personas
Authors:
Maestre Cano, Andrés
Tutor:
Simons Vallejo, Raphael Rene
Univerity:
Universidad Miguel Hernández de Elche
Department:
Departamentos de la UMH::Ciencia Jurídica
Issue Date:
2021-09
URI:
http://hdl.handle.net/11000/26245
Abstract:
El objetivo de este trabajo es el de analizar los límites y extensiones del derecho a la información y su confrontación con el derecho a la dignidad, el honor y la intimidad de las personas durante un procedimiento judicial. El foco del estudio se sitúa en el tratamiento informativo que afecta a las personas que están siendo enjuiciadas en un proceso, por el que se someten a una intensa exposición mediática. Para la elaboración de este TFG el autor ha asistido a seis juicios mediáticos celebrados en la Audiencia Provincial de Alicante y uno en la de Valencia, y ha entrevistado a ocho profesionales relacionados con el periodismo, la abogacía y la judicatura. Además ha contado con el testimonio, mediante una entrevista, de la ex alcaldesa de Alicante Sonia Castedo, absuelta de todos los delitos por los que se le ha juzgado en el caso PGOU y expuesta durante doce años a una fuerte presión por los medios de comunicación. El autor de este trabajo ha elaborado el mismo, en parte, compaginándolo con su actividad profesional de periodista, basándose en las propias informaciones periodísticas que ha elaborado en prensa y televisión y observando el trabajo de otros compañeros de profesión. Ha analizado la legislación vigente, con el propósito de plantear una lege ferenda que equilibre ambos derechos y permita una utilización más responsable del derecho a la información por parte de los medios de comunicación y de los periodistas. También ha analizado los planes de estudio de la Universidad Miguel Hernández (UMH) -al detectar una carencia en la oferta formativa del conjunto de universidades españolas-, para plantear opciones de formación sobre derecho y periodismo, a través de un Máster oficial sobre Periodismo Judicial y de la implantación de un doble Grado sobre Derecho y Periodismo, que atienda a las necesidades actuales de ambas profesiones. La conclusión de este trabajo desvela que es necesaria la regulación legislativa de los derechos de información e intimidad. También se ha detectado la necesidad de avanzar en la formación jurídica de los periodistas
The objective of this work is to analyze the limits and extensions of the right to information and its confrontation with the right to dignity, honor and privacy of people during a judicial procedure. The focus of the study is on the informational treatment that affects people who are being prosecuted in a process, for which they are subjected to intense media exposure. For the preparation of this TFG, the author has attended six media trials held in the Alicante Provincial Court and one in Valencia, and has interviewed eight professionals related to journalism, the legal profession and the judiciary. He has also had the testimony, through an interview, of the former mayor of Alicante Sonia Castedo, acquitted of all the crimes for which she has been tried in the PGOU case and exposed for twelve years to strong pressure from the media. The author of this work has prepared it, in part, combining it with his professional activity as a journalist, based on his own journalistic information that he has produced in the press and on television and observing the work of other colleagues. He has analyzed the current legislation, in order to propose a lege ferenda that balances both rights and allows a more responsible use of the right to information by the media and journalists. It has also analyzed the study plans of the Miguel Hernández University (UMH) -when detecting a lack in the training offer of the group of Spanish universities-, to propose training options on law and journalism, through an official Master on Judicial Journalism and the introduction of a double Degree on Law and Journalism, which meets the current needs of both professions. The conclusion of this work reveals that the legislative regulation of the rights of information and privacy is necessary. The need to advance in the legal training of journalists has also been detected
L'objectiu d'aquest treball és el d'analitzar els límits i extensions del dret a la informació i la seua confrontació amb el dret a la dignitat, l'honor i la intimitat de les persones durant un procediment judicial. El focus de l'estudi se situa en el tractament informatiu que afecta les persones que estan sent enjudiciades en un procés, pel qual se sotmeten a una intensa exposició mediàtica. Per a l'elaboració d'aquest TFG l'autor ha assistit a sis judicis mediàtics celebrats en l'Audiència Provincial d'Alacant i un en la de València, i ha entrevistat huit professionals relacionats amb el periodisme, l'advocacia i la judicatura. A més ha comptat amb el testimoni, mitjançant una entrevista, de la ex alcaldessa d'Alacant Sonia Castedo, absolta de tots els delictes pels quals se li ha jutjat en el cas PGOU i exposada durant dotze anys a una forta pressió pels mitjans de comunicación. L'autor d'aquest treball ha elaborat el mateix, en part, compaginant-lo amb la seua activitat professional de periodista, basant-se en les pròpies informacions periodístiques que ha elaborat en premsa i televisió i observant el treball d'altres companys de professió. Ha analitzat la legislació vigent, amb el propòsit de plantejar una lege ferenda que equilibre els dos drets i permeta una utilització més responsable del dret a la informació per part dels mitjans de comunicació i dels periodistes. També ha analitzat els plans d'estudi de la Universitat Miguel Hernández (UMH) -en detectar una carencia en l'oferta formativa del conjunt d'universitats espanyoles-, per a plantejar opcions de formació sobre dret i periodisme, a través d'un Màster oficial sobre Periodisme Judicial i de la implantació d'un doble Grau sobre Dret i Periodisme, que atenga les necessitats actuals de les dues professions. La conclusió d'aquest treball revela que és necessària la regulació legislativa dels drets d'informació i intimitat. També s'ha detectat la necessitat d'avançar en la formació jurídica dels periodistes
Keywords/Subjects:
derecho
periodismo
libertad de expresión
derecho al honor
derecho a la intimidad
presunción de inocencia
law
journalism
freedom of expression
right to honor
right to privacy
presumption of innocence
dret
periodisme
llibertat d'expressió
dret a l'honor
dret a la intimitat
presumpció d"innocència
Knowledge area:
CDU: Ciencias sociales: Derecho
Type of document:
application/pdf
Access rights:
info:eu-repo/semantics/openAccess
Appears in Collections:
TFG- Derecho

???jsp.display-item.text9???