Please use this identifier to cite or link to this item: https://hdl.handle.net/11000/26240
La notificación tributaria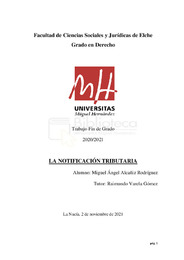 View/Open:
TFG-Alcañiz Rodríguez, Miguel Ángel.pdf
1,1 MB
Adobe PDF
Share:
Title:
La notificación tributaria
Authors:
Alcañiz Rodríguez, Miguel Ángel
Tutor:
Varela Gómez, Raimundo
Univerity:
Universidad Miguel Hernández de Elche
Department:
Departamentos de la UMH::Ciencia Jurídica
Issue Date:
2021-09
URI:
http://hdl.handle.net/11000/26240
Abstract:
En el presente trabajo he intentado exponer que es el acto de la notificación, para tal fin me he apoyado en varias leyes de derecho administrativo y tributario, incluso para complementar dichas leyes hay que apoyarse en diferentes Reales Decretos, con el fin de que el lector tenga una idea de cuál es la manera de proceder que tiene la administración, además de ello, intento justificar, en la medida de lo posible, como tiene que proceder el obligado tributario, para que no se vea, en una situación de desconocimiento de los diferentes tipos de procedimientos que pueden utilizar. En el trabajo, me centro en gran medida en las notificaciones electrónicas, puesto que considero, que este medio de comunicación será el imperativo en el más corto plazo para todas las personas, tanto físicas como jurídicas, aunque he de comentar que en las personas jurídicas es obligatorio este medio de comunicación. Dicho medio creo que es una forma de comunicación sostenible y necesaria para nuestro medio ambiente, además dichas tecnologías permiten que los plazos de los procedimientos incoados, ya sea de oficio o a instancia de parte, permiten que la administración sea más eficaz y eficiente, y con ello no se dilate en el tiempo y forma el procedimiento establecido en las diferentes fuentes, y con ello los sujeto no tengan la sensación de indefensión jurídica. Aunque para las personas físicas el medio más utilizado para la notificación es aún el correo certificado, la tendencia a la que nos llevan los nuevos medios de comunicación es el electrónico, este hecho se ha acentuado tras la pandemia, vemos como la tendencia de los usuarios es la comunicación vía telemática. Aunque hoy día, aún hay una inmensa mayoría de la población que es reacia a estos medios, sobre todo en generaciones mayores, ya sea por su desconocimiento o inseguridad, no lo es tanto en generaciones presentes como futuras, puesto que utilizan este medio de comunicación cada vez más lícito, seguro y rápido, "a mi modo de ver". Dichas generaciones, utilizan estos medios de comunicación, para cualquier tipo de derechos y obligaciones que pudieran ejercer ante cualquier administración, suponiendo dichos actos, una gran fuente de normas jurídicas futuras, hoy día sin establecer y que nos llevará a nuevos conflictos de derecho público con derecho privado y viceversa, y, por ende, más jurisprudencia
In the present work I have tried to explain what the act of notification is, for this purpose I have relied on various laws of administrative and tax law, even to complement these laws it is necessary to rely on different Royal Decrees, in order that the reader have an idea of what is the way of proceeding that the administration has, in addition to that, I try to justify, as far as possible, how the taxpayer has to proceed, so as not to be in a situation of ignorance of the different types procedure you might use. At work, I focus largely on electronic notifications, since I consider that this means of communication will be the imperative in the shortest term for all individuals, both physical and legal, although I have to comment that in legal persons it is mandatory this means of communication. I believe that said medium is a form of communication that is sustainable and necessary for our environment, in addition, these technologies allow the deadlines of the procedures initiated, either ex officio or at the request of a party, allow the administration to be more effective and efficient, and with this does not extend over time and forms the procedure established in the different sources, and with this the subjects do not have the feeling of legal defenselessness. Although for natural persons the most used means for notification is still certified mail, the trend that the new means of communication lead us to is electronic, this fact has been accentuated after the pandemic, we see how the trend of users it is communication via telematics. Although today, there is still a vast majority of the population that is reluctant to these means, especially in older generations, either due to their ignorance or insecurity, it is not so much in present and future generations, since they use this means of communication more and more lawful, safe and fast, "in my view". Said generations use these means of communication, for any type of rights and obligations that they could exercise before any administration, assuming said acts, a great source of future legal norms, nowadays without establishing and that will lead us to new conflicts of public law with right private and vice versa, and therefore, more jurisprudence
Keywords/Subjects:
notificación
tributaria
Knowledge area:
CDU: Ciencias sociales: Derecho
Type of document:
application/pdf
Access rights:
info:eu-repo/semantics/openAccess
Attribution-NonCommercial-NoDerivatives 4.0 Internacional
Appears in Collections:
TFG- Derecho

???jsp.display-item.text9???