Please use this identifier to cite or link to this item: https://hdl.handle.net/11000/26099
Características de las lesiones en el Crossfit: revisión sistemática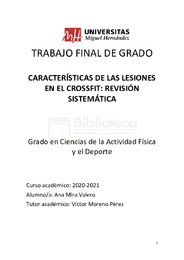 View/Open:
TFG-Mira Valero, Ana.pdf
653,61 kB
Adobe PDF
Share:
Title:
Características de las lesiones en el Crossfit: revisión sistemática
Authors:
Mira Valero, Ana
Tutor:
Moreno Pérez, Víctor
Univerity:
Universidad Miguel Hernández de Elche
Department:
Departamentos de la UMH::Ciencias del Deporte
Issue Date:
2021-06-21
URI:
http://hdl.handle.net/11000/26099
Abstract:
INTRODUCCIÓN: Crossfit se ha definido como un sistema de entrenamiento de fuerza y acondicionamiento basado en ejercicios funcionales constantemente variados realizados a una alta intensidad, que ha experimentado un gran aumento en popularidad. Este tipo de entrenamiento ha recibido críticas por tratarse de ejercicios técnicos de alta intensidad, aumentado el riesgo de lesión cuando se realizan de manera inapropiada. OBJETIVO PRINCIPAL: Revisar las características de las lesiones entre los participantes de Crossfit, incluido el tipo y localización según el movimiento realizado. De forma secundaria se determinan los posibles factores de riesgo. METODOLOGÍA: Se realizó una búsqueda bibliográfica en las bases de datos PubMed, Web of Science y Sport Discus con las palabras clave "Crossfit", "injuries" y ""epidemiology" utilizando como operador booleano AND. Los criterios de inclusión fueron: estudios publicados desde Enero del 2013 hasta la actualidad, que incluyan como actividad CrossFit, que analicen las lesiones musculoesqueléticas (prevalencia, incidencia, ubicación y/o factores de riesgo) y estén publicados en lengua inglesa. RESULTADOS: En general, diecinueve estudios en los que participaron un total de 11945 practicantes de Crossfit cumplieron con los criterios de inclusión. Las zonas más lesionadas fueron hombro (26%), columna vertebral (23%) y rodilla (14%). Las tendinopatías, las lesiones articulares y las musculares fueron el tipo de lesiones más informadas por los participantes. Los hombros y la región lumbar fueron las regiones corporales más comúnmente lesionadas y que se lesionaron con mayor frecuencia durante los movimientos de gimnasia y levantamiento de pesas, respectivamente. En cuanto a los factores de riesgo asociados a las lesiones, los estudios informaron la existencia de lesiones previas, la experiencia, la frecuencia de entrenamiento semanal, la participación en competencias y el sexo masculino. CONCLUSIÓN: La alta prevalencia de lesiones en el hombro y la espalda baja, debido a los movimientos de alta intensidad, altas repeticiones y mucho peso, deben ser considerados y tenerlos en cuenta al programar los entrenamientos para reducir estas lesiones y cambiar la percepción de estas en Crossfit. Esta revisión recomienda que los entrenadores controlen los movimientos de Crossfit para cambiar o mejorar los movimientos. Además, los fisioterapeutas deben realizar una evaluación de los componentes musculoesqueléticos e implementar un entrenamiento preventivo que se centre en la reducción de las tasas de lesiones
BLACKGROUND: Crossfit has been defined as a system of strength and conditioning training based on constantly varied functional exercises performed at high intensity, which has experienced a great increase in popularity. This type of training has been criticized for involving high-intensity technical exercises, increasing the risk of injury when performed inappropriately. OBJECTIVES: To review the characteristics of injuries among Crossfit participants, including type and location according to the movement performed. Secondarily to determine possible risk factors. METHODS: A literature search was performed in the databases PubMed, Web of Science and Sport Discus with the keywords "Crossfit", "injuries" and ""epidemiology" using the Boolean operator AND. The inclusion criteria were: studies published from January 2013 to the present, including CrossFit as an activity, analyzing musculoskeletal injuries (prevalence, incidence, location and/or risk factors) and published in English. RESULTS: Overall, nineteen studies involving a total of 11945 Crossfit practitioners met the inclusion criteria. The most injured areas were shoulder (26%), spine (23%) and knee (14%). Tendinopathies, joint injuries and muscle injuries were the type of injuries most reported by participants. The shoulders and lumbar region were the most commonly injured body regions and most frequently injured during gymnastics and weightlifting movements, respectively. In terms of risk factors associated with injury, studies reported previous injury, experience, weekly training frequency, participation in competitions, and male gender. CONCLUSION: The high prevalence of shoulder and lower back injuries, due to high intensity, high repetition and heavy weight movements, should be considered and taken into account when programming workouts to reduce these injuries and change the perception of these injuries in Crossfit. This review recommends that coaches monitor Crossfit movements to change or improve movements. In addition, physical therapists should perform an assessment of musculoskeletal components and implement preventive training that focuses on reducing injury rates
Keywords/Subjects:
Crossfit
injuries
epidemiology
Knowledge area:
CDU: Bellas artes: Diversiones. Espectáculos. Cine. Teatro. Danza. Juegos.Deportes
Type of document:
application/pdf
Access rights:
info:eu-repo/semantics/openAccess
Attribution-NonCommercial-NoDerivatives 4.0 Internacional
Appears in Collections:
TFG - CC. de la Actividad Física y el Deporte

???jsp.display-item.text9???