Please use this identifier to cite or link to this item: https://hdl.handle.net/11000/25892
Protocolo experimental para medidas de radiofrecuencia en banda ancha en cultivo celular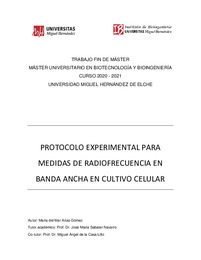 View/Open:
207 ARIAS GOMEZ, MARIA DEL MAR-Memoria TFM.pdf
15,63 MB
Adobe PDF
Share:
Title:
Protocolo experimental para medidas de radiofrecuencia en banda ancha en cultivo celular
Authors:
Arias Gómez, María del Mar
Tutor:
Sabater Navarro, José María
De la Casa Lillo, Miguel Ángel
Univerity:
Universidad Miguel Hernández de Elche
Department:
Departamentos de la UMH::Ingeniería
Issue Date:
2021-06-23
URI:
http://hdl.handle.net/11000/25892
Abstract:
La diabetes mellitus es un conjunto de patologías metabólicas de largo plazo que se da cuando no se pueden controlar adecuadamente los niveles de glucosa en el cuerpo por la deficiencia de insulina. Actualmente no tiene cura, por lo cual su tratamiento es esencial para las personas que la padecen. Las personas que necesitan administración de insulina exógena para su manejo deben monitorear los niveles de glucosa en sangre varias veces al día. Los dispositivos que existen hoy en día para dicha monitorización se clasifican principalmente en invasivos y mínimamente invasivos. Los primeros entregan un valor del nivel de glucosa en sangre de una muestra tomada en el momento, y los segundos realizan una medición continua del nivel de glucosa en sangre. Por otra parte, se están investigando diferentes tecnologías que permitan realizar mediciones no invasivas del nivel de glucosa en sangre. Dentro de estas se encuentra la tecnología de microondas que se ha usado en diferentes investigaciones para el seguimiento de biomoléculas como la glucosa. Partiendo de esta información y de estudios que relacionan las propiedades dieléctricas como la permitividad con la concentración de glucosa, en el grupo de investigación nBio se desarrollaron varios experimentos para desarrollar un sensor de microondas que pudiera determinar variaciones en la concentración de glucosa por cambios en la permitividad. Los experimentos se hicieron en un primer momento en soluciones de agua con glucosa y posteriormente en plasma humano y en la lengua de pacientes. Los resultados que se obtuvieron mostraron que se tenía un sensor muy sensible pero poco selectivo. En este proyecto se propone un protocolo experimental para medidas de RF en banda ancha en un cultivo celular, lo que serviría como un paso intermedio entre las mediciones realizadas en agua con glucosa, y en plasma humano y voluntarios, con el fin de poder entender mejor la respuesta dieléctrica en un medio vivo, como lo es un cultivo celular, y la influencia de la glucosa en este. Para esto se desarrollaron dos procedimientos experimentales que buscaban entender el efecto de la densidad celular, y de la glucosa y su dinámica en un cultivo celular. Se encontró que estos dos factores tienen efecto en la respuesta dieléctrica del cultivo. Sin embargo, para futuros experimentos se sugiere estudiar más en detalle la influencia del cable coaxial y los efectos a nivel microscópico que causa la interacción de las células con la glucosa, además de estandarizar aún más los parámetros del experimento para poder hacer un análisis más detallado de los resultados.
Diabetes mellitus is a group of long-term metabolic pathologies that occur when glucose levels in the body cannot be adequately controlled due to insulin deficiency. There is currently no cure, so its treatment is essential for the huge amount of the individuals that suffer from it. The part of the population who needs exogenous insulin administration for its management must monitor blood glucose levels several times per day. The devices that exist today for such monitoring are mainly classified as invasive and minimally invasive. The former provides a value of the blood glucose level from a sample taken at the time, and the latter performs a continuous measurement of the blood glucose level. On the other hand, different technologies are being investigated that allow non-invasive measurements of blood glucose levels. Among these is microwave technology, which has been used in different investigations for monitoring biomolecules such as glucose. Based on this information and on studies that relate dielectric properties such as permittivity with glucose concentration, the nBio research group developed several experiments to build a microwave sensor that could determine variations in glucose concentration by changes in permittivity. The experiments were first performed in water solutions containing glucose and then in human plasma and on the tongue of patients. The obtained results showed that the sensor was very sensitive but not very selective. This project proposes an experimental protocol for broadband RF measurements in cell culture, which would serve as an intermediate step between the measurements performed in water with glucose, and in human plasma and volunteers, to better understand the dielectric response in a living medium, such as cell culture, and the influence of glucose on it. For this purpose, two experimental procedures were developed to understand the effect of cell density and the effect of the glucose and its dynamics in cell culture. These two factors were found to influence the dielectric response of the culture. However, for future experiments, it is suggested to study in more detail the influence of the coaxial cable and the effects at the microscopic level caused by the interaction of cells with glucose. Additionally, it is also recommended to further standardize the parameters of the experiment to be able to make a more detailed analysis of the results
Keywords/Subjects:
Tecnología de microondas
radiofrecuencia
banda ancha
cultivo celular
glucosa
Knowledge area:
CDU: Ciencias aplicadas
Type of document:
application/pdf
Access rights:
info:eu-repo/semantics/openAccess
Attribution-NonCommercial-NoDerivatives 4.0 Internacional
Appears in Collections:
TFM-M.U en Biotecnología y Bioingeniería

???jsp.display-item.text9???