Please use this identifier to cite or link to this item: https://hdl.handle.net/11000/25791
Tratamiento de la violencia sexual contra las mujeres en los medios de prensa escrita y de la pornografía como cómplice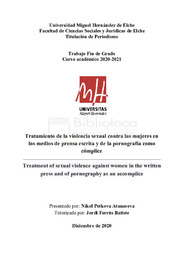 View/Open:
TFG-Nikol, Petkova Atanasova.pdf
1,63 MB
Adobe PDF
Share:
Title:
Tratamiento de la violencia sexual contra las mujeres en los medios de prensa escrita y de la pornografía como cómplice
Authors:
Petkova Atanasova, Nikol
Tutor:
Ferrús Batiste, Jordi
Univerity:
Universidad Miguel Hernández de Elche
Department:
Departamentos de la UMH::Ciencias Sociales y Humanas
Issue Date:
2020-11-27
Abstract:
La violencia sexual es una constante en la lacra del machismo que aún está fuertemente arraigado en la sociedad a pesar de la creciente presión que está haciendo el feminismo. La educación como base de todos nuestros comportamientos es la principal causa de todos ellos. No obstante, ante la ausencia de una educación afectiva y sexual en la infancia y en la adolescencia, existen otros factores que los determinan o condicionan cada día. Creemos que la pornografía tiene un papel esencial en el desarrollo de la violencia sexual. La inmensa mayoría del contenido pornográfico reproduce roles de género que ubican a la mujer en una situación de sumisión respecto al varón y a éste en una situación de poder y dominio respecto a ella. Así, el consumo de pornografía interfiere en las conductas sexuales de la audiencia hasta el punto en que puede llegar a fabricar agresores y víctimas sexuales. Una de las preocupaciones más actuales respecto a este problema es que la población que más influencia recibe del porno es el sector más joven de la sociedad, que tiene acceso a una cantidad ingente de material gracias a Internet. Por otra parte, los medios de comunicación, como herramienta que sirve de manera exclusiva a la sociedad, tienen el deber de informar de todo lo relevante que acontece a nivel estatal-nacional e internacional siguiendo las directrices de la legislación pertinente en materia de violencia de género y asumiendo la perspectiva de género. En 2011, la Unión Europea establece el Convenio de Estambul que se impone como el primer mecanismo de carácter vinculante a nivel europeo en materia de violencia machista a partir del cual se instaura una actitud de tolerancia cero hacia la violencia contra la mujer por el condicionante de su género. España lo ratifica en 2014. Por este motivo, nuestro Trabajo de Fin de Grado analiza el tratamiento que los medios hacen de la información referente a la violencia sexual de hombres hacia mujeres y la influencia del universo pornográfico en esta práctica que atenta contra los Derechos Humanos. El objetivo es ubicar la delgada línea entre la ficción del porno y la realidad de la violencia sexual y cómo la supresión o la inclusión, el énfasis o la atenuación, de determinados elementos en la información y el lugar que ésta ocupa en los medios puede colaborar en la creación de conciencia en el público y en el divorcio de estos dos aliados –medios y DD.HH.– en favor de las mujeres.
Sexual violence is a constant in the scourge of misogyny that is still deeply rooted in society despite the growing pressure that feminism is making. Education as the basis of all our behaviors is the main cause of all of them. However, in the absence of affective and sexual education in childhood and adolescence, there are other factors that determine or condition them every day. We believe that pornography plays an essential role in the development of sexual violence. The vast majority of pornographic content reproduces gender roles that place the woman in a situation of submission with respect to the man and the latter in a situation of power and dominance over her. Thus, the consumption of pornography interferes with the sexual behaviors of the audience to the point where it can produce sexual assailants and victims. One of the most current concerns regarding this problem is that the population that receives the most influence from porn is the youngest sector of society, which has access to a huge amount of material thanks to the Internet. On the other hand, the media, as a tool that exclusively serves society, has the duty to report everything relevant that happens at the state-national and international level, following the guidelines of the pertinent legislation on gender violence. . In 2011, the European Union established the Istanbul Convention, which is imposed as the first binding mechanism at the European level in the area of sexist violence from which an attitude of zero tolerance towards violence against women is established by the condition of its gender. Spain ratifies it in 2014. For this reason, our Final Degree Project analyzes the treatment that the media makes of information regarding sexual violence by men towards women and the influence of the pornographic universe on this practice that violates Human Rights. The objective is to locate the fine line between the fiction of porn and the reality of sexual violence and how the suppression or inclusion, the emphasis or the attenuation, of certain elements in the information and the place it occupies in the media can collaborate in the creation of public awareness and in the divorce of these two allies –media and human rights– in favor of women.
Keywords/Subjects:
Mujeres
Violencia de género
Medios de comunicación
Perspectiva de género
Patriarcado
Women
Gender violence
Media
Feminist perspective
Patriarchy
Type of document:
application/pdf
Access rights:
info:eu-repo/semantics/openAccess
Appears in Collections:
TFG- Periodismo

???jsp.display-item.text9???