Please use this identifier to cite or link to this item: https://hdl.handle.net/11000/25582
Prevención de lesiones de isquiotibiales en futbolistas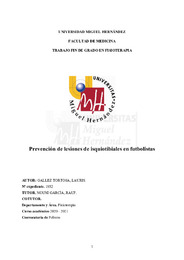 View/Open:
TFG DEFINITIVO .pdf
1,1 MB
Adobe PDF
Share:
Title:
Prevención de lesiones de isquiotibiales en futbolistas
Authors:
Gallez Tortosa, Lauris
Tutor:
Nouni García, Rauf
Univerity:
Universidad Miguel Hernández de Elche
Department:
Departamentos de la UMH::Patología y Cirugía
Issue Date:
2021-06-16
URI:
http://hdl.handle.net/11000/25582
Abstract:
Introducción: La musculatura isquiotibial tiene una disposición biarticular: realiza la flexión de rodilla, extensión de cadera y ligera abducción de cadera. En el fútbol tiene una función muy importante porque es fundamental en el ciclo de la carrera, interactuando las contracciones excéntricas con las concéntricas, vitales en la frenadas, aceleraciones, saltos, cambios de ritmo y máximas velocidades. Sus lesiones son las que, en total, más tiempo apartan a los jugadores de la práctica deportiva, siendo la musculatura que más se lesiona y concretamente, el bíceps femoral. Los factores de riesgo y las estrategias preventivas son múltiples. Objetivos: Conocer las estrategias preventivas de lesiones de isquiotibiales en futbolistas, su relevancia clínica y sus factores de riesgo Metodología: Se realizó la búsqueda en las bases de datos PubMed y PeDro con artículos del 2010 hasta el 2020 que tratasen sobre estrategias de prevención y factores de riesgo de las lesiones de isquiotibiales en futbolistas. Resultados: Seleccionamos 12 artículos (7 sobre prevención de isquiotibiales en futbolistas y 5 sobre sus factores de riesgo). Los resultados muestran que la fuerza excéntrica es importante para la prevención de esta musculatura, pero siempre completando la planificación con otros ejercicios y estímulos. El programa FIFA 11+ recoge perfectamente estas características y con buenos resultados, así como el ejercicio nórdico u otros ejercicios excéntricos e inestables. Existen muchos factores de riesgo, de los cuáles forman parte la relación de fuerzas del isquiotibial con su antagonista, la fuerza excéntrica de isquiotibiales, demás factores biomecánicos y otros de más difícil control cómo el historial de lesiones, la edad, … Conclusión: Los factores que conducen a una lesión de isquiotibiales son múltiples y pocos resultan claros. El trabajo excéntrico e inestable es el que más evidencia recoge, concretamente el ejercicio nórdico que esta integrado también en el programa FIFA11+. Trabajar todo tipo de estímulos y controlar factores a disposición resulta fundamental: planificación del entreno, H/Q ratio, fuerza excéntrica de los isquitibiales.
Introduction: The hamstring muscles have a biarticular arrangement: it performs knee flexion, hip extension, and slight hip abduction. In football they have a very important function because they are fundamental in the running cycle, interacting the eccentric contractions with concentric ones, vital in braking, acceleration, jumping, changes of pace and maximum speeds. Their injuries are the ones that, in total, keep players away from football for the longest time, being the muscles that are injured the most and specifically, the biceps femoris. Risk factors and preventive strategies are multiple. Objectives: To know the preventive strategies for hamstring injuries in soccer players, their clinical relevance and their risk factors Methodology: A research was carried out in the PubMed and PeDro databases with articles from 2010 to 2020 that dealt with prevention strategies and risk factors for hamstring injuries in soccer players. Results: We selected 12 articles (7 on prevention strategies for hamstrings injuries in soccer players and 5 on their risk factors). The results show that eccentric strength is important for the prevention of these muscles, but always completing the planning with other exercises and stimulus. The FIFA 11+ program perfectly captures these characteristics and with good results, as well as Nordic exercise or other eccentric and unstable exercises. There are many risk factors, of which the torque difference of the hamstring with its antagonist, the eccentric hamstring peak of torque, other biomechanical factors and others that are more difficult to control such previous injury, age, ... Conclusion: The factors that lead a hamstring muscle to the injury are multiple and a few results to be clear. Eccentric and unstable work are the ones that collect the most evidence, specifically the Nordic exercise that is also integrated into the FIFA11 + program. Working with all kinds of stimulus and controlling available factors such as training planning, H / Q ratio, eccentric hamstring peak of torque. Keywords: "Hamstring injury", "Prevention", "Risk factor", "Football".
Keywords/Subjects:
Lesión de isquiotibial
Prevención
Factor de riesgo
Fútbol
Knowledge area:
CDU: Ciencias aplicadas
Type of document:
application/pdf
Access rights:
info:eu-repo/semantics/openAccess
Appears in Collections:
TFG - Fisioterapia

???jsp.display-item.text9???