Please use this identifier to cite or link to this item: https://hdl.handle.net/11000/25442
Mediación en el ámbito policial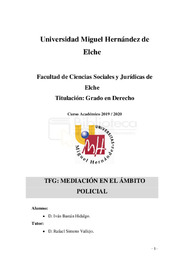 View/Open:
TFG-Bastián Hidalgo, Iván.pdf
4,16 MB
Adobe PDF
Share:
Title:
Mediación en el ámbito policial
Authors:
Bastán Hidalgo, Iván
Tutor:
Simons Vallejo, Raphael Rene
Univerity:
Universidad Miguel Hernández de Elche
Department:
Departamentos de la UMH::Ciencia Jurídica
Issue Date:
2020-09-01
Abstract:
El objetivo del presente trabajo se cimenta sobre el análisis de la situación actual de los mecanismos alternativos de resolución de conflictos dentro de nuestro marco jurídico, en concreto, en el de la mediación. Análisis que se desarrolla desde una visión lo más amplia posible de este instrumento como mecanismo restauraivo de la paz social. Ahondando, en el desempeño de este método de resolución de conflictos, desde una perspectiva policial, intentando profundizar en el desarrollo de la mediación en el ámbito penal, ya sea, ejercida ésta, con carácter previo (mediación prejudicial), como de forma simultánea durante el desarrollo del proceso judicial. De igual forma, con la elaboración de este trabajo, se intenta aportar una visión práctica y protocolizada del ejercicio de la mediación por parte de los agentes que integran los diversos cuerpos de policía local de la Comunitat Valenciana. Así como, proporcionar una visión crítica sobre los actuales protocolos de determinación de supuestos mediables, en los que, de forma sistemática, se procede a la exclusión de cualquier supuesto que sea susceptible de derivación al orden penal. Por último, se pretende dar respuestas a las distintas consecuencias jurídicas que los acuerdos de mediación pueden producir tanto para la víctima como para el victimario, en el marco de nuestro actual ordenamiento jurídico en los distintos órdenes jurisdiccionales. Para ello, se ha realizado un análisis pormenorizado de la legislación aplicable dentro de los distintos ámbitos de actuación posibles tanto a nivel internacional, europeo, nacional como autonómico, así como de la doctrina y artículos de investigación existentes al respecto. Además, se han mantenido reuniones informativas sobre la práctica policial de la mediación ejercida actualmente por algunas de las poquísimas unidades de mediación existentes en nuestra comunidad, para lo que se ha contado con la colaboración y ayuda inestimable del Jefe de la Unidad de Mediación de la Policía Local de Torrevieja Dña. Maríya Illeva Orleshkova Tsvetanova La conclusión que se ha alcanzado con su elaboración, ha sido que el mecanismo de la mediación como instrumento restaurativo de paz y de convivencia social, se estima como una herramienta imprescindible dentro de las nuevas formas de actuación policial en lo que se ha venido a denominar como policía comunitaria o de proximidad.
The objective of this work is based on the analysis of the current situation of alternative dispute resolution mechanisms within our legal framework, specifically, in that of mediation. Analysis that is developed from the broadest possible vision of this instrument as a restorative mechanism of social peace. Deepening, in the performance of this method of conflict resolution, from a police perspective, trying to deepen the development of mediation in the criminal sphere, whether, exercised, previously (prejudicial mediation), or simultaneously during the development of the judicial process. Similarly, with the elaboration of this work, an attempt is made to provide a practical and protocolized vision of the exercise of mediation by the agents that make up the various local police forces of the Valencian Community. As well as, provide a critical view of the current protocols for determining mediable cases, in which, in a systematic way, any case that is susceptible to referral to the criminal order is carried out. Finally, it is intended to provide answers to the different legal consequences that mediation agreements can produce for both the victim and the perpetrator, within the framework of our current legal system in the different jurisdictional orders. For this, a detailed analysis of the current applicable legislation has been carried out within the different possible fields of action both at international, European, national and regional levels, as well as the doctrine and existing research articles in this regard. In addition, informative and consultation meetings have been held about the police practice of mediation currently exercised by some of the very few mediation units that exist in our community, for which we have had the collaboration and invaluable help of the Head of the Unit of Mediation of the Local Police of Torrevieja Dña. Maríya Illeva Orleshkova Tsvetanova. The conclusion that has been reached with its elaboration has been that the mediation mechanism as a restorative instrument for peace and social coexistence is considered an essential tool within the new forms of police action in what has come to be called as community or proximity police
L'objectiu del present treball se cimenta sobre l'anàlisi de la situació actual dels mecanismes alternatius de resolució de conflictes dins del nostre marc jurídic, en concret, en el de la mediació. Anàlisi que es desenrotlla des d'una visó el més àmplia possible d'este instrument com a mecanisme restauraivo de la pau social. Aprofundint, en l'exercici d'este mètode de resolució de conflictes, des d'una perspectiva policial, intentant aprofundir en el desenrotllament de la mediació en l'àmbit penal, ja siga, exercida esta, amb caràcter previ (mediació prejudicial) , com de forma simultània durant el desenrotllament del procés judicial. De la mateixa manera, amb l'elaboració d'este treball, s'intenta aportar una visió pràctica i protocol·litzada de l'exercici de la mediació per part dels agents que integren els diversos cossos de policia local de la Comunitat Valenciana. Així com, proporcionar una visió crítica sobre els actuals protocols de determinació de supòsits mediables, en els que, de forma sistemàtica, es procedix a l'exclusió de qualsevol supòsit que siga susceptible de derivació a l'orde penal. Finalment, es pretén donar respostes a les distintes conseqüències jurídiques que els acords de mediació poden produir tant per a la víctima com per al victimari, en el marc del nostre actual ordenament jurídic en els distints ordes jurisdiccionals Per a això, s'ha realitzat una anàlisi detallat de l'actual legislació aplicable dins dels distints àmbits d'actuació possibles tant a nivell internacional, europeu, nacional com autonòmic, així com de la doctrina i articles d'investigació existents respecte d'això. A més, s'han mantingut reunions informatives sobre la pràctica policial de la mediació exercida actualment per algunes de les poquíssimes unitats de mediació existents en la nostra comunitat, per al que s'ha comptat amb la col·laboració i ajuda inestimable del Cap de la Unitat de Mediació de la Policia Local de Torrevieja Sra. Maríya Illeva Orleshkova Tsvetanova. La conclusió que s'ha aconseguit amb la seua elaboració, ha sigut que el mecanisme de la mediació com a instrument restauratiu de pau i de convivència social, s'estima com una ferramenta imprescindible dins de les noves formes d'actuació policial en el que s'ha vingut a denominar com a policia comunitària o de proximitat
Keywords/Subjects:
mediación
mediation
mediació
policía
restaurativa
policeman
restorative
policia
Type of document:
application/pdf
Access rights:
info:eu-repo/semantics/openAccess
Appears in Collections:
TFG- Derecho

???jsp.display-item.text9???