Please use this identifier to cite or link to this item: https://hdl.handle.net/11000/8222
Polifenoles de plantas comestibles como reprogramadores metabólicos en condiciones de glucolipotoxicidad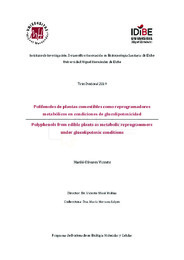 View/Open:
Olivares Vicente, Mariló .pdf
25,03 MB
Adobe PDF
Share:
Title:
Polifenoles de plantas comestibles como reprogramadores metabólicos en condiciones de glucolipotoxicidad
Authors:
Olivares Vicente, María Dolores
Tutor:
Micol Molina, Vicente
Herranz López, María Dolores
Department:
Departamentos de la UMH::Bioquímica y Biología Molecular
Issue Date:
2019-10-28
URI:
http://hdl.handle.net/11000/8222
Abstract:
Las plantas representan una enorme fuente de compuestos con importantes propiedades terapéuticas. Concretamente, los polifenoles han sido ampliamente estudiados no sólo por su inherente capacidad antioxidante, sino además porque su gran diversidad estructural les hace partícipes en multitud de procesos biológicos. Debido a este carácter pleiotrópico, los polifenoles son idóneos candidatos como compuestos bioactivos en el tratamiento de enfermedades multifactoriales como la obesidad y sus patologías asociadas. No obstante, muchos estudios que han empleado modelos celulares se centran en los efectos biológicos de estos compuestos sin considerar la biotransformación que sufren cuando son ingeridos. Considerando aspectos sobre la bioactividad y la biodisponibilidad, el objetivo fundamental de la presente Tesis ha sido profundizar en los mecanismos moleculares de los metabolitos derivados de polifenoles de Hibiscus sabdariffa (HS), Lippia citriodora (LC) y Olea europaea, demostrando su implicación en la mejora de las alteraciones asociadas con la obesidad. Los resultados de la presente Tesis, obtenidos mediante el empleo de un modelo celular de adipocitos hipertróficos inducidos por alta glucosa, indican que los polifenoles y sus metabolitos pueden alcanzar dianas intracelulares revirtiendo las alteraciones metabólicas que ocurren en el tejido adiposo obeso, como el estrés oxidativo, la excesiva acumulación de triglicéridos, la disfunción mitocondrial y la inflamación. Asimismo, se ha visto que los polifenoles pueden mediar sus efectos modulando la expresión génica de proteínas implicadas en el metabolismo lipídico, como la sintasa de ácidos grasos (FASN) o el receptor activado por proliferadores de peroxisomas alfa (PPARα), y la actividad de proteínas como la quinasa activada por AMP (AMPK), un regulador clave del metabolismo energético que representa una diana terapéutica potencial en patologías metabólicas. Además, los estudios computacionales sugieren que algunos polifenoles pueden desempeñar su papel de manera específica modulando directamente la actividad de sus dianas. A pesar de su baja biodisponibilidad, los estudios de intervención en humanos confirman la eficacia de estos polifenoles cuando son consumidos de forma regular en periodos relativamente cortos. En un estudio llevado a cabo con voluntarias obesas y con sobrepeso, se ha demostrado que la ingesta de una combinación de HS y LC puede mejorar parámetros antropométricos y el perfil lipídico, y reducir la tensión arterial sistólica y el pulso cardíaco. Se postula que estos cambios pueden ser mediados por la modulación de AMPK a nivel del tejido adiposo o actuando directamente sobre el sistema cardiovascular. Los resultados de esta Tesis ofrecen un conocimiento global sobre los potenciales metabolitos responsables de la bioactividad de plantas, así como sus posibles dianas moleculares.
Plants represent an enormous source of compounds with important therapeutic properties. Specifically, polyphenols have been widely studied not only because of their inherent antioxidant capacity, but also because their high structural diversity makes them participants in a multitude of biological processes. Due to this pleiotropic nature, polyphenols become suitable candidates as bioactive compounds in the treatment of multifactorial diseases such as obesity and its related diseases. However, many studies using cellular models focus on the biological effects of these compounds without considering the biotransformation they suffer when ingested. Based on bioactivity and bioavailability data, the main objective of this Thesis has been to deepen the molecular mechanisms of polyphenol-derived metabolites from Hibiscus sabdariffa (HS), Lippia citriodora (LC) and Olea europaea, demonstrating their implication on the amelioration of obesity-associated alterations. Using a hypertrophic adipocyte cell model induced by high glucose, the results of this Thesis indicate that polyphenols and their metabolites can reach intracellular targets reversing the metabolic alterations occurred in obese adipose tissue, such as oxidative stress, excessive triglyceride accumulation, mitochondrial dysfunction and inflammation. Likewise, it has been observed that polyphenols can mediate their effects through modulation of gene expression of proteins involved in lipid metabolism, such as fatty acid synthase (FASN) or peroxisome proliferator-activated receptor alpha (PPARα), and the activity of AMPactivated protein kinase (AMPK), a key regulator of energy metabolism that represents a potential therapeutic target in metabolic pathologies. In addition, computational studies suggest that some polyphenols may play their role through a direct modulation of the activity of their targets. Despite the low bioavailability, human intervention studies confirm the efficacy of these polyphenols when consumed regularly in relatively short periods. In a study carried out with obese and overweight volunteers, it has been shown that the intake of a combination of HS and LC can improve anthropometric parameters and lipid profile and reduce systolic blood pressure and heart rate. It is postulated that these changes can be mediated by the modulation of AMPK in adipose tissue or through a direct action on the cardiovascular system. The results of this Thesis offer an extensive knowledge about the potential metabolites responsible for the bioactivity of plants, as well as their possible molecular targets.
Keywords/Subjects:
Biología Celular
Biología molecular
Knowledge area:
CDU: Ciencias puras y naturales: Biología: Bioquímica. Biología molecular. Biofísica
Type of document:
application/pdf
Access rights:
info:eu-repo/semantics/openAccess
Appears in Collections:
Tesis doctorales - Ciencias e Ingenierías

???jsp.display-item.text9???