Please use this identifier to cite or link to this item: http://dspace.umh.es/handle/11000/8218
Estudio de la capacidad antiproliferativa en modelos celulares de cáncer de mama de un extracto de hoja de olivo enriquecido en polifenoles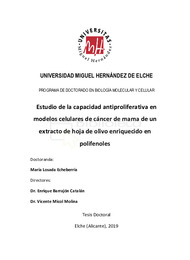 View/Open:
Losada Echeberría, María .pdf
22,18 MB
Adobe PDF
Title:
Estudio de la capacidad antiproliferativa en modelos celulares de cáncer de mama de un extracto de hoja de olivo enriquecido en polifenoles
Authors:
Losada Echeberría, María
Tutor:
Barrajón Catalán, Enrique
Micol Molina, Vicente
Department:
Departamentos de la UMH::Bioquímica y Biología Molecular
Issue Date:
2021-09-13
Abstract:
En las últimas décadas se han logrado nuevos avances en el descubrimiento de fármacos contra el cáncer utilizando compuestos naturales, entre los cuales los polifenoles han surgido como moléculas prometedoras. Pueden actuar sobre varios objetivos moleculares debido a su comportamiento promiscuo, presentando varios efectos fisiológicos, algunos de los cuales confieren actividad antitumoral. El objetivo del presente trabajo ha sido optimizar las condiciones de extracción de un extracto de hoja de olivo con capacidad antitumoral en modelos celulares de cáncer de mama ya demostrada y determinar la capacidad antiproliferativa, así como el mecanismo de acción, de los principales compuestos activos de dicho extracto, la diosmetina, la apigenina y la luteolina. Para estudiar el mecanismo de acción por el cual estos compuestos inhiben la proliferación celular se llevaron a cabo ensayos de viabilidad y citotoxicidad, así como ensayos relacionados con la viabilidad mitocondrial y el estrés oxidativo. Además, se ha analizado la permeabilidad intestinal de los compuestos mediante el uso de monocapas de células intestinales Caco-2 como modelo de epitelio intestinal y a partir de sus estos resultados se ha estimado el potencial de atravesar la barrera hematoencefálica (BHE). Por último, se estudiaron las interacciones sinérgicas para la capacidad antiproliferativa entre los tres compuestos en combinaciones dobles y triples. Los resultados obtenidos demuestran que la combinación de los compuestos diosmetina, apigenina y luteolina posee un efecto antiproliferativo en modelos celulares de los tres subtipos moleculares, luminal, HER2+ y triple negativo (TNBC), así como en un modelo celular metastásico de cerebro, siendo además este efecto selectivo de las células tumorales puesto que es muy inferior en un modelo celular de tejido no tumoral.El mecanismo de muerte principal para las líneas celulares de cáncer de mama luminal y TNBC fue la apoptosis con daño mitocondrial y aumento de la producción de especies reactivas de oxígeno, observándose de manera secundaria un efecto citostático. Por el contrario, en la línea celular de cáncer de mama HER2+ se observó principalmente un efecto citostático y secundariamente un efecto apoptótico con un leve daño mitocondrial. Además, se determinó que los tres compuestos presentan una permeabilidad intestinal moderada y que son buenos candidatos para atravesar la barrera hematoencefálica. En cuanto a los efectos sinérgicos para la capacidad antiproliferativa, los compuestos mostraron interacciones dependientes de la ratio, es decir, que dependiendo de la ratio pueden presentar tanto sinergia, como aditividad o antagonismo. Los resultados obtenidos justifican la utilización de la combinación de diosmetina, apigenina y luteolina en nuevos ensayos que profundicen en su mecanismo de acción, así como estudios in vivo que confirmen sus capacidades antitumorales en modelos animales cáncer de mama, además de su permeabilidad intestinal y hematoencefálica.
In recent decades, new advances have been made in the discovery of anti-cancer drugs using natural compounds, and polyphenols have emerged as promising molecules. They can act on several molecular targets due to their promiscuous behavior, presenting several physiological effects, some of which confer antitumor activity. The objective of this work has been to optimize the extraction conditions of an olive leaf extract that has shown antitumor capacity in breast cancer cell models and determine the antiproliferative capacity, as well as the mechanism of action of its main active compounds, diosmetin, apigenin and luteolin. To study the mechanism of action by which these compounds inhibit cell proliferation, viability and cytotoxicity tests were carried out, as well as tests related to mitochondrial viability and oxidative stress. In addition, the intestinal permeability of the compounds has been analyzed using Caco-2 intestinal cell monolayers as a model of intestinal epithelium and based on these results, the potential to cross the blood-brain barrier has been estimated. Finally, synergistic interactions for the antiproliferative capacity between the three compounds in double and triple combinations were studied. The results show that the combination of diosmetin, apigenin and luteolin exhibit antiproliferative effect in cellular models of the three molecular subtypes, luminal, HER2+ and triple negative (TNBC), as well as in a brain metastatic cell model. This was a selective effect on tumor cells since the combination showed a weaker effect on a non-cancer breast cell model. The main death mechanism for luminal and TNBC cell lines was apoptosis with mitochondrial damage and increased production of reactive oxygen species, a cytostatic effect being observed secondarily. Nevertheless, for the cancer cell line HER2 + breast, the main effect was cytostatic and secondarily an apoptotic effect with a slight mitochondrial damage. In addition, intestinal permeability, it was determined that the three compounds have a moderate permeability and that they are good candidates to cross the blood brain barrier. Regarding the synergistic effects for the antiproliferative capacity, the compounds showed interactions depending on the ratio, that is, depending on the ratio, they can present synergy, additivity or antagonism. The results obtained justify the use of the combination of diosmetin, apigenin and luteolin in new trials that deepen its mechanism of action, as well as in vivo studies that confirm its antitumor abilities in animal models breast cancer, in addition to its intestinal and blood-brain permeability.
Keywords/Subjects:
Biología Celular
Biología molecular
Biotecnología
Type of document:
application/pdf
Access rights:
info:eu-repo/semantics/openAccess
Appears in Collections:
Tesis doctorales - Ciencias e Ingenierías

???jsp.display-item.text9???