Please use this identifier to cite or link to this item: https://hdl.handle.net/11000/5949
Efectividad de un programa de fisioterapia multimodal en la capacidad funcional y emocional de adultos mayores con discapacidad intelectual severa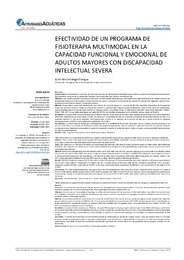 View/Open:
1836-5429-1-PB.pdf
390,47 kB
Adobe PDF
Share:
Title:
Efectividad de un programa de fisioterapia multimodal en la capacidad funcional y emocional de adultos mayores con discapacidad intelectual severa
Authors:
Arrizabalaga Otaegui, Asier
Department:
Departamentos de la UMH::Psicología de la Salud
Issue Date:
2020
URI:
http://hdl.handle.net/11000/5949
Abstract:
Antecedentes: El aumento de la esperanza de vida de las personas con discapacidad intelectual severa acelera un proceso de envejecimiento prematuro que favorece la presencia de un proceso de fragilidad física y psicológica que afecta a la calidad de vida. Objetivos: Este estudio pretende investigar los efectos de una intervención de fisioterapia multimodal en la capacidad funcional de adultos mayores con discapacidad intelectual. Este estudio se realizó durante seis meses y consistió en la realización de sesiones de masoterapia adaptada, ejercicio físico terapéutico en un entorno natural y fisioterapia acuática. Método: Ensayo clínico controlado aleatorizado. Los criterios de inclusión fueron ser mayores de 50 años, presentar diagnóstico de discapacidad intelectual severa teniendo en cuenta los criterios de la DSM-V y presentar alto riesgo de presentar demencias según el NTG-EDSD. Los participantes fueron asignados al azar en el grupo experimental y en el grupo control. Las variables físicas se midieron por medio del Test de Alusti Abreviado, 10MWT, 6MWT, TUG, SCPT, las variables psicológicas por medio del NPI-Q y las variables relacionadas con la calidad de vida por medio del QUALID. Resultados: La muestra final estuvo compuesto por 20 adultos mayores, de los cuales 10 formaron parte del grupo experimental en el cual se obtuvieron diferencias significativas con una p inferior a 0,005, una mejoría en la movilidad (16,5%), en la potencia muscular de la extremidad inferior (90,2%), en el equilibrio dinámico (7,2%), en la capacidad cardio-respiratoria (19,3%), en la velocidad de la marcha (19,4%), en la disminución de los síntomas neuropsiquiátricos (54,45%) y en la mejoría de la calidad de vida (57,8%). Conclusiones: La intervención de fisioterapia multimodal basada en la combinación de sesiones de terapia manual, sesiones de ejercicio físico en un circuito al aire libre y las sesiones de fisioterapia acuática del programa AquaCap fue capaz de mejorar la capacidad funcional, disminuir los síntomas neuropsiquiátricos mejorando la capacidad de expresión emocional y mejorar la calidad de vida de adultos mayores con discapacidad intelectual grave con alto riesgo de demencias.
Abstract: The uncrease in life expectancy of people with severe intellectual disabilities accelerates a process of premature aging that favors the presence of a process of physical and psychological fragility that affects the quality of life. Goals: This study aims to investigate the effects of a multimodal physiotherapy intervention on the functional capacity of older adults with intellectual disabilities. This study was carried out for six months and consisted of conducting sessions of adapted therapy, physical exercise in a natural environment and aquatic physiotherapy. Method: Randomized controlled clinical trial. Inclusion critera were to be older than 50 years, present a diagnosis of severe intellectual disability taking into account the criteria of the DSM-V and present a high risk of presenting dementias according to the NTG-EDSD. Participants were assigned to chance in the experimental group and in the control group. The physical variables were measured by means of the Abbreviated Alusti Test, 10MWT, 6MWT, TUG, SCPT, the psychological variables through the NPI-Q and the variables related to quality of life through QUALID. Results: The final sample was composed of 20 older adults, of which 10 were part of the experimental group in which significant differences were obtained with a p less than 0,005, an improvement in mobility (16.5%), in muscle power of the lower limb (90.2%), in dynamic equilibrium (7.2%), in cardio-respiratory capacity (19.3%), in gait velocity (19.4%), in decrease of neuropsychiatric sympotoms 54,459 and in the improvement of the quality of life (57.8%). Conclusions: The multimodal physiotherapy intervention base don the combination of manual therapy sessions, physical exercise sessions in an outdoor circuit and the aquatic physiotherapy sessions of the AquaCap program was able to improve functional capacity, reduce neuropsychiatric symptoms by improving the capacity of Emotional expression and improve the quality of life of older adults with severe intellectual disabilities with high risk of dementias.
Introdução: O aumento da expectativa de vida das pessoas com discapadidade intelectual grave acelera um proceso de envelhecimento prematuro que favorece a presença de um processo de fragilidade física e psicológica que afeta a qualidade de vida. Objetivos: Este estudo tem como objetivo investigar os efeitos de uma intervenção fisioterapêutica multimodal sobre a capacidade funcinal de idosos com deficiência intelectual. Este estudo foi realizado por seis meses e consistiu em sessões de massagem terapêutica adaptada, exercício físico em ambiente natural e fisioterapia aquática. Método: Ensaio clínico controlado randomizado. Os criterios de inclusão foram ter mais de 50 anos, apresentar diagnóstico de dicapacidade intelectual grave, tendo em conta os criterios do DSM-V e alto risco de apresentar demência de acordó com o NTG-EDSD. Os participantes foram randomizados no grupo experimental e no grupo de controle. As variáveis físicas foram medidas com os seguintes testes: Teste Abreviado de Alusti, 10MWT, 6MWT, TUG, SCPT. As variáveis psicológicas através do QUALID. Resultados: A mostra final foi composta por 20 idosos, dos quais 10 faziam parte do grupo experimental em que foram obtidas diferenças significativas com p menor que 0,005, melhora na mobilidade (16,5%), em força muscular dos membros inferiores (90,2%), em equilibrio dinâmico (7,2%), na capacidade cardiorrespiratória (19,3%), na velocidade da marcha (19,4%), na redução dos síntomas neuropsiquiátricos (54.459) e na melhoria da qualidade de vida (57,8%). Conclusões: A intervençao fisioterapêutica multimodal baseada na combinação de sessões de terapia manual, sesos de exercício físico em cirucuito externo e sessões de fisioterapia aquática do programa AquaCap foi capaz de melhorar a capacidade funcional, reducir os síntomas neuropsiquiátricos melhorando a capacidade de expressão emocional e melhorando a qualidade de vida dos idosos com discapacidade intelectual grave com alto risco de demências
Keywords/Subjects:
Terapia manual
Ejercicio físico
Fisioterapia acuática
Demencia
Knowledge area:
CDU: Filosofía y psicología: Psicología
CDU: Deportes
Type of document:
application/pdf
Access rights:
info:eu-repo/semantics/openAccess
DOI:
https://doi.org/10.21134/riaa.v4i7.1836
Appears in Collections:
RIAA Vol.4 , Núm. 7 (2020)

???jsp.display-item.text9???