Please use this identifier to cite or link to this item: https://hdl.handle.net/11000/5943
Hidroterapia en neonatología. Una revisión sistemática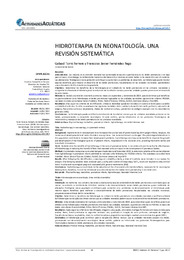 View/Open:
1717-5425-1-PB.pdf
482,63 kB
Adobe PDF
Share:
Title:
Hidroterapia en neonatología. Una revisión sistemática
Authors:
Torró Ferrero, Galaad
Fernández Rego, Francsico Javier
Department:
Departamentos de la UMH::Psicología de la Salud
Issue Date:
2020
Abstract:
Antecedentes: Las mejoras en la atención neonatal han aumentado la tasa de supervivencia de los bebés prematuros y de bajo peso al nacer, sin embargo, la incidencia de trastornos del desarrollo y motores en estos bebés se ha mantenido casi sin cambios. Las alteraciones fisiológicas en esta población contribuyen a aumentar sus problemas de desarrollo. La hidroterapia puede mostrar algunos beneficios para mejorar el desarrollo de los bebés prematuros, hospitalizados en las unidades neonatales, aportándoles una estimulación táctil y cinestésica desgravitada. Objetivos: Determinar los beneficios de la hidroterapia en el cuidado de los bebés prematuros en las unidades neonatales y comprobar la eficacia de la hidroterapia en la reducción de los efectos nocivos que estas unidades pueden provocar en el desarrollo de estos bebés. Método: Se realizó una revisión sistemática entre los meses de septiembre y noviembre de 2019, para determinar qué beneficios se pueden obtener de la hidroterapia en bebés prematuros ingresados en las unidades neonatales siguiendo los criterios PRISMA. Las bases de datos consultadas fueron PubMed, PEDro, Web of Science, CINHAL, SciELO, Cochrane Library y PsycINFO. Resultados: Tras seguir los criterios de identificación, cribado e idoneidad quedaron incluidos en nuestra revisión para su análisis un total de 4 artículos. En ellos se analizaron las siguientes variables: dolor, calidad y duración del sueño profundo, saturación de oxígeno, frecuencia cardíaca y respiratoria, niveles de cortisol en saliva y pronóstico neurológico evaluado con los movimientos generales (MG). Conclusiones: La hidroterapia puede contribuir a la reducción de los efectos nocivos que las unidades neonatales provocan en los bebés, promocionando su desarrollo neurológico. En este sentido, podría introducirse en los protocolos fisioterápicos de intervención y manejo de los bebés prematuros en las unidades neonatales.
Background: Improvements in neonatal care have increased the survival rate of preterm and low birth weight infants; however, the incidence of developmental and motor disorders among these has remained almost unchanged. The physiological alterations in this population contribute to increase their development problems. Hydrotherapy can show some benefits to improve the growth and development of the biological systems of preterm infants, hospitalized in the neonatal units, providing them with tactile and kinesthetic stimulation. Goals: To determine the benefits of hydrotherapy in the care of premature babies in neonatal units and to verify the effectiveness of hydrotherapy in reducing the harmful effects that neonatal units can cause in the development of premature babies. Method: A systematic review was conducted between September and November 2019, to determine what benefits can be obtained from hydrotherapy in premature infants admitted to neonatal units following the PRISMA criteria. The databases consulted were PubMed, PEDro, Web of Science, CINHAL, SciELO, Cochrane Library and PsycINFO. Results: After following the identification, screening and suitability criteria, a total of 4 articles were included in our review for analysis. The following variables were analysed: pain, quality and duration of deep sleep, SatO2, heart and respiratory rate, cortisol levels in saliva and neurological prognosis evaluated with general movements (GM). Conclusions: Hydrotherapy can contribute to the reduction of the of neonatal units harmful effects, necessary for its neurological development, therefore, it could be introduced as a safe intervention for babies born prematurely in neonatal units.
Introdução: As melhorias nos cuidados neonatais aumentaram a taxa de sobrevivência de bebês prematuros e com baixo peso ao nascer, no entanto, a incidência de distúrbios motores e de desenvolvimento nesses bebês permaneceu quase inalterada. As alterações fisiológicas nessa população contribuem para aumentar seus problemas de desenvolvimento. A hidroterapia pode mostrar alguns benefícios para melhorar o desenvolvimento de bebês prematuros hospitalizados nas unidades neonatais, proporcionando estímulo táctil e cenestésico. Objetivo: Determinar os benefícios da hidroterapia no cuidado de bebês prematuros em unidades neonatais e verificar a eficácia da hidroterapia na redução dos efeitos nocivos que as unidades neonatais podem causar no desenvolvimento de bebês prematuros. Método: Uma revisão sistemática foi realizada entre setembro e novembro de 2019, para determinar quais benefícios podem ser obtidos com a hidroterapia em bebês prematuros internados nas unidades neonatais, seguindo os critérios do PRISMA. As bases de dados consultadas foram PubMed, PEDro, Web of Science, CINHAL, SciELO, Cochrane Library e PsycINFO. Resultados: Após seguir os critérios de identificação, triagem e adequação, um total de 4 artigos foi incluído em nossa revisão para análise. Neles, foram analisadas as seguintes variáveis: dor, qualidade e duração do sono profundo, saturação de oxigênio, freqüência cardíaca e respiratória, níveis de cortisol na saliva e prognóstico neurológico avaliado com movimentos gerais (MG). Conclusões: A hidroterapia pode contribuir para a redução dos efeitos nocivos que as unidades neonatais causam nos bebês, promovendo seu desenvolvimento neurológico. Nesse sentido, poderia ser introduzido nos protocolos fisioterapêuticos para intervenção e manejo de bebês prematuros em unidades neonatais.
Keywords/Subjects:
Hidroterapia
Bebes prematuros
atención temprana
Type of document:
application/pdf
Access rights:
info:eu-repo/semantics/openAccess
Appears in Collections:
RIAA Vol.4 , Núm. 7 (2020)

???jsp.display-item.text7???