Please use this identifier to cite or link to this item: https://hdl.handle.net/11000/5325
Evaluación de los genes MGMT, SOCS1 y SOCS3 como marcadores moleculares de quimio y radiorresistencia en modelos celulares de glioblastoma humano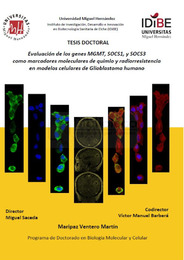 View/Open:
Tesis Ventero Martín, Maripaz.pdf
12,34 MB
Adobe PDF
Share:
Title:
Evaluación de los genes MGMT, SOCS1 y SOCS3 como marcadores moleculares de quimio y radiorresistencia en modelos celulares de glioblastoma humano
Authors:
Ventero Martín, Maripaz
Tutor:
Saceda Sánchez, Miguel
Barberá Juan, Víctor Manuel
Department:
Departamentos de la UMH::Bioquímica y Biología Molecular
Issue Date:
2019-07-11
Abstract:
El glioblastoma multiforme (GBM) es un tumor de mal pronóstico debido a su resistencia a la quimio y radioterapia. Los genes SOCS1 y SOCS3 se han asociado con la progresión tumoral y la respuesta al tratamiento en diferentes tipos de cánceres, entre ellos el GBM. En este trabajo, se han obtenido 6 líneas celulares pertenecientes al grupo de GBM IDH-nativo a partir de cultivos primarios procedentes de aspirados cerebrales de pacientes, sometidos a cirugías de resección en el Hospital General Universitario de Elche. Estas 6 líneas de GBM se caracterizaron según la actual clasificación de la Organización Mundial de la Salud de los tumores del Sistema Nervioso Central, y se determinaron los valores de expresión de SOCS1 y SOCS3 a nivel de ARNm mediante qRT-PCR, y a nivel de proteína mediante inmunocitoquímica. Ambos genes se encontraron sobreexpresados en las líneas celulares de GBM comparados con un pool de ARN de cerebro sano. Su expresión se silenció mediante ensayos de interferencia con ARNsi, y la disminución en la expresión de SOCS3 produjo una mayor radiorresistencia en las líneas celulares de GBM establecidas, lo que sugiere que este gen juega un papel importante en la resistencia a la radioterapia. Además, la sobreexpresión endógena y a través de un promotor heterólogo (pCMV) del gen SOCS3 provocó la radiosensibilización de la línea celular más resistente, reforzando la hipótesis de la implicación de SOCS3 en la adquisición de radiorresistencia en GBM. Por otro lado, se estudiaron los niveles de expresión de los genes PTK6, MSK1, y NFR2, relacionados con SOCS3, en dichas líneas celulares establecidas. Los resultados mostraron que el gen PTK6 se encuentra sobreexpresado, el gen MSK1 infraexpresado y el gen NRF2 mantiene sus valores en las líneas celulares de GBM con respecto al pool de ARN de cerebro sano. Además, la inhibición de la expresión de estos genes produjo un aumento en la radiorresistencia de las líneas celulares de GBM, indicando que es posible que dichos genes estén implicados en la respuesta a la radioterapia en GBM. También se estudiaron las relaciones existentes entre los genes SOCS3, PTK6, NRF2 y MSK1 en las líneas celulares de GBM. En este caso, se comprobó que el silenciamiento de los genes SOCS3 y NRF2 traía consigo la inhibición de la expresión de MSK1. Por último, se potenció el efecto de la radioterapia en la línea celular más resistente mediante el pre-tratamiento con tricostatina A. Esta potenciación fue debida al aumento en la expresión de SOCS3, lo que pone de manifiesto el posible uso de SOCS3 y de la vía de transducción de señal JAK/STAT como nueva fuente de dianas terapéuticas contra la resistencia a la radioterapia en GBM. Las interacciones entre SOCS3, NRF2 y MSK1, y su relación con la radiorresistencia, sugieren la existencia de un mecanismo de resistencia a la radioterapia en GBM mediado por MKS1. Esta tesis constituye el punto de partida de futuras investigaciones dirigidas a comprender la naturaleza de las relaciones entre estos genes y su implicación en la respuesta a la radioterapia.
Glioblastoma multiforme (GBM) is a poor prognosis type of tumour due to its resistance to chemo and radiotherapy. SOCS1 and SOCS3 have been associated with tumour progression and response to treatments in different kinds of cancers, including GBM. In this study, cell lines of IDH-wildtype GBMs from primary cultures were obtained, and the role of SOCS1 and SOCS3 in the response to radiotherapy was analysed. Fifty-two brain aspirates from GBM patients were processed, and six new cell lines of IDH-wildtype GBM were established. These were characterised according to the WHO classification of CNS tumours. SOCS1 and SOCS3 expression levels were determined, at the mRNA level by qRT-PCR, and at the protein level by immunocytochemistry. The results obtained showed that SOCS1 and SOCS3 are overexpressed in GBM, as compared to a non-tumoral brain RNA pool. SOCS1 and SOCS3 expression were reduced by siRNA treatment, and it was found that SOCS3 inhibition increased radioresistance in GBM cell lines, suggesting a key role of SOCS3 in the response to radiotherapy. Furthermore, overexpression of SOCS3 under a heterologous promoter (pCMV), in a radiotherapy resistant GBM cell line increased its radiosensitivity, supporting an important implication of SOCS3 in radiotherapy resistance acquisition. Additionally, the expression levels of several genes related to SOCS3 were analysed in these new cell lines. We found that the PTK6 gene was overexpressed and the MSK1 gene was repressed in these cell lines as compared to a non-tumoral brain RNA pool, whereas the NRF2 gene kept their expression levels similar to those found in the non-tumoral brain RNA pool. Moreover, the downregulation of these genes by specific siRNA rendered the new cell lines of GBM more radioresistant, indicating that these genes are probably related to the radiotherapy response. Besides, the relationship between these genes were analysed, and the results showed that inhibition of SOCS3 and NRF2 caused a downregulation of MSK1. Finally, the radiotherapy response was potentiated in the most radioresistant cell line by thricostatin A treatment due to an increase of SOCS3 level expression. Thus, SOCS3 and its signal transduction pathway (JAK/STAT) could be useful to unmask new putative target in order to improve radiotherapy response in GBM. Also, it would be interesting to address the interactions between NRF2, SOCS3 and MSK1 in GBM cells, because they could be involved in a new radioresistance mechanism mediated by MKS1 expression.
Keywords/Subjects:
Genes
Radioterapia
Quimioterapia
Glioblastoma
Radiorresistencia
Type of document:
application/pdf
Access rights:
info:eu-repo/semantics/openAccess
Appears in Collections:
Tesis doctorales - Ciencias e Ingenierías

???jsp.display-item.text9???