Please use this identifier to cite or link to this item: https://hdl.handle.net/11000/5188
Efecto modulador de Bifidobacterium pseudocatenulatum CECT 7765 sobre la respuesta inflamatoria y la traslocación bacteriana en la cirrosis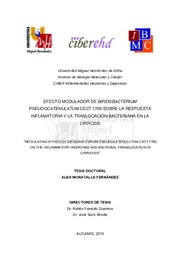 View/Open:
Tesis Moratalla Fernandez, Alba.pdf
4,26 MB
Adobe PDF
Share:
Title:
Efecto modulador de Bifidobacterium pseudocatenulatum CECT 7765 sobre la respuesta inflamatoria y la traslocación bacteriana en la cirrosis
Authors:
Moratalla Fernández, Alba
Tutor:
Francés Guarinos, Rubén José
Such Ronda, José
Department:
Departamentos de la UMH::Biología Aplicada
Issue Date:
2016-02-29
URI:
http://hdl.handle.net/11000/5188
Abstract:
Antecedentes La traslocación bacteriana (TB) es un fenómeno frecuente en la cirrosis y es considerada el mecanismo por el que se desarrollan complicaciones graves de la enfermedad, tales como la peritonitis bacteriana espontánea (PBE). Los episodios de TB provocan una estimulación mantenida del Sistema Inmune (SI) y desencadenan un estado de inflamación, tanto a nivel intestinal como sistémico. Este estado favorece la progresión de la enfermedad y la aparición de complicaciones relevantes. La intervención sobre la microbiota intestinal, utilizando diferentes cepas bacterianas, se considera una estrategia suplementaria potencial para tratar la cirrosis y sus complicaciones. Objetivos Evaluar los efectos de la cepa Bifidobacterium pseudocatenulatum CECT 7765 (CECT7765) sobre el tejido hepático, la pared intestinal y la tasa de TB en un modelo de cirrosis inducida por tetracloruro de carbono (CCl4); discriminar el mecanismo de interacción entre CECT7765 y los linfocitos intestinales (LIs) utilizando este mismo modelo; y estudiar el efecto de CECT7765 sobre la función de macrógafos (MOs) humanos in vitro.Métodos Se realizaron dos protocolos de inducción de daño hepático experimental por la administración intragástrica de CCl4 durante 12 semanas en ratones. En el primero, los animales recibieron CECT7765 a una concentración de 109 unidades formadoras de colonias (UFC)/día o placebo, y a todos los animales se les administró además Escherichia coli (E.coli) (107 UFC, dosis única) de forma intragástrica 24 horas antes de la laparatomia. En el segundo, recibieron concentraciones crecientes de CECT7765 (107, 109 o 1010 UFC/día) o placebo intragástricamente. En ambos casos, un grupo de animales que no recibieron tratamiento alguno actuaron como controles. En el tercer estudio, se incluyeron 10 pacientes con cirrosis y ascitis y 10 controles sanos. Se aislaron MOs derivados de monocitos (MDM) de sangre periférica y MOs de líquido ascítico (LA) y se estimularon in vitro con factor estimulante de colonias de MOs (M-CSF) (100 ug/ml), lipopolisacárido (LPS) (100 ng/ml) y/o CECT7765 (104 UFC). También se evaluaron células de Kupffer (KCs) procedentes de ratas tratadas con CCl4 y sometidas a ligadura del conducto biliar (BDL). Resultados La tasa de TB y los niveles de endotoxina en suero disminuyeron significativamente en animales tratados con CECT7765, mientras que los marcadores de integridad de la pared intestinal y algunos mediadores anti-inflamatorios en muestras de pared intestinal aumentaron de forma significativa, comparado con animales que solo recibieron CCl4. LIs procedentes de ratones tratados con CECT7765 mostraron una reducción significativa en la expresión de receptores de quimiocinas proinflamatorias y una repolarización hacia un perfil anti-inflamatorio. Dicha modulación inflamatoria involucró al receptor tipo Toll (TLR)-2. En estos animales también se observó una reducción en la permeabilidad intestinal, evidenciada por una menor tasa de recuperación de FITC-LPS tras la administración de CECT7765. Por último, la inflamación y la función hepática mejoraron con la administración de CECT7765, aunque sólo a dosis altas (1010 UFC). MDM y MOs procedentes de LA estimulados in vitro con CECT7765 mostraron cambios significativos a nivel morfológico y en la expresión de marcadores de superficie característicos de MOs tipo M2 (CD206, CD163 y CD16) comparados con la estimulación por LPS. El patrón de secreción de citocinas de MDM, MOs de LA y KCs de rata también fue significativamente modulado por la estimulación con CECT7765 comparado con LPS. CECT7765 aumentó la expresión de genes antiinflamatorios en MOs de LA de pacientes con cirrosis, incluso tras el pretratamiento con LPS. CECT7765 no redujo la capacidad bactericida de los MOs de LA. Conclusiones La administración de CECT7765 se asocia con una mejora en la integridad de la pared intestinal y reduce la TB. Además, mejora la homeostasis intestinal, reduciendo la actividad pro-inflamatoria de los LIs en un modelo experimental de cirrosis. CECT7765 induce una transición morfológica, fenotípica y funcional de MDM de sangre periférica y de MOs de LA de pacientes con cirrosis.
Background Bacterial translocation is a frequent event related to severe complications in cirrhosis. Bacterial translocation episodes cause a continuous stimulation of the Immune System, perpetuating both intestinal and systemic inflammation. Specific intestinal microbiota intervention, using different bacterial strains, is considered to be a potential supplementary strategy to ameliorate cirrhosis and its complications. Objectives The aim of this project was to evaluate the effects of Bifidobacterium pseudocatenulatum CECT 7765 strain (CECT7765) on hepatic and intestinal tissues, and its impact on bacterial translocation rate in an experimental model of cirrhosis. Additionally, we aimed to delineate the interaction between CECT7765 and intestinal lymphocytes in this model, as well as to study its effect on the function of human macrophages in vitro. Methods Two protocols of experimental liver damage were carried out by the intragastric administration of CCl4 in mice during 12 weeks. In the first protocol, animals received CECT7765 with a concentration of 109 CFU/day or placebo. In addition, all the animals were given E.coli (107 CFU, in a single dose) intragastrically 24 hours before laparotomy. In the second protocol, animals received increasing amounts of CECT7765 (107, 109 or 1010 UFC/ day) or placebo intragastrically. In both cases, a control group of animals didn't receive any treatment. In a separate study, 10 patients with cirrhosis and ascites were included together with 10 healthy controls. Peripheral blood monocyte-derived and ascitic fluid macrophages were isolated and stimulated with M-CSF (100 ug/ml), LPS (100 ng/ml) and/or CECT7765 (104 CFU) in vitro. Also, Kupffer cells from rats treated with CCl4 and subjected to bile duct ligation were evaluated. Results Bacterial translocation rate and endotoxin levels were significantly reduced in animals treated with CECT7765, while intestinal wall integrity markers and anti-inflammatory mediators in intestinal wall samples were significantly increased compared with animals receiving only CCl4. Administration of CECT7765 significantly reduced the expression of pro-inflammatory chemokine receptors in intestinal lymphocytes and induced a repolarization towards an anti-inflammatory profile of these cells. TLR-2 was involved in this inflammatory modulation. The intestinal permeability reduction observed was validated by a lower LPS-FITC recovery rate after CECT7765 administration. Inflammation and liver function were improved by the CECT7765 treatment, but only with high doses (1010 UFC). CECT7765-treated macrophages showed significant morphological changes and an increase in the expression of the M2-like macrophages surface markers CD206, CD163 and CD16, which was not observed after treatment with LPS. CECT7765 was also able to significantly change the cytokine secretion pattern of blood-derived and ascitic fluid macrophages, as well as of Kupffer cells from BDL and CCl4 cirrhotic rats, compared with that induced by LPS. Moreover, CECT7765 led to the expression of anti-inflammatory genes in ascitic fluid macrophages even after LPS pretreatment. CECT7765 didn't reduce ascitic fluid macrophage capacity of bacterial killing. Conclusions CECT7765 administration is associated with the recovery of the intestinal wall integrity and reduced bacterial translocation rate. Also, it improves intestinal homeostasis reducing the pro-inflammatory activity of intestinal lymphocytes in an experimental model of cirrhosis. CECT7765 induces a morphological, phenotypic and functional transition of peripheral blood monocyte-derived and ascitic fluid macrophages of patients with cirrhosis towards an anti-inflammatory profile.
Keywords/Subjects:
traslocación bacteriana
cirrosis
Knowledge area:
CDU: Ciencias puras y naturales: Biología: Biología celular y subcelular. Citología
Type of document:
application/pdf
Access rights:
info:eu-repo/semantics/openAccess
Appears in Collections:
Tesis doctorales - Ciencias e Ingenierías

???jsp.display-item.text9???