Please use this identifier to cite or link to this item: https://hdl.handle.net/11000/5143
Gestión de la trazabilidad y análisis de peligros y puntos críticos de control (APPCC) de las mezclas nutrientes parenterales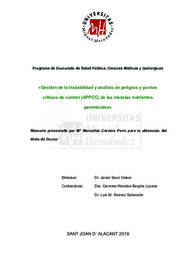 View/Open:
Tesis Cervera Peris, Mª Mercedes.pdf
47,69 MB
Adobe PDF
Share:
Title:
Gestión de la trazabilidad y análisis de peligros y puntos críticos de control (APPCC) de las mezclas nutrientes parenterales
Authors:
Cervera Peris, Mª Mercedes
Tutor:
Sanz Valero, Javier
Wanden-Berghe Lozano, Carmina
Álvarez Sabucedo, Luis M.
Department:
Departamentos de la UMH::Salud Pública, Historia de la Ciencia y Ginecología
Issue Date:
2019-04-12
Abstract:
La elaboración de medicamentos se considera una parte fundamental de la profesión farmacéutica, en la que es responsabilidad de la misma asegurar una adecuada calidad, seguridad y eficacia de aquello que se elabora. La nutrición parenteral es una técnica mediante la que se preparan y administran a los pacientes los nutrientes básicos que se requieren para su sustento por vía intravenosa. Por sus especiales características farmacotécnicas y de control clínico creemos que debe estar bajo el paraguas de un Proceso de Control de Calidad General, que debería incluir la completa trazabilidad y optimización de su gestión, desde su prescripción, elaboración, conservación, dispensación hasta su distribución; mediante la implantación de procedimientos sistematizados y que puedan evaluarse en el tiempo. Para apoyar este Proceso hemos considerado las tecnologías mSalud como las herramientas imprescindibles para llevar a cabo esta gestión. Previo a desarrollar este Proceso hemos situado la nutrición parenteral en su entorno legislativo actual, el contexto científico, la gestión de la calidad, los sistemas de información actuales y nuestro entorno de trabajo. El Proceso se ha desarrollado siguiendo los Principios Generales del Sistema de Análisis de Peligros y Puntos Críticos de Control, que ha requerido desarrollar los diagramas de flujo de las etapas de la trazabilidad para un hospital tipo, junto con el estudio y caracterización de los principales Puntos Críticos de Control existentes (Preparación: gravimetría. Conservación: nevera. Administración: velocidad/volumen/filtro) en el Proceso General de la nutrición parenteral, y luego se ha adaptado a nuestra centro y área de trabajo. La plataforma mSalud, diseñada para este proyecto, se ha testeado para cumplir con un modelo documental de archivo y etiquetado del conjunto del Proceso. La evaluación y validación final del Proceso general de la nutrición parenteral se ha precedido de la realización de una experiencia piloto en el entorno de la nutrición parenteral domiciliaria, en la que se ha verificado el éxito en su totalidad del conjunto del Proceso en la plataforma. Finalmente, hemos procedido a evaluar y validar el Proceso general de la nutrición parenteral en nuestro centro; primero mediante el examen de la usabilidad de la plataforma mSalud que fue valorada de forma positiva por los usuarios, y luego mediante la vigilancia total del Proceso ante los posibles errores no intencionados y cuantificando los principales puntos de control, y a todo ello bajo coste.
The preparation of medicines is considered a fundamental part of the pharmaceutical profession, in which the pharmacist is responsible for achieving standards in terms of quality, safety and efficacy of the products. Parenteral nutrition is a technique by which patients are administered basic nutrients that are required for their treatment through intravenous route; due to its special pharmacotechnical characteristics and clinical control, we think that it must be subject to a General Process of Quality Control that must include complete traceability and optimization of its management, from its prescription, preparation, conservation, dispensation and even its distribution; throughout the implementation of systematized procedures, which can be evaluated over time. To support this process we have considered mHealth technologies as the essential tools to carry out this management. Prior to developing this Process, we have placed parenteral nutrition in its current legislative environment, in its scientific context, in terms of quality management, current information systems and our work environment. Process has been developed following the General Principles of the Hazard Analysis and Critical Control Point System, which have required the development of the flow chart of the traceability stages for a standard hospital, along with the study and characterization of the main Critical Control Points (Preparation: gravimetry, Conservation: refrigerator, Administration: velocity / volume / filter) in the General Process of parenteral nutrition, and then it has been adapted to our center and work area.The mSalud platform designed for this project, has been tested to comply with a documentary model filing and labelling of the entire Process. Evaluation and final validation of the general Process of parenteral nutrition, has been preceded by the realization of a pilot experience in the home parenteral nutrition, in which the success of the entire Process on the platform has been verified. Finally, we proceeded to evaluate and validate the General Process of parenteral nutrition in our center; first, by examining the usability of the mHealth platform, which was valued positively by the users, and then by total monitoring of the Process in the face of possible unintentional errors and quantifying the main Control Points, and all this at low cost.
Notes:
Programa de Doctorado en Salud Pública, Ciencias Médicas y Quirúrgicas
Keywords/Subjects:
Nutrición parenteral
Gestión de procesos
Calidad
Trazabilidad
tecnologías mSalud
Type of document:
application/pdf
Access rights:
info:eu-repo/semantics/openAccess
Appears in Collections:
Tesis doctorales - Ciencias e Ingenierías

???jsp.display-item.text9???