Please use this identifier to cite or link to this item: https://hdl.handle.net/11000/5117
Estudio de la disfunción sexual en pacientes con dolor crónico no oncológico tratados con opioides a largo plazo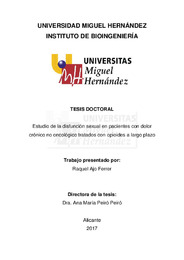 View/Open:
TESIS_Ajo Ferrer, Raquel .pdf
18,06 MB
Adobe PDF
Share:
Title:
Estudio de la disfunción sexual en pacientes con dolor crónico no oncológico tratados con opioides a largo plazo
Authors:
Ajo Ferrer, Raquel
Tutor:
Peiró Peiró, Ana María
Department:
Departamentos de la UMH::Biología Aplicada
Issue Date:
2017-07-18
Abstract:
Introducción: El uso de opioides a largo plazo para tratar pacientes con Dolor Crónico (DC) puede causar hipogonadismo, encontrándose la Disfunción Sexual (DS) entre sus efectos secundarios. Cabe destacar que la DS es un evento infradiagnosticado y por tanto, infratratado. Objetivo: Analizar la presencia de DS en hombres y mujeres con dolor crónico no oncológico (DCNO) tratados con opioides. Así como, evaluar en el caso de los hombres la efectividad de un programa de diagnóstico y derivación temprana a la Unidad de Andrología. Métodos: Se realizó un estudio observacional prospectivo sobre una muestra de 750 pacientes ambulatorios consecutivos, atendidos en la Unidad del Dolor por DCNO, que recibieron opioides durante al menos 12 meses. En ellos se evaluó el dolor, la Dosis Equivalente Diaria de Morfina (DDEM) y los eventos adversos (EA) de los opioides mediante cuestionarios estandarizados y revisiones de los registros médicos. De modo rutinario, en el caso de los hombres, se derivó a la Unidad de Andrología para seguimiento de rutina. En el caso de las mujeres, a la Unidad de Salud Sexual y Reproductiva de su centro de salud. Principales medidas de resultado: La función sexual se valoró por el Índice de Función Sexual Femenina (IFSF) en mujeres y el Índice Internacional de Función Eréctil dominio de Función eréctil (IIFE-FE) en hombres. Resultados: Un 33% de los 750 pacientes con DCNO refirieron presentar DS, con una frecuencia significativamente estadísticamente en hombres vs. mujeres (33% vs. 25%, p <0,05), teniendo más a menudo una pareja habitual (84% vs. 70%, p = 0,03) y una vida sexualmente más activa (69% vs. 34%, p < 0,05). Los hombres recibieron una DDEM significativamente mayor que las mujeres [mediana (rango intercuartílico)], 70 (43-170) mg/día vs. 60 (30-102) mg/día, p = 0,016) ante la misma intensidad media de dolor. El 42% de los hombres, mejoró con el tratamiento andrológico, con una correlación significativa entre la mejora de la disfunción eréctil (DE) y la mejora de su calidad de vida sexual (EVA-EQ-5D 56±26 puntos, p = 0,000) y ansiedad (HADS-A 7±4 puntos, p = 0,048). En las mujeres, la derivación no fue efectiva persistiendo su infradiagnóstico. Conclusión: La DS es un EA frecuente en pacientes con DCNO en tratamiento con opioides a largo plazo, siendo mayor en hombres que reciben una mayor DDEM que en mujeres. En ellos, la DS se asoció con hipogonadismo en el 19% de los casos y su derivación temprana a Andrología mejoró su función eréctil en el 42% de los casos.
Introduction: The use of long-term opioids to treat patients with Chronic Pain (DC) can cause hypogonadism, with Sexual Dysfunction (SD) being among its side effects. It should be noted that SD is an infradiagnosticated and therefore, under-treated event. Objective: To analyze the presence of SD in men and women with chronic non-cancer pain (CNCP) treated with opioids. As well as, evaluate in the case of men the effectiveness of a program of diagnosis and early referral to the Andrology Unit. Methods: A prospective observational study was performed on a sample of 750 consecutive outpatients who were treated at the Pain Unit for CNCP who received opioids for at least 12 months. They evaluated pain, Morphine Equivalent Daily Dose (MEDD), and adverse events (AE) of opioids through standardized questionnaires and medical records reviews. Routinely, in the case of men, they were referred to the Andrology Unit for routine follow-up. In the case of women, they were referred to Sexual and Reproductive Health Unit at Health Centers. Main outcome measures: Sexual function was assessed by the Female Sexual Function Index (FSFI) in females and the International Erectile Function Index of Erectile Function (IIEF-EF) in men. Results: 33% of the 750 patients with CNCP reported having SD, with a statistically significant frequency in men vs. women (33% vs. 25%, p <0.05) vs. 70%, p = 0.03) and a more sexually active life (69% vs. 34%, p <0.05). The men received a DDEM with the highest number of women, 70 (43-170) mg/day vs. 60 (30-102) mg/day, p = 0.016) at the same mean pain intensity. 42% of men, improved with andrological treatment, with a significant correlation between improved erectile dysfunction (ED) and improved sexual quality of life (VAS-EQ-5D 56 ± 26 points, p = 0.000 ) And anxiety (HADS-A 7 ± 4 points, p = 0.048). In women, the shunt was not effective, and its underdiagnosis persisted. Conclusions: SD is a frequent AE in patients with CNCP in long-term opioid treatment, being higher in men who receive higher MEDD than in women. In them, SD was associated with hypogonadism in 19% of cases and its early derivation to Andrology improved its erectile function in 42% of the cases.
Keywords/Subjects:
Farmacología
Anestesiología
Andrología
Type of document:
application/pdf
Access rights:
info:eu-repo/semantics/openAccess
Appears in Collections:
Tesis doctorales - Ciencias e Ingenierías

???jsp.display-item.text9???