Please use this identifier to cite or link to this item: https://hdl.handle.net/11000/5099
Potencial utilidad terapéutica del cannabidiol en el trastorno por uso de alcohol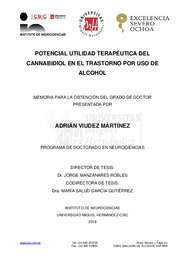 View/Open:
TD Viudez Martínez, Adrián.pdf
3,27 MB
Adobe PDF
Share:
Title:
Potencial utilidad terapéutica del cannabidiol en el trastorno por uso de alcohol
Authors:
Viudez Martínez, Adrián
Tutor:
Manzanares Robles, Jorge
García Gutiérrez, María Isabel
Department:
Departamentos de la UMH::Medicina Clínica
Issue Date:
2018-11-27
URI:
http://hdl.handle.net/11000/5099
Abstract:
Diversos estudios sugieren que el cannabidiol (CBD), compuesto extraído de la planta Cannabis sativa, podría resultar de utilidad en el manejo terapéutico del trastorno por uso de alcohol (TUA) debido a su acción ansiolítica, antidepresiva, antipsicótica y neuroprotectora. En la presente tesis doctoral se explora en detalle la potencial eficacia del CBD en el tratamiento del TUA. En primer lugar, se evalúa su potencial como droga de abuso en las pruebas de condicionamiento preferente de lugar, autoadministración oral y abstinencia espontánea a cannabinoides. A continuación, se estudian los efectos del CBD, solo o en combinación con fármacos comúnmente empleados en el tratamiento del TUA, como la naltrexona (NTX), en el consumo voluntario y en forma de atracón y, en la autoadministración oral de etanol. Asimismo, se evalúa la acción del CBD sobre diferentes efectos fisiológicos inducidos por el etanol (concentración plasmática de etanol, hipotermia y presencia de convulsiones). Con el objetivo de profundizar en el mecanismo de acción por el cual el CBD modula las propiedades reforzantes del etanol, se analizan los cambios en la expresión génica relativa de diferentes dianas implicadas en el proceso de adicción alcohólica mediante la reacción en cadena de la polimerasa (qPCR) a tiempo real. Más en detalle, se evalúa el papel del receptor 5-HT1A en los efectos mediados por el CBD en la autoadministración oral de etanol mediante el pre-tratamiento con el antagonista 5-HT1A WAY100635. Los resultados indican que el CBD no induce preferencia de lugar, ni autoadministración ni signos de abstinencia. Conjuntamente, estos hallazgos corroboran que el CBD carece de potencial como droga de abuso (artículo 1). Asimismo, los resultados obtenidos en este trabajo ponen de manifiesto la potencial utilidad terapéutica del CBD en el TUA (artículo 2-4). Esta afirmación se fundamenta en que el CBD reduce la preferencia, el consumo, la motivación y la recaída a etanol en roedores en los diferentes paradigmas experimentales evaluados (consumo voluntario, autoadministración oral y consumo en forma de atracón). El tratamiento con CBD evita que se produzcan los efectos fisiológicos inducidos por el etanol sin alterar su concentración plasmática, confirmando que el CBD no modifica el proceso de absorción ni de metabolización del etanol. A su vez, se demuestra como la combinación de dosis subefectivas de CBD y NTX presenta mayor eficacia en la autoadministración oral de etanol. Estos cambios comportamentales se asocian con alteraciones en la expresión génica de tirosina hidroxilasa en el área del tegmento ventral, receptor μ opioide, receptores cannabinoides 1 y 2 y receptor acoplado a proteínas G 55 en el núcleo accumbens y receptor serotoninérgico 1A (5-HT1A) en el rafe dorsal. El pretratamiento con el antagonista WAY100635 evita los efectos del CBD sobre el consumo y la motivación en la autoadministración oral de etanol, poniendo de manifiesto que este receptor es una de las principales dianas por las que el CBD media su acción sobre el etanol. En su conjunto, los datos obtenidos en la presente tesis refuerzan el papel del CBD como herramienta terapéutica de interés para el tratamiento del TUA, sentando las bases para la realización de futuros ensayos pre-clínicos y clínicos.
Various studies suggest that cannabidiol (CBD), compound extracted from the plant Cannabis sativa, could be useful in the therapeutic management of alcohol use disorder (AUD) due to its anxiolytic, antidepressant, antipsychotic and neuroprotective properties. In the present doctorate thesis, the possible utility of CBD in the treatment of AUD is explored. Firstly, the potential of CBD as a drug of abuse is evaluated with different experimental procedures: place preference conditioning, oral self-administration and cannabinoid spontaneous withdrawal. Consecutively, the effects of CBD, alone or in combination with other drug commonly employed for treating AUD, such as naltrexone (NTX), are studied in the voluntary intake and binge drinking patterns as well as in the oral ethanol self-administration. Furthermore, the action of CBD on the physiological effects induced by ethanol (ethanol blood concentrations, hypothermia and seizures) was also evaluated. With the aim of delving into the action mechanism by which CBD modulates ethanol reinforcing properties, relative gene expression changes in different targets involved in alcohol addiction were analyzed by real time polymerase chain reaction (qPCR). Moreover, the role of 5-HT1A receptor in the effects mediated by CBD in the oral ethanol self-administration was studied in detail by previously administering WAY100635, a 5-HT1A antagonist. The results show that CBD does not induce place preference, self-administration or withdrawal symptoms. These data corroborate that CBD does not display drug abuse potential (article 1). Likewise, the results obtained in this work show the potential therapeutic utility of CBD in AUD (articles 2-4). This statement is based on the reduction of ethanol preference, consumption, motivation and ethanol-induced relapse observed in rodents treated with CBD and exposed to distinct experimental paradigms (voluntary intake, oral ethanol self-administration and binge drinking). The administration of CBD prevents the physiological effects induced by ethanol without altering its plasma concentration, thus confirming that CBD does not modify ethanol absorption or metabolism. Additionally, here is also demonstrated how the combination of sub-effective doses of CBD and NTX shoe greater efficacy in reducing ethanol consumption and motivation in the oral ethanol self-administration. These behavioural changes are associated with alterations in the gene expression of tyrosine hydroxylase in the ventral tegmental area; μ opioid receptor, cannabinoid receptors 1 and 2 and G protein coupled receptor 55 in nucleus accumbens and serotoninergic receptor 1A in dorsal raphe. Pretreatment with the antagonist WAY100635 prevents the effects of CBD on ethanol intake and motivation in the oral ethanol self-administration, thus showing that this receptor is one of the main targets involved in the effects mediated by CBD on the reinforcing properties of ethanol. Taken together, the results derived from the present thesis highlight the potential interest of CBD as a therapeutic tool for the treatment of AUD, setting the basis for future pre-clinical and clinical trials.
Keywords/Subjects:
Fármacos
Psicotrópicos
Knowledge area:
CDU: Ciencias aplicadas: Medicina
Type of document:
application/pdf
Access rights:
info:eu-repo/semantics/openAccess
Appears in Collections:
Tesis doctorales - Ciencias de la Salud

???jsp.display-item.text9???