Please use this identifier to cite or link to this item: https://hdl.handle.net/11000/5094
Estudio para la validación de la técnica de microureteroscopia en modelo animal porcino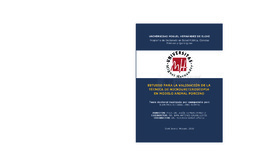 View/Open:
TD Caballero Romeu, Juan Pablo.pdf
27,58 MB
Adobe PDF
Share:
Title:
Estudio para la validación de la técnica de microureteroscopia en modelo animal porcino
Authors:
Caballero Romeu, Juan Pablo
Tutor:
Romero Maroto, Jesús
Soria Gálvez, Federico
Galán Llopis, Juan Antonio
Department:
Departamentos de la UMH::Patología y Cirugía
Issue Date:
2018-07-27
URI:
http://hdl.handle.net/11000/5094
Abstract:
Antecedentes: La ureteroscopia produce efectos adversos como la estenosis ureteral, la fiebre o la sepsis de origen urinario. Estas complicaciones están relacionadas con la lesión de la pared ureteral, la isquemia o la elevación de la presión intrapiélica. Sin embargo, los efectos mecánicos microscópicos y macroscópicos, así como la hipoxia tisular asociada al procedimiento, no han sido estudiados de manera adecuada. La miniaturización de la ureteroscopia pretende reducir los efectos adversos asociados a esta técnica. Objetivo(s): El objetivo principal es demostrar que la ureteroscopia realizada con la vaina de 4,85 Fr. del equipo de micro-Perc® produce menos efectos adversos que el ureteroscopio de 8/9,8 Fr. Se compararon los efectos microscópicos y macroscópicos de la microureteroscopia y de la ureteroscopia (8/9,8 Fr.). También se comparó la presión intrapiélica y los cambios hemodinámicos renales, mientras se realizaba la microureteroscopia y la ureteroscopia (8/9,8 Fr.). Métodos: Para llevar a cabo este estudio experimental se emplearon 14 ejemplares de la especie porcina de la raza Large White. Se realizó una ureteroscopia (8/9,8 Fr.) en uno de los uréteres mientras que se empleó la vaina de 4,85 Fr. de microureteroscopia en el uréter contralateral. En ambos casos se introdujo 21 cm de cada instrumento. Dos cirujanos realizaron 7 ureteroscopias, durante 45 minutos, y 7 icroureteroscopias, durante 60 minutos. En total, se realizaron 28 procedimientos en 14 animales. Se utilizó un catéter para medir la presión intrapiélica cada 5 minutos. Mediante ecografía Doppler se valoró los parámetros hemodinámicos renales. También se midió el volumen de suero de irrigación. Se determinó el daño macroscópico producido en el orificio ureteral y en la pared ureteral. El daño tisular microscópico y la hipoxia ureteral se objetivaron mediante la tinción con hematoxilina-eosina y con inmunohistoquímica (pimonidazol) respectivamente.
Background: Miniaturization of ureteroscopy materials is intended to decrease tissue damage and adverse effects. However, tissue hypoxia and the gross and microscopic effects on tissue have not been adequately assessed. Moreover, ureteroscopy is related to complications, as fever or postoperative urinary sepsis, due to high intrapelvic pressure during the procedure. Purpose(s): The aim is to demonstrate that a ureteroscopy employing the 4.85 Fr. sheath of microPerc® produces less adverse effects than an 8/9.8 Fr. ureteroscope. We compared the gross and microscopic effects of micro-ureteroscopy and 8/9.8Fr. ureteroscopy on the urinary tract. We also compared intrapelvic pressure and changes in renal haemodynamics, while performing micro-ureteroscopy vs. 8/9.8 Fr. ureteroscopy. Methods: We employed 14 pigs of the Large White race in this experimental study. A ureteroscopy was performed in one of the ureters with an 8/9.8 F ureteroscope, while a 4.85 F m-URS sheath was used in the contralateral ureter. Two surgeons performed 7 8/9.8 Fr. ureteroscopies, for 45 min, and 7 micro-ureteroscopies (4.85 Fr.), for 60 min, representing a total of 28 procedures in 14 animals. A catheter pressure transducer measured IPP every 5 min. Haemodynamic parameters were evaluated by Doppler ultrasound. The volume of irrigation fluid employed in each procedure was also measured. Gross assessment of ureteral wall damage and ureteral orifice damage was performed. For microscopic assessment hematoxylin-eosin staining and immunohistochemistry (pimonidazole) for detection of tissue hypoxia were conducted.Results: Regarding the macroscopic assessment of ureteral damage, substantial and significant differences were recorded using 8/9.8 ureteroscopy (C = 0.8), but not with microureteroscopy. Microscopic assessment after staining with hematoxylin-eosin revealed greater epithelial desquamation in the ureteroscopy group (p < 0.05). Pimonidazole staining revealed greater hypoxia in the epithelial cells than in the remainder of the ureteral layers. The range of average intrapelvic pressures was 5.08–14.1 mmHg in the micro-ureteroscopy group and 6.08–20.64 mmHg in the 8/9.8 Fr. ureteroscopy (NS). 30 mmHg of IPP were not reached in 90% of renal units examined with micro-ureteroscopy, as compared to 65% of renal units in the 8/9.8 Fr. ureteroscopy group. Mean peak diastolic velocity decreased from 15.93 to 15.22 cm/s (NS) in the 8/9.8 Fr. ureteroscopy group and from 19.26 to 12.87 cm/s in the micro-ureteroscopy group (p < 0.01). Mean resistive index increased in both groups (p < 0.01). Irrigation fluid volume used was 485 ml in the micro-ureteroscopy group and 1475 ml in the 8/9.8 Fr. ureteroscopy group (p < 0.001). Conclusions: Micro-ureteroscopy causes less damage to the ureteral orifice than ureteroscopy. Histopathological findings show micro-ureteroscopy reduces ureteral epithelial damage compared with conventional ureteroscopy. Both 8/9.8 Fr. ureteroscopy and micro-ureteroscopy cause cellular hypoxia. Micro-ureteroscopy requires less saline irrigation volumes than the conventional ureteroscopy and increases renal IPP to a lesser extent.
Notes:
Programa de Doctorado en Salud Pública, Ciencias Médicas y Quirúrgicas
Keywords/Subjects:
Urología
Cirugía urológica
Knowledge area:
CDU: Ciencias aplicadas: Medicina: Patología. Medicina clínica. Oncología
Type of document:
application/pdf
Access rights:
info:eu-repo/semantics/openAccess
Appears in Collections:
Tesis doctorales - Ciencias de la Salud

???jsp.display-item.text9???