Please use this identifier to cite or link to this item: https://hdl.handle.net/11000/5091
Role of lysine demethylase 5C in neurodevelopment and intellectual disability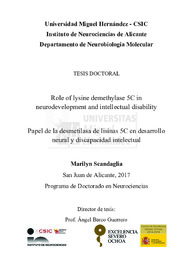 View/Open:
TD Scandaglia, Marilyn.pdf
40,26 MB
Adobe PDF
Share:
Title:
Role of lysine demethylase 5C in neurodevelopment and intellectual disability
Authors:
Scandaglia, Marilyn
Tutor:
Barco Guerrero, Ángel
Department:
Departamentos de la UMH::Medicina Clínica
Issue Date:
2018-01-22
URI:
http://hdl.handle.net/11000/5091
Abstract:
Numerous neurodevelopmental syndromes are caused by mutations in chromatinmodifying enzymes. One of such enzymes, the lysine demethylase 5C (KDM5C) is mutated in Claes-Jensen X-linked intellectual disability (CJ-XLID), a neurodevelopmental disorder associated with intellectual problems and adaptive behaviour impairment. KDM5C demethylates histone H3 di- or trimethylated at lysine 4 (H3K4me2/3), two histone modifications associated with active transcription. In this thesis, I used murine and cellular models of the disease to gain deeper insight into the genomic actions of this protein and its differential role in the developing and adult brain. We compared the behaviour, transcriptome and epigenomic landscapes of Kdm5c null (KO) and forebrain-restricted inducible knockout (ifKO) mice. KOs showed strong neurological phenotypes mimicking patients' symptoms such as decreased learning and memory, epileptic seizure propensity and altered emotions. In contrast, ifKOs only presented some spatial learning deficits, suggesting a predominant developmental component in KDM5C-associated ID. Furthermore, consistent with the proposed general function for Kdm5c as a transcriptional repressor, both KO and ifKO mice showed excessive hippocampal transcription and histone H3K4 tri-methylation at promoters and enhancers. In particular, exclusively KO mice showed (i) neuronal expression of germ line genes that escaped developmental silencing by DNA methylation, and (ii) over-activation of activity-regulated enhancers involved in cognitive processes, such as those at the Npas4, Arc and Fos loci. Although the importance of these functions declines after neuronal maturation, Kdm5c still retains a genome surveillance role preventing the illegitimate activation of non-neuronal and cryptic promoters in adult neurons. Finally, to characterize how a disease-associated mutation affects early stages of human brain development, I produced the first cerebral organoids derived from induced pluripotent stem cells (iPSCs) of CJ-XLID patients.
Numerosos síndromes que afectan el desarrollo del sistema nervioso están causados por mutaciones en enzimas modificadoras de la cromatina. El gen que codifica una de estas enzimas, la desmetilasa de lisinas 5C (KDM5C), está mutado en pacientes con discapacidad intelectual vinculada al cromosoma X de tipo Claes-Jensen (CJ-XLID), un trastorno asociado con problemas neurológicos, intelectuales y alteraciones del comportamiento adaptativo. KDM5C desmetila la histona H3 di- o trimetilada en la lisina 4 (H3K4me2/3), dos modificaciones de esta histona que están asociadas con la transcripción activa. En esta tesis, he utilizado modelos murinos y celulares de la enfermedad para determinar las acciones genómicas de esta proteína y su papel diferencial en el cerebro adulto y durante el desarrollo. Para ello, comparamos la conducta, el transcriptoma y los perfiles epigenómicos de ratones knockout para Kdm5c (KO) y ratones knockout inducibles en los que la perdida de Kdm5c se restringe al prosencéfalo adulto (ifKO). Mientras los ratones KO mostraron fuertes fenotipos neurológicos que reproducen síntomas observados en pacientes (como los deficits en aprendizaje y memoria, la propensión a ataques epilépticos y emociones alteradas), los ifKOs solo presentaron algunos déficits de aprendizaje espacial. Estos resultados sugieren un papel preponderante de Kdm5c durante el desarrollo en la etiología de los problemas cognitivos y neurológicos. Además, de acuerdo con la función general propuesta para Kdm5c como represor transcripcional, tanto los ratones KO como los ifKO mostraron una transcripción de hipocampo excesiva y un aumento de la trimetilación de la histona H3K4 en promotores y secuencias reguladoras de tipo enhancer. Algunas de estas alteraciones son exclusivas de ratones KO, como (i) la expresión en neuronas de genes de línea germinal que escaparon al silenciamiento por metilación del ADN durante la diferenciación celular, y (ii) la sobreactivación de secuencias reguladoras que modulan la transcripción de genes implicados en la respuesta neuronal a estímulos, como Npas4, Arc y Fos. Aunque la importancia de estas funciones disminuye en neuronas maduras, en estas Kdm5c todavía conserva un papel de vigilancia del genoma que evita la activación ilegítima de promotores no neuronales y crípticos. Finalmente, para caracterizar el impacto de una mutación asociada a CJXLID en las primeras etapas del desarrollo del cerebro humano, he producido los primeros organoides cerebrales derivados de células madres inducidas pluripotentes (iPSCs) procedentes de pacientes con CJ-XLID.
Keywords/Subjects:
Neurociencias
Knowledge area:
CDU: Ciencias aplicadas: Medicina
Type of document:
application/pdf
Access rights:
info:eu-repo/semantics/openAccess
Appears in Collections:
Tesis doctorales - Ciencias de la Salud

???jsp.display-item.text9???