Please use this identifier to cite or link to this item: http://dspace.umh.es/handle/11000/4961
La dimensión social del conocimiento global-local y su papel como motor de resiliencia en la industria de Alicante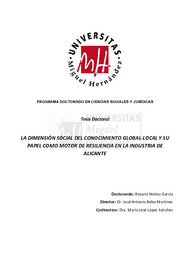 View/Open:
Tesis Doctoral Rosario Mateu García.pdf
9,17 MB
Adobe PDF
Title:
La dimensión social del conocimiento global-local y su papel como motor de resiliencia en la industria de Alicante
Authors:
Mateu García, Rosario
Tutor:
Belso Martínez, José Antonio
López Sánchez, María José
Department:
Departamentos de la UMH::Estudios Económicos y Financieros
Issue Date:
2018-12-07
Abstract:
Esta tesis aspira a realizar una aportación significativa al conocimiento de un tema relevante para la industria manufacturera en los países avanzados: el papel del conocimiento como motor de la actividad innovadora de las empresas y la resiliencia de los sistemas industriales o clústeres. En el contexto actual de crisis económica, determinadas estructuras como los clústeres industriales se han visto forzadas a cambiar con el fin de seguir siendo competitivas. En la presente tesis se analizan los clústeres industriales del textil, juguete y calzado desde tres aspectos: la importancia de la innovación y el networking para la permanencia de los clústeres tradicionales, el papel de las organizaciones de apoyo, y por último, la influencia de la apertura internacional. Para ello, en primer lugar, se realiza un estudio en el clúster del textil valenciano del fenómeno de la producción de textiles técnicos, en el que se explora la actividad colaborativa dentro del sistema productivo textil con el fin de identificar las estructuras relacionales más eficaces para innovar y generar una ventaja competitiva sólida a las empresas del norte de la provincia de Alicante. Un segundo estudio en la Foia de Castalla (Alicante), tras establecer la necesidad de nuevos conocimientos tecnológicos para rejuvenecer la industria tradicional juguetera, establece qué miembros del clúster (empresas, instituciones, proveedores, universidades, centros tecnológicos, etc.) son los más relevantes a la hora de insuflar novedades, difundirlas en el tejido productivo y el modo en que contribuyen a rejuvenecer el clúster industrial. Por último, se presta atención al papel de las empresas multinacionales mediante un estudio realizado en el clúster alicantino del Vinalopó. Concretamente, se analiza el caso de una de las mayores multinacionales que a nivel global establece su relevancia como proveedores de conocimientos nuevos capaces de renovar las capacidades de las empresas locales. Desde un punto de vista metodológico, todos los estudios apuestan por la combinación de análisis cualitativo y cuantitativo. En especial, se utilizan novedosas herramientas para el análisis de redes sociales complejas.Los resultados obtenidos son directamente aplicables a las empresas del entorno y útiles en el diseño de actuaciones públicas de apoyo a sectores que sufren una intensa presión competitiva a nivel internacional. Especialmente, la tesis define vectores para el diseño de estrategias de colaboración exitosas entre empresas, líneas de actuación y mecanismos para la adquisición de nuevos conocimientos globales y su acercamiento a las empresas locales para su uso en la innovación, así como de los factores determinantes para la implantación de multinacionales y de su contribución a la viabilidad del clúster a largo plazo.
Aquesta tesi aspira a realitzar una aportació significativa al coneixement d'un tema rellevant per a la indústria manufacturera en els països avançats: el paper del coneixement com a motor de l'activitat innovadora de les empreses i la resiliència dels sistemes industrials o clústers. En el context actual de crisi econòmica, determinades estructures com els clústers industrials s'han vist forçades a canviar amb la finalitat de continuar sent competitives. En la present tesi s'analitzen els clústers industrials del tèxtil, joguet i calçat des de tres aspectes: la importància de la innovació i el networking per a la permanència dels clústers tradicionals, el paper de les organitzacions de suport, i finalment, la influència de l'obertura internacional. Amb aquest propòsit, en primer lloc, es realitza un estudi en el clúster del tèxtil valencià del fenomen de la producció de tèxtils tècnics, en el qual s'explora l'activitat col∙laborativa dins del sistema productiu tèxtil amb la finalitat d'identificar les estructures relacionals més eficaces per a innovar i generar un avantatge competitiu sòlid a les empreses del nord de la província d'Alacant. Un segon estudi en la Foia de Castalla (Alacant), després d'establir la necessitat de nous coneixements tecnològics per a rejovenir la indústria tradicional joguetera, estableix quins membres del clúster (empreses, institucions, proveïdors, universitats, centres tecnològics, etc.) són els més rellevants a l'hora d'insuflar novetats, difondre‐les en el teixit productiu i la manera en què contribueixen a rejovenir el clúster industrial.Finalment, es para esment al paper de les empreses multinacionals mitjançant un estudi realitzat en el clúster alicantí del Vinalopó. Concretament, s'analitza el cas d'una de les majors multinacionals a nivell global que estableix la seua rellevància com a proveïdors de nous coneixements capaços de renovar les capacitats de les empreses locals. Des d'un punt de vista metodològic, tots els treballs aposten per la combinació d'anàlisi qualitativa i quantitativa. Especialment, utilitza noves eines per a l'anàlisi de xarxes socials complexes. Els resultats obtinguts són directament aplicables a les empreses de l'entorn i útils en el disseny d'actuacions públiques de suport a sectors que sofreixen una intensa pressió competitiva a nivell internacional. Especialment, la tesi defineix vectors per al disseny d'estratègies col∙laboratives d'èxit entre empreses, línies d'actuació i mecanismes per a l'adquisició de nous coneixements globals i el seu apropament a les empreses locals per al seu ús en la innovació i dels factors determinants per a la implantació de multinacionals i de la seva contribució a la viabilitat del clúster a llarg termini.
This thesis aims to make a significant contribution to the knowledge of a topic that is highly relevant to the manufacturing industry in advanced countries: the role of knowledge as a driver of the innovative activity of companies and the resilience of industrial systems or clusters. Within the current context of economic crisis, certain structures such as industrial clusters have been forced to change in order to remain competitive. In this thesis, the textile, toy and footwear industrial clusters are analyzed from three different aspects: the importance of innovation and networking for the permanence of traditional clusters, the role of support organizations, and finally, the influence of international openness. For that purpose, first of all, a study of the phenomenon of the production of technical textiles is carried out in the Valencian textile cluster in which collaborative activity is explored within the productive textile system in order to identify the most effective relational structures to innovate and generate a solid competitive advantage for companies in the north of the province of Alicante. A second study in Foia de Castalla (Alicante), after establishing the need for new technological knowledge to rejuvenate the traditional toy industry, establishes which members of the cluster (companies, institutions, suppliers, universities, technology centers, etc.) are the most relevant when it comes to injecting new ideas, disseminating them in the productive network and seeing how they contribute to rejuvenating the industrial cluster. Finally, attention is paid to the role of multinational companies through a study carried out in the Vinalopó cluster (Alicante). Specifically, the case of one of the largest multinationals in the world is analyzed, establishing its relevance as a supplier of new knowledge capable of renewing the capacities of local companies. From a methodological point of view, all work opts for the combination of qualitative and quantitative analysis. In particular, this work uses innovative tools for the analysis of complex social networks. The results are directly applicable to companies in the area and are useful in the design of public actions to support sectors suffering intense competitive pressure on an international scale. In particular, the thesis defines vectors for the design of successful collaboration strategies among companies, lines of action and mechanisms for the acquisition of new global knowledge and its access to local companies for use in innovation, and determining factors for the deployment of multinationals and their contribution to the long‐term viability of the cluster.
Keywords/Subjects:
Organización de empresas
Gestión de empresas
Economía
Type of document:
application/pdf
Access rights:
info:eu-repo/semantics/openAccess
Appears in Collections:
Tesis doctorales - Ciencias Sociales y Jurídicas

???jsp.display-item.text9???