Please use this identifier to cite or link to this item: https://hdl.handle.net/11000/4489
Farmacogenética aplicada a un sistema de registro de eventos adversos en pacientes tratados con opioides a largo plazo para el dolor crónico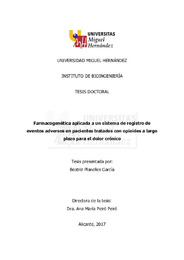 View/Open:
TD Planelles García, Beatriz.pdf
4,21 MB
Adobe PDF
Share:
Title:
Farmacogenética aplicada a un sistema de registro de eventos adversos en pacientes tratados con opioides a largo plazo para el dolor crónico
Authors:
Planelles García, Beatriz
Tutor:
Peiró Peiró, Ana María
Department:
Departamentos de la UMH::Farmacología, Pediatría y Química Orgánica
Issue Date:
2017-09-15
URI:
http://hdl.handle.net/11000/4489
Abstract:
Introducción El uso de los opioides es una práctica común en el tratamiento del dolor crónico de origen no oncológico (DCNO) intenso, donde la variabilidad interindividual en la respuesta analgésica es elevada y los eventos adversos (EA) suponen la primera causa de abandono. El objetivo del presente estudio es analizar si la implantación de un sistema de registro de EA, que incluya marcadores farmacogenéticos, permitiría mejorar el perfil de seguridad del tratamiento con opioides a largo plazo del DCNO y optimizar la detección de sospecha de Reacciones Adversas a Medicamentos (RAM). Métodos Se diseñó un sistema de registro de EA para que los pacientes ambulatorios que acudían a la Unidad del Dolor (UDO), del Hospital General Universitario de Alicante (HGUA), pudieran comunicar a su médico los EA que presentaban relacionados con la terapéutica de su DCNO. Además, se registraron las sospechas de RAM notificadas, así como variables demográficas (edad, género, frecuentación sanitaria), de efectividad (intensidad y alivio del dolor, calidad de vida) y farmacológicas (dosis diaria equivalente de morfina [DDEM], polifarmacia [≥ 5 fármacos prescritos relacionados con dolor]). Los pacientes se dividieron en dos grupos, según si habían presentado sospecha de RAM (caso) o no (control), realizándose un seguimiento de ambos grupos. En el subestudio farmacogenético se analizó la asociación entre el SNP A118G del gen OPRM1 y el SNP G472A del gen COMT con variables de seguridad y efectividad relacionadas con el tratamiento opioide a largo plazo. El estudio fue aprobado por el Comité de Ética en Investigación Clínica del HGUA y se analizó con el paquete estadístico R 3.2.0. Resultados Un total de 753 pacientes (70% ♀; 66 ± 12 años; 603 controles y 150 casos) fueron seguidos durante el periodo de 24 meses de estudio. De los 603 controles, se realizó el seguimiento de 166. De los 150 casos, 129 realizaron una visita de seguimiento tras la RAM. Los 753 pacientes comunicaron un total de 4283 EA, siendo notificadas 168 sospecha RAM (26% desórdenes del sistema nervioso, 16% psiquiátricos, 12% gastrointestinales). Se triplicó la notificación de RAM respecto a los 24 meses previos al estudio. Se detectaron 13 nuevas sospechas de RAM no descritas en las Fichas Técnicas. En los casos, existió un mayor número de EA por paciente (8 ± 6 vs. 5 ± 4 EA/paciente, p < 0.001), más cambios de medicamentos por dolor (52% vs 21%, p <0,01) y visitas no planificadas al departamento de urgencias (50% vs. 18% p <0,01) que en los controles. En el seguimiento de los casos, estas variables disminuyeron a valores similares a los controles. Además, los casos presentaron un porcentaje mayor de mujeres (77 vs. 63%, p < 0.001), un dolor más intenso (EVA 67 ± 26 vs. 59 ± 30 mm, p = 0.028), mayor DDEM (139 ± 130 vs. 106 ± 99 mg/día, p < 0.005) y polifarmacia (65% vs. 34%, p < 0.001). El seguimiento de los controles mostró que el número de EA/paciente fue significativamente menor comparado con la visita inicial (5 ± 4 vs. 4 ± 3 EA/paciente, p = 0.038), aumentando la calidad de vida de estos pacientes (41 ± 25 vs. 45 ± 23 mm; p-valor= 0.042). El genotipo OPRM1 influyó en el número total de EA y, en concreto el 118-AA mostró un porcentaje significativamente mayor de EA depresión, insomnio, disminución del deseo sexual, estreñimiento y cefalea. En cambio, el genotipo COMT 472-GA mostró un mayor número de EA somnolencia.Conclusión El sistema de registro de EA implantado en la UDO ha mostrado ser efectivo y sensible para mejorar el perfil de seguridad del tratamiento del DCNO a largo plazo con opioides y optimizar la detección de RAM, donde la inclusión de marcadores farmacogenéticos permitirían explicar parte de la variabilidad interindividual en la presencia de determinados EA.
Introduction The use of opioid treatment is a common practice for the management of chronic non-cancer pain (CNCP), where the interindividual variability in the analgesic response is high and the adverse events (AEs) are the first cause of neglect. The objective is to analyse whether the implantation of an AEs recording system, including pharmacogenetic markers, would improve the safety profile of long-term opioid treatment and optimize the detection of suspected Adverse Drug Reactions (ADRs). Methods An AEs recording system was designed so that outpatients who came to the Pain Unit in the General University Hospital of Alicante (HGUA) could communicate their doctor the AEs they presented related to the treatment. In addition, the reported suspected AEs, as well as demographic variables (age, gender, medical attendance), effectiveness (intensity and pain relief, quality of life) and pharmacological data (morphine equivalent daily dose [MEDD] prescribed, polypharmacy ≥ 5 prescribed drugs related to pain) were recorded. Patients were divided into two groups, according to if they had suspected ADR (case) or not (control), and both groups were followed up. In the pharmacogenetics substudy the relationship between the A118G SNP of the OPRM1 gene and the G472A SNP of the COMT gene was analysed combined with safety and effectiveness variables related to the long-term opioid treatment. The study was approved by the accredited Ethics Committee of the HGUA and analysed with the statistical package R 3.2.0. Results A total of 753 patients (70% ♀, 66 ± 12 years, 603 controls, 150 cases) were followed during the 24-month study period. That reported a total of 4283 AEs, with 168 suspected ADRs (26% nervous system disorders, 16% psychiatric, 12% gastrointestinal). The ADR notification tripled in relation to the 24 months prior to the study. 13 new suspected ADRs were not described in the literature available. In cases, there was a greater number of AEs per patient (8 ± 6 vs. 5 ± 4 AEs / patient, p <0.001), and medication changes due to pain (52% vs 21%, p <0.01) as well as unplanned visits to the emergency services (50% vs. 18% p <0.01) than controls. In the follow-up of cases, these variables decreased to values similar to the controls. Cases presented a higher percentage of women (77 vs. 63%, p <0.001), more intense pain (EVA 67 ± 26 vs. 59 ± 30 mm, p = 0.028), higher MEDD (139 ± 130 vs. 106 ± 99 mg/día, p < 0.005) and polypharmacy (65% vs. 34%, p <0.001). The follow-up of controls showed that the number of AE / patient was significantly lower compared to their initial visits (5 ± 4 vs. 4 ± 3 EA / patient, p = 0.038), increasing the quality of life of these patients (41 ± 25 vs. 45 ± 23 mm, p-value = 0.042). The OPRM1 genotype showed an influence in the number of AEs, in particular 118-AA showed a significantly higher percentage of AEs such as depression, insomnia, decreased sex drive, constipation and headache. In contrast, genotype COMT 472-GA showed a greater number of AEs as drowsiness. Conclusion The EAs recording system implemented in the Pain Unit of the HGUA has been shown to be effective and sensitive to improve both the safety profile of long-term treatment with opioid in CNCP and the optimization of the detection of ADRs, where the inclusion of pharmacogenetic markers would explain part of the interindividual variability in the presence of certain AEs.
Keywords/Subjects:
Genética clínica
Farmacología
Enfermedad
Knowledge area:
CDU: Ciencias aplicadas: Medicina: Farmacología. Terapéutica. Toxicología. Radiología
Type of document:
application/pdf
Access rights:
info:eu-repo/semantics/openAccess
Appears in Collections:
Tesis doctorales - Ciencias e Ingenierías

???jsp.display-item.text9???