Please use this identifier to cite or link to this item: https://hdl.handle.net/11000/3619
Actividad antitumoral de un extracto de romero (Rosmarinus officinalis L.) en modelos in vitro e in vivo de cáncer de colon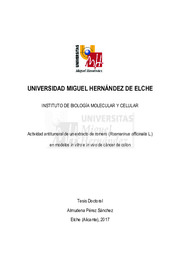 View/Open:
TD Pérez Sánchez, Almudena.pdf
27,7 MB
Adobe PDF
Share:
Title:
Actividad antitumoral de un extracto de romero (Rosmarinus officinalis L.) en modelos in vitro e in vivo de cáncer de colon
Authors:
Pérez Sánchez, Almudena
Tutor:
Ferragut Rodríguez, José Antonio
Micol Molina, Vicente
Barrajón Catalán, Enrique

Department:
Departamentos de la UMH::Bioquímica y Biología Molecular
Issue Date:
2017-04-28
URI:
http://hdl.handle.net/11000/3619
Abstract:
Los compuestos bioactivos naturales han suscitado un gran interés científico por sus potenciales beneficios en la salud humana, particularmente en la prevención del cáncer, las enfermedades cardiovasculares y neurodegenerativas. Algunos de estos compuestos han mostrado propiedades antitumorales inhibiendo la proliferación de células cancerígenas tanto en modelos in vitro como in vivo. El objetivo del presente trabajo ha sido determinar la actividad antitumoral de un extracto de romero (ER) enriquecido en terpenoides en modelos in vitro e in vivo de cáncer colorrectal humano. Además, se ha contribuido a explicar el mecanismo de acción por el cual el ER inhibe la proliferación celular mediante ensayos de viabilidad y de citotoxicidad, así como la implicación de rutas relacionadas con la viabilidad mitocondrial y la respuesta al estrés oxidativo. Posteriormente, se ha estudiado la actividad de dicho extracto en un modelo animal y se ha analizado la permeabilidad intestinal de los compuestos del extracto mediante el empleo de monocapas de células intestinales Caco-2. Los resultados obtenidos demuestran que el ER presenta una actividad antiproliferativa similar o superior a la observada de manera individual por alguno de sus compuestos más activos, como el ácido carnósico. El mecanismo predominante del efecto antiproliferativo del ER es la muerte celular por necrosis y, en menor medida, un efecto citostático mediante el bloqueo del ciclo celular en la fase G2/M. Se propone que esta necrosis sea desencadenada por un aumento exacerbado en los niveles de especies reactivas de oxígeno (ROS) intracelulares, generados a partir de los terpenos presentes en el extracto, y posterior activación de la vía Nrf2 como mecanismo de protección celular. Se propone a los diterpenos ácido carnósico y carnosol y a algún triterpeno como el ácido betulínico como principales responsables del efecto antitumoral observado. La capacidad antiproliferativa del extracto ha sido corroborada en un modelo animal de xenotransplantes humanos de cáncer de colon y se ha verificado en ratas su ausencia de toxicidad a los niveles máximos permitidos por la regulación existente relativa a ensayos animales. Los resultados también muestran que el ácido carnósico presenta la mayor permeabilidad entre los compuestos del extracto seguido del epiisorrosmanol y epirrosmanol. La encapsulación del extracto de romero en liposomas no ha mejorado en ningún caso la absorción intestinal de los compuestos identificados. Los resultados obtenidos justifican la utilización de dicho extracto en nuevos ensayos preclínicos para corroborar su eficacia y estudiar en profundidad su mecanismo de acción mediante una aproximación global basada en ciencias ómicas.
Bioactive compounds have attracted much scientific interest since they exert various beneficial effects on health, including cancer prevention, cardiovascular and neurodegenerative diseases. Some of these compounds have shown anti-cancer activity by inhibiting the cell proliferation in in vitro and in vivo models. The aim of this study was to determine the antiproliferative effect of a terpenoid-enriched rosemary extract (RE) in in vitro and in vivo models of human colorectal cancer. In addition, the mechanism of the antiproliferative/cytotoxic activity was addressed through cell viability and cytotoxicity assays cell cycle analysis, clonogenic survival assay, real time cell growth analysis and migration assay. The role of pathways related to mitochondrial viability and oxidative stress response was also studied. Afterwards, RE activity has been studied in a model animal and the intestinal permeability of the extract compounds has been analyzed through a Caco-2 cell monolayer assay. The results indicate that RE shows a similar and/or higher antiproliferative activity than their individually active compounds, such as carnosic acid. The main death mechanism of RE is the necrosis and, to a lesser degree, a cytostatic effect by blocking cell cycle in G2/M phase. The exacerbated increase of intracellular reactive oxygen species (ROS) levels, possibly generated by RE terpenoids, could trigger necrosis. Nrf2 pathway was also activated as a part of a cellular protection event against RE action. The anti-tumor effect of the extract was also corroborated in an animal model (human colon cancer xenotransplantation) and no toxicity was found after an acute oral toxicity test in rats. Carnosic acid, carnosol and some triterpenes such as betulinic acid are postulated as the putative candidates for the observed antiproliferative activity. The results also show that carnosic acid exhibited the highest permeability values followed by epiisorosmanol and epirosmanol in the intestinal cell monolayers. The liposome encapsulation of RE has not improved the intestinal absorption any of the identified compounds. Finally, the results justify further research to verify the efficacy of the RE in preclinical trials and to deeply study its action mechanism through a global approach based on omics techniques.
Keywords/Subjects:
Cultivo celular
Knowledge area:
CDU: Ciencias puras y naturales: Biología: Bioquímica. Biología molecular. Biofísica
Type of document:
application/pdf
Access rights:
info:eu-repo/semantics/openAccess
Appears in Collections:
Tesis doctorales - Ciencias e Ingenierías

???jsp.display-item.text9???