Please use this identifier to cite or link to this item: https://hdl.handle.net/11000/3408
Estudio de la respuesta dual de anticuerpos IgE e IgG en la toxocariosis humana y su relación con el fenómeno de la atopia. Descripción de alérgenos relevantes de toxocara canis.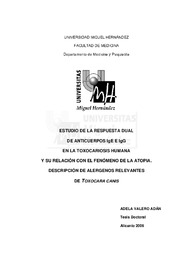 View/Open:
TD Valero Adán, Adela(protegida).pdf
858,36 kB
Adobe PDF
Share:

???jsp.display-item.text9???