Please use this identifier to cite or link to this item: https://hdl.handle.net/11000/27492
Avaliação da Qualidade de Vida em Pacientes Vítimas de Queimaduras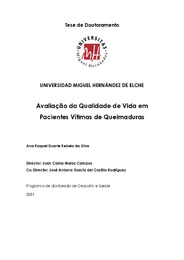 View/Open:
Duarte Rebelo da Silva, Ana Raquel.pdf
6,46 MB
Adobe PDF
Share:
Title:
Avaliação da Qualidade de Vida em Pacientes Vítimas de Queimaduras
Authors:
Duarte Rebelo da Silva, Ana Raquel
Tutor:
Marzo Campos, Juan Carlos
García del Castillo Rodríguez, José Antonio
Univerity:
Universidad Miguel Hernández de Elche
Department:
Departamentos de la UMH::Psicología de la Salud
Issue Date:
2021-03-16
URI:
https://hdl.handle.net/11000/27492
Abstract:
Nos últimos anos, o conhecimento médico e as técnicas cirúrgicas para o tratamento das queimaduras transformaram os procedimentos e as terapêuticas no tratamento do paciente queimado, permitindo um aumento significativo da sua sobrevida. Apesar disto, as sequelas daí resultantes são prevalentes e conduzem a alterações na perceção de QDV das suas vítimas. Dada a importância do tema, o principal objetivo deste estudo é a análise de fatores associados à adaptação do paciente queimado à sua condição para determinar modelos preditores das dimensões da QDV. Para a concretização do objetivo foi feito o estudo de adaptação portuguesa do "Burn Specific Health scale - Revised" (BSHS-R). Posteriormente procurou-se entender a relação existente entre a QDV e características sociodemográficas, variáveis clínicas e variáveis psicológicas como a sintomatologia emocional, o ambiente familiar e a inteligência emocional percebida. Trata-se de um estudo transversal realizado no Hospital da Prelada, Porto, com uma amostra de 92 pacientes vítimas de queimaduras, que se encontravam internados na Unidade de Queimados e na Cirurgia Plástica e Reconstrutiva, entre novembro de 2009 e junho de 2014. Os resultados alcançados sugerem boas características psicométricas do BSHS-R na população estudada, comprovando tratar-se de um instrumento útil para a avaliação da perceção de QDV do paciente queimado. Foram encontradas diferenças na QDV nas variáveis sociodemográficas (género) e clínicas (extensão da queimadura, classificação da queimadura, visibilidade da queimadura). Confirmou-se também a existência de associações entre a QDV, a sintomatologia emocional, o ambiente familiar e a inteligência emocional percebida. Os modelos preditores de QDV consideram a sintomatologia emocional como uma variável com efeito mediador entre a inteligência emocional percebida e a QDV.
Recently, medical knowledge and surgical techniques for burn treatment have transformed the procedures and therapeutics in the treatment of a burned patient, increasing significantly his life expectancy. Nevertheless, the resulting sequelae are significant and lead to changes in the Quality of Life (QOL) perception of the victims. Given the importance of the subject, the key objective of this study is the analysis of factors related to the adaptation of the burned patient to his condition to assess predictive models of the QOL dimensions. For the accomplishment of the objective a Portuguese adaptation study has been made of the "Burn Specific Health scale - Revised" (BSHS-R). Subsequently it was analyzed the relationship between QOL and the sociodemographic characteristics, clinical variables and psychological variables such as emotional symptomatology, the family environment and perceived emotional intelligence. This is a transversal study realized with a sample of 92 patients, which had been hospitalized in the Burn, Plastic and Reconstructive Surgery units of the Prelada Hospital, Porto, between November 2009 and June 2014. The achieved results suggest good psychometric characteristics of the BSHS-R in the observed population, confirming its usefulness as an instrument to assess the perceived QOL of the burned patient. Some differences have been found in the QOL in the sociodemographic variables (gender) and clinical (burn extension, type of burn and burn visibility). There has also been observed the existence of relationship between the QOL, the emotional symptomatology, the family environment and the perceived emotional intelligence. The predictive models of QOL consider the emotional symptomatology as a variable with a mediating effect between the perceived emotional intelligence and the QOL.
En los últimos años, el conocimiento médico y las técnicas quirúrgicas para el tratamiento de las quemaduras han transformado los procedimientos y las terapias del paciente quemado, permitiendo un aumento significativo de su supervivencia. A pesar de esto, las secuelas resultantes muestran una alta prevalencia y conducen a alteraciones de las percepción de la Calidad de Vida (CdV) de las víctimas. Dada la relevancia del tema, el principal objetivo de este estudio es el análisis de los factores asociados a la adaptación del paciente quemado y su condición para determinar modelos predictores de las dimensiones de la CdV. Para la operativización de dicho objetivo, se realizó la adaptación portuguesa del "Burn Specific Health scale - Revised" (BSHS-R). Posteriormente, se trató de comprender la relación existente entre la CdV, características sociodemográficas, variables clínicas y variables psicológicas (como la sintomatología emocional, el ambiente familiar y la inteligencia emocional percibida). Se trata de un estudio transversal llevado a cabo en el hospital de Prelada, Oporto, con una muestra de 92 pacientes victimas de quemaduras, que se encontraban internados en la unidad de quemados, cirugía plástica y reconstructiva, entre noviembre de 2009 y junio de 2014. Los resultados obtenidos muestran buenas características psicométricas del BSHS-R en la población estudiada, confirmándose que se trata de un instrumento útil para la evaluación de la CdV del paciente quemado. Se encontraron diferencias en la CdV en función de las variables sociodemográficas (género) y clínicas (extensión, clasificación y visibilidad de la quemadura). Se confirmó la existencia de asociaciones entre la CdV, la sintomatología emocional, el ambiente familiar y la inteligencia emocional percibida. Los modelos predictores de la CdV consideran la sintomatología emocional como variable mediadora entre la Inteligencia emocional percibida y la CdV.
Keywords/Subjects:
Calidad de vida
Quemaduras
Sintomatología emocional
Ambiente familiar
Inteligencia emocional percibida
BSHS-R
Knowledge area:
CDU: Filosofía y psicología: Psicología
Type of document:
application/pdf
Access rights:
info:eu-repo/semantics/openAccess
Appears in Collections:
Tesis doctorales - Ciencias e Ingenierías

???jsp.display-item.text9???