Please use this identifier to cite or link to this item: https://hdl.handle.net/11000/27472
Compuestos antimicrobianos de origen natural: enfermedades infecciosas resistentes a antibióticos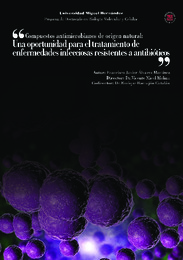 View/Open:
Alvarez Martinez Francisco Javier (1).pdf
110,21 MB
Adobe PDF
Share:
Title:
Compuestos antimicrobianos de origen natural: enfermedades infecciosas resistentes a antibióticos
Authors:
Álvarez Martínez, Francisco Javier
Tutor:
Micol Molina, Vicente
Barrajón Catalán, Enrique
Univerity:
Universidad Miguel Hernández de Elche
Department:
Departamentos de la UMH::Bioquímica y Biología Molecular
Issue Date:
2021-05-25
URI:
https://hdl.handle.net/11000/27472
Abstract:
La presente Tesis Doctoral nace de la urgente necesidad de hallar nuevos agentes antimicrobianos eficaces como consecuencia del auge de los microorganismos resistentes a antibióticos que causan infecciones cada vez más graves y difíciles de tratar en todo el planeta. Este trabajo describe y profundiza en la capacidad antimicrobiana de los compuestos de origen natural como herramienta para el desarrollo de terapias antibióticas alternativas o complementarias a las existentes en la actualidad. Esta Tesis Doctoral se estructura como un compendio de tres artículos científicos publicados en revistas de alto índice de impacto pertenecientes al primer cuartil (Q1), cada una de ellas correspondiente a un capítulo. El Capítulo 1 revisa y estudia la capacidad antibacteriana de los polifenoles de plantas frente a especies bacterianas de interés clínico, centrándose especialmente en Staphylococcus aureus y sus cepas resistentes a antibióticos. Además, incluye un cribado virtual de moléculas polifenólicas frente a dianas moleculares bacterianas relacionadas con la resistencia a antibióticos. Este capítulo remarca el enorme potencial terapéutico de los fitoquímicos como antimicrobianos y sienta las bases bibliográficas para los estudios in vitro desarrollados en el siguiente capítulo. En el Capítulo 2 se describe el proceso de cribado de diversos fitoquímicos potencialmente antimicrobianos frente a once especies bacterianas extraídas de muestras de pacientes del Hospital General Universitario de Alicante. Los resultados obtenidos apuntan a que los dos extractos de plantas seleccionados poseen actividad antimicrobiana y mecanismos de acción diferentes. Asimismo, se observa que el nivel de susceptibilidad bacteriana a la acción de los extractos puede correlacionarse con su perfil de resistencia a antibióticos de uso clínico. Se muestra una actividad antibacteriana diferencial frente a los aislados de S. aureus según su perfil de resistencia a antibióticos y la composición polifenólica de los extractos, observación que podría conducir al desarrollo de terapias combinatorias que incluyan antibióticos y extractos vegetales. El Capítulo 3 consiste en una ampliación del espectro de estudio compuestos naturales antimicrobianos, pasando a estudiar 68 compuestos diferentes de fuentes animales, bacterianas y fúngicas, además de las vegetales hasta ahora descritas. En este capítulo se incluyen las principales dianas moleculares y mecanismo de acción antimicrobiano propuesto para cada compuesto revisado. El campo de los compuestos naturales antimicrobianos es enorme y su tendencia es creciente. El avance tecnológico y científico permite la identificación y el redescubrimiento de compuestos naturales prometedores para combatir las infecciones humanas, incluyendo aquellas resistentes a antibióticos.
This Doctoral Thesis arises from the urgent need to find new effective antimicrobial agents because of the rise of antibiotic-resistant microorganisms that cause increasingly serious and difficult-to-treat infections throughout the planet. This work describes and deepens the antimicrobial capacity of compounds of natural origin as a tool for the development of alternative or complementary antibiotic therapies to those that currently exist. This Doctoral Thesis is structured as a compendium of three scientific articles published in high impact index journals belonging to the first quartile (Q1), each corresponding to a chapter. Chapter 1 studies the antibacterial capacity of plant polyphenols against bacteria of clinical interest, focusing especially on Staphylococcus aureus and its antibiotic resistant strains. Furthermore, it includes a virtual screening of polyphenolic molecules against bacterial molecular targets related to antibiotic resistance. This chapter highlights the enormous therapeutic potential of phytochemicals as antimicrobials and lays the bibliographic basis for the following in vitro studies developed in the next chapter. Chapter 2 describes the screening process of various potentially antimicrobial phytochemicals against eleven bacterial species extracted from patient samples of the Alicante University General Hospital. The results obtained point to the fact that the two selected plant extracts have antimicrobial activity and have different mechanisms of action. Likewise, it is observed that the level of bacterial susceptibility to the action of the extracts can be correlated with its resistance profile to antibiotics of clinical use. A differential antibacterial activity is shown against S. aureus isolates according to their antibiotic resistance profile and the polyphenolic composition of the extracts, an observation that could lead to the development of combinatorial therapies that include antibiotics and plant extracts. Chapter 3 consists of an extension of the spectrum of study of natural antimicrobial compounds, going on to study 68 different compounds from animal, bacterial and fungal sources in addition to the plants described up to now. This chapter includes the main molecular targets and proposed antimicrobial mechanism of action for each compound reviewed. The field of natural antimicrobial compounds is vast, and its trend is increasing. Technological and scientific advancement allows the identification and rediscovery of promising natural compounds to combat human infections, including those resistant to antibiotics.
Keywords/Subjects:
Biología Molecular
Microorganismos
Antibióticos
Knowledge area:
CDU: Ciencias puras y naturales: Biología: Biología celular y subcelular. Citología
CDU: Ciencias puras y naturales: Biología: Bioquímica. Biología molecular. Biofísica
Type of document:
application/pdf
Access rights:
info:eu-repo/semantics/openAccess
Attribution-NonCommercial-NoDerivatives 4.0 Internacional
Appears in Collections:
Tesis doctorales - Ciencias e Ingenierías

???jsp.display-item.text9???