Please use this identifier to cite or link to this item: https://hdl.handle.net/11000/27447
Caracterización agronómica, morfológica y bioquímica de variedades de limonero (Citrus limon (L.) Burm.) injertados sobre diferentes portainjertos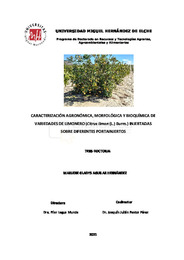 View/Open:
TD Aguilar Hernández, M.G.pdf
13,5 MB
Adobe PDF
Share:
Title:
Caracterización agronómica, morfológica y bioquímica de variedades de limonero (Citrus limon (L.) Burm.) injertados sobre diferentes portainjertos
Authors:
Aguilar Hernández, Marlene Gladys
Tutor:
Legua, Pilar

Pastor Pérez, Joaquín Julián
Univerity:
Universidad Miguel Hernández
Department:
Departamentos de la UMH::Producción Vegetal y Microbiología
Issue Date:
2021
URI:
https://hdl.handle.net/11000/27447
Abstract:
Los limones son beneficiosos para la salud humana por su actividad antioxidante, fenoles y vitamina C. El objetivo de la presente Tesis Doctoral fue evaluar el efecto de los portainjertos sobre la calidad de la fruta. El primer experimento evaluó tres portainjertos obtenidos en el programa de mejora genética de patrones español [Instituto Valenciano de Investigaciones Agrarias (IVIA)]: portainjerto de cítricos Forner ‐ Alcaide 5 ('FA 5'), Forner ‐ Alcaide 13 ('FA 13') y Forner‐ Alcaide 517 ('FA 517') injertados con cuatro variedades de limón (Citrus limon (L) Burm f.): 'Eureka ́, 'Verna ́, 'Fino 49' y 'Betera'. El segundo experimento investigó los dos portainjertos tradicionales, (Citrus macrophylla Wester y Citrus aurantium L.) injertados con 'Fino 95', 'Fino 49' y 'Verna'. La tercera investigación consistió en determinar el perfil volátil del aceite de la corteza de todas las combinaciones patrón/injerto. Los parámetros evaluados en fruto, en el primer y segundo estudio fueron: características morfológicas (color, peso, calibre, espesor de corteza, porcentaje de zumo), características químicas (sólidos solubles totales, acidez titulable, índice de madurez, azúcares y ácidos orgánicos) y características nutracéuticas (actividad antioxidante y contenido total de polifenoles). Como resultado del primer y segundo ensayo se encontró que los portainjertos del grupo Forner Alcaide influyeron en la disminución en el peso, tamaño y espesor de la corteza, pero incrementaron el porcentaje de zumo y sólidos solubles. En el contenido de polifenoles y actividad antioxidante, los portainjertos 'FA 13' y 'FA 517' mostraron los valores más altos en todas las variedades estudiadas. C. aurantium presentó mejores propiedades organolépticas que C. macrophylla. En el tercer experimento, los portainjertos que influyeron en los compuestos volátiles fueron de mayor a menor concentración 'FA5'> 'FA517'> 'FA13'> C. aurantium > C. macrophylla y las variedades más aromáticas 'Eureka'> 'Bétera'> 'Fino 95'> 'Verna'> 'Fino 49'. Estas evaluaciones determinaron que los portainjertos influyen en las características físicas, químicas, nutracéuticas y en el perfil de compuestos volátiles. Esta investigación contribuye a fortalecer la necesidad de continuar evaluando los portainjertos para obtener frutos en la apariencia requerida por el consumidor, pero también en sus propiedades internas como el contenido de vitamina C y antioxidantes importantes para la salud
Lemons are beneficial for human health due to their antioxidant activity, phenols and vitamin C. The objective of this Doctoral Thesis was to evaluate the effect of rootstocks on the quality of the fruit. The first experiment evaluated three rootstocks obtained in the Spanish stock breeding program [Instituto Valenciano de Investigaciones Agrarias (IVIA)]: citrus rootstock Forner - Alcaide 5 ('FA 5'), Forner - Alcaide 13 ('FA 13') and Forner‐ Alcaide 517 ('FA 517') grafted with four varieties of lemon (Citrus limon (L) Burm f.): 'Eureka', 'Verna', 'Fino 49' and 'Betera'. The second experiment investigated the two traditional rootstocks, (Citrus macrophylla Wester and Citrus aurantium L.) grafted with 'Fino 95', 'Fino 49' and 'Verna'. The third investigation consisted in determining the volatile profile of the bark oil of all the standard / graft combinations. The parameters evaluated in the fruit, in the first and second study were: morphological characteristics (color, weight, size, rind thickness, percentage of juice), chemical characteristics (total soluble solids, titratable acidity, maturity index, sugars and organic acids) and nutraceutical characteristics (antioxidant activity and total polyphenol content). As a result of the first and second trials, it was found that the rootstocks of the Forner Alcaide group influenced the decrease in the weight, size and thickness of the bark, but increased the percentage of juice and soluble solids. In the content of polyphenols and antioxidant activity, the rootstocks 'FA 13' and 'FA 517' showed the highest values in all cultivars studied. C. aurantium had better organoleptic properties than C. macrophylla. In the third experiment, the rootstocks that influenced the volatile compounds were from higher to lower concentration 'FA5'> 'FA517'> 'FA13'> C. aurantium> C. macrophylla and the more aromatic cultivars 'Eureka'> 'Bétera' > 'Fino 95'> 'Verna'> 'Fino 49'. These evaluations determined that rootstocks influence the physical, chemical, nutraceutical characteristics and the profile of volatile compounds. This research contributes to strengthening the need to continue evaluating rootstocks to obtain fruits in the appearance required by the consumer, but also in their internal properties such as the content of vitamin C and antioxidants important for health
Notes:
Programa de Doctorado en Recursos y Tecnologías Agrarias, Agroambientales y Alimentarias
Keywords/Subjects:
Frutas cítricas
Injertos
Morfología vegetal
Knowledge area:
CDU: Ciencias aplicadas: Agricultura. Silvicultura. Zootecnia. Caza. Pesca: Cultivos y producciones
Type of document:
application/pdf
Access rights:
info:eu-repo/semantics/openAccess
Attribution-NonCommercial-NoDerivatives 4.0 Internacional
Appears in Collections:
Tesis doctorales - Ciencias e Ingenierías

???jsp.display-item.text9???