Please use this identifier to cite or link to this item: https://hdl.handle.net/11000/2646
Insatisfaçao e satisfaçao profissional dos enfermeiros militares em Portugal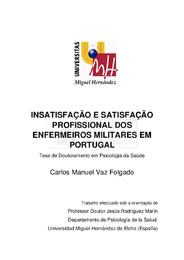 View/Open:
TD Vaz Folgado, Carlos Manuel.pdf
3,32 MB
Adobe PDF
Share:
Title:
Insatisfaçao e satisfaçao profissional dos enfermeiros militares em Portugal
Authors:
Vaz Folgado, Carlos Manuel
Tutor:
Rodríguez Marín, Jesús
Department:
Departamentos de la UMH::Psicología de la Salud
Issue Date:
2016-01-26
URI:
http://hdl.handle.net/11000/2646
Abstract:
Nas últimas décadas, a satisfação profissional tem sido, encarada como condição importante, se não mesmo essencial, para melhorar o funcionamento de empresas e demais organizações, logo, a satisfação no trabalho reflecte-se na qualidade da prestação de cuidados prestados aos utentes e na instituição. O presente estudo tem como objectivos, aferir a satisfação dos profissionais que trabalham nos Hospitais Militares em Portugal face aos factores sociodemográficos, organizacionais e verificar quais as dimensões da satisfação profissional que têm um maior papel preditor na satisfação global. Para avaliar o grau de satisfação profissional utilizamos o Instrumento de Avaliação da Satisfação Profissional (IASP). A população alvo foi constituída por 143 enfermeiros que exerciam funções nos referidos hospitais e o apuramento dos resultados foi realizado de acordo com as orientações metodológicas dos autores do questionário. O estudo revelou que:A satisfação profissional dos enfermeiros depende do tipo de horário, do facto de os mesmos desempenharem funções de gestão, assim como desenharem funções de responsabilidade de supervisão perante outros, do local de residência e da idade. Constata-se ainda que a satisfação global dos inquiridos depende do local de residência, tipo de horário, funções de gestão de serviços na unidade e a responsabilidade perante outros. Na satisfação global, a satisfação com as chefias (faceta Superior Hierárquico e a satisfação com a qualidade da unidade de saúde na prestação de cuidados e a melhoria contínua da qualidade) pesam na satisfação global percepcionada pelo enfermeiro.
En las últimas décadas, satisfacción en el trabajo se ha considerado como condición importante, si no esencial, para mejorar el funcionamiento de las empresas y otras organizaciones, la satisfacción laboral se refleja en la calidad de la atención proporcionada a los clientes y en la institución. El presente estudio tiene como objetivos, evaluar la satisfacción de los profesionales que trabajan en los hospitales militares de factores demográficos, organización del cara de Portugal y comprobar cuáles son las dimensiones de la satisfacción en el trabajo que tienen un papel más importante en la satisfacción global del Predictor. Para evaluar el grado de satisfacción en el trabajo utilizamos la herramienta de evaluación de satisfacción en el trabajo (IASP). La población consistió en 143 enfermeras que ejercitaron funciones en los hospitales y el establecimiento de los resultados se llevó a cabo siguiendo las directrices metodológicas de los autores del cuestionario. El estudio reveló: Satisfacción laboral de las enfermeras depende del tipo de programa, el hecho de que el mismo realizar funciones de administración, así como llamar la responsabilidad de supervisión funciones antes que otras, el lugar de residencia y edad. Toma nota de que la satisfacción total de los encuestados depende del lugar de residencia, tipo de horario, funciones de gestión de servicios en la unidad y la responsabilidad hacia los demás. En la satisfacción general, satisfacción con los cacicazgos (faceta Superior jerárquico y la satisfacción con la calidad de atención de la salud y la mejora continua de la calidad) pesan en satisfacción global percibida por la enfermera.
In recent decades, professional satisfaction has been seen as an important condition, if not essential, to achieve the improvement of the functioning of companies and other organizations thus the work satisfaction is reflected in quality of the care provided to users and the institution. The objectives of the present study is to explore the satisfaction of professionals working in Military Hospitals in Portugal regarding sociodemographical and organizational factors and verify which dimensions of professional satisfaction play the greatest predictive role in global satisfaction. We use the Professional Satisfaction Assessment Instrument (IASP) in order to assess the level of professional satisfaction. The target population was composed by 143 nurses working in the aforesaid hospitals. Data treatment followed the methodological orientations of the questionnaire's authors. The study revealed that: The professional satisfaction of the nurses depends on their working schedule, on whether or not they perform management or supervisory tasks, as well as their place of residence and on their age. Moreover, the global satisfaction of the respondents depends on their place of residence, their working schedule, on whether or not they perform management tasks and on nurses' accountability towards others. The global satisfaction and the satisfaction with supervisors (facet immediate superior, satisfaction with the quality of the health unit in care and continuous improvement of quality) account for overall satisfaction perceived by nurses.
Keywords/Subjects:
psicologia de grupos
Knowledge area:
CDU: Filosofía y psicología: Psicología
Type of document:
application/pdf
Access rights:
info:eu-repo/semantics/openAccess
Appears in Collections:
Tesis doctorales - Ciencias Sociales y Jurídicas

???jsp.display-item.text9???