Please use this identifier to cite or link to this item: https://hdl.handle.net/11000/25539
Cyber Places, Crime Patterns, and Cybercrime Prevention: An Environmental Criminology and Crime Analysis approach through Data Science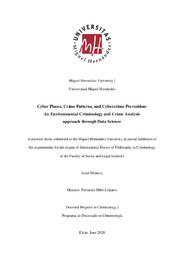 View/Open:
Moneva Pardo, Asier.pdf
Tesis Digital
2,58 MB
Adobe PDF
Share:
Title:
Cyber Places, Crime Patterns, and Cybercrime Prevention: An Environmental Criminology and Crime Analysis approach through Data Science
Authors:
Moneva Pardo, Asier
Tutor:
Miró Llinares, Fernando
Univerity:
Universidad Miguel Hernández de Elche
Department:
Departamentos de la UMH::Ciencia Jurídica
Issue Date:
2020-07-24
URI:
http://hdl.handle.net/11000/25539
Abstract:
For years, academics have examined the potential usefulness of traditional criminological theories to explain and prevent cybercrime. Some analytical frameworks from Environmental Criminology and Crime Analysis (ECCA), such as the Routine Activities Approach and Situational Crime Prevention, are frequently used in theoretical and empirical research for this purpose. These efforts have led to a better understanding of how crime opportunities are generated in cyberspace, thus contributing to advancing the discipline. However, with a few exceptions, other ECCA analytical frameworks —especially those based on the idea of geographical place— have been largely ignored. The limited attention devoted to ECCA from a global perspective means its true potential to prevent cybercrime has remained unknown to date. In this thesis we aim to overcome this geographical gap in order to show the potential of some of the essential concepts that underpin the ECCA approach, such as places and crime patterns, to analyse and prevent four crimes committed in cyberspace. To this end, this dissertation is structured in two phases: firstly, a proposal for the transposition of ECCA's fundamental propositions to cyberspace; and secondly, deriving from this approach some hypotheses are contrasted in four empirical studies through Data Science. The first study contrasts a number of premises of repeat victimization in a sample of more than nine million self-reported website defacements. The second examines the precipitators of crime at cyber places where allegedly fixed match results are advertised and the hyperlinked network they form. The third explores the situational contexts where repeated online harassment occurs among a sample of non-university students. And the fourth builds two metadata-driven machine learning models to detect online hate speech in a sample of Twitter messages collected after a terrorist attack. General results show (1) that cybercrimes are not randomly distributed in space, time, or among people; and (2) that the environmental features of the cyber places where they occur determine the emergence of crime opportunities. Overall, we conclude that the ECCA approach and, in particular, its place-based analytical frameworks can also be valid for analysing and preventing crime in cyberspace. We anticipate that this work can guide future research in this area including: the design of secure online environments, the allocation of preventive resources to high-risk cyber places, and the implementation of new evidence-based situational prevention measures.
Durante años, los académicos han examinado la potencial utilidad de las teorías criminológicas tradicionales para tratar de explicar y prevenir el cibercrimen. Algunos marcos analíticos de la Criminología Ambiental y el Análisis Delictivo (ECCA), como el Enfoque de las Actividades Cotidianas y las Prevención Situacional del Crimen, se han utilizado frecuentemente en investigaciones teóricas y empíricas con este fin. Estos trabajos han permitido mejorar nuestra comprensión sobre cómo se generan las oportunidades delictivas en el ciberespacio, contribuyendo así al avance de la disciplina. Sin embargo, salvo contadas excepciones, el resto de los marcos analíticos de ECCA —especialmente aquellos basados en la idea de lugar geográfico— han sido ampliamente ignorados. La escasa atención prestada al enfoque desde una perspectiva global ha causado que todavía hoy se desconozca su verdadero potencial para prevenir el cibercrimen. En esta tesis tratamos de superar esta barrera geográfica para mostrar el potencial de algunos de los conceptos esenciales que vertebran el enfoque de ECCA, como los lugares y los patrones delictivos, para analizar y prevenir cuatro crímenes que se cometen en el ciberespacio. Para ello, esta disertación se estructura en dos fases: una primera, en la que se propone la transposición de las proposiciones fundamentales de ECCA al ciberespacio; y una segunda, en la que se derivan algunas hipótesis de este enfoque y se contrastan mediante la realización de cuatro estudios empíricos a través de la Ciencia de Datos. En el primer estudio se analizan una serie de premisas sobre victimización repetida en una muestra de más de nueve millones de desfiguraciones web auto reveladas. En el segundo, se examinan los precipitadores del crimen en los ciber lugares donde se ofertan resultados de partidos supuestamente amañados y la red de hipervínculos que conforman. En el tercero, se exploran los contextos situacionales donde ocurre el acoso en línea repetido en una muestra de estudiantes de enseñanzas no universitarias. Y, en el cuarto, se construyen dos modelos de aprendizaje automático basados en metadatos para detectar discurso de odio en línea en una muestra de mensajes de Twitter recogida tras un atentado terrorista. Los resultados generales muestran (1) que los cibercrímenes no se distribuyen aleatoriamente en el espacio, en el tiempo, ni entre las personas; y (2) que los elementos ambientales de los ciber lugares donde acontecen determinan la aparición de oportunidades delictivas. En conjunto, concluimos que el enfoque de ECCA y, en particular, sus marcos analíticos basados en lugares también pueden ser válidos para analizar y prevenir el crimen en el ciberespacio. Anticipamos que este trabajo puede guiar investigaciones futuras en este ámbito como: el diseño de entornos seguros en línea, la concentración de recursos preventivos en ciber lugares de alto riesgo, o la implementación de nuevas medidas de prevención situacional basadas en la evidencia aportada.
Keywords/Subjects:
análisis delictivo
ciber lugar
cibercrimen
Ciencia de Datos
Knowledge area:
CDU: Ciencias sociales: Derecho: Derecho penal. Delitos
Type of document:
application/pdf
Access rights:
info:eu-repo/semantics/openAccess
Appears in Collections:
Tesis doctorales - Ciencias Sociales y Jurídicas

???jsp.display-item.text9???