Please use this identifier to cite or link to this item: https://hdl.handle.net/11000/25538
Efecto del método de procesado sobre la microestructura y bioactividad de andamios eutectoides dentro del sistema 3CaOP2O5-2CaOSiO2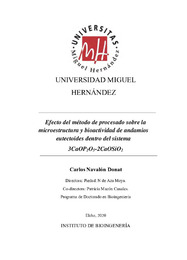 View/Open:
Tesis Carlos Navalon.pdf
Tesis Digital
4,18 MB
Adobe PDF
Share:
Title:
Efecto del método de procesado sobre la microestructura y bioactividad de andamios eutectoides dentro del sistema 3CaOP2O5-2CaOSiO2
Authors:
Navalón Donat, Carlos
Tutor:
De Aza Moya, Piedad Nieves
Mazón Canales, Patricia
Univerity:
Universidad Miguel Hernández de Elche
Department:
Departamentos de la UMH::Ciencia de Materiales, Óptica y Tecnología Electrónica
Issue Date:
2020-06-29
Abstract:
The increase in life expectancy in a population also leads to its aging, thus increasing the probability of suffering diseases related to bone tissue. Therefore, the development of biomaterials destined to bone tissue regeneration is necessary. In this thesis, it is proposed to obtain ceramic materials, within the Ca2SiO4-Ca3(PO4)2 system, using the Polymer Sponge Replica m ethod (REP) by immersing a polyurethane (PU) sponge in a Sol-gel suspension (SG) and another one from Slurry (BR), followed by a thermal treatment in order to obtain ceramics with a porous 3D structure. Subsequently, the physical-chemical, mineralogical, macro and microstructural characterization of the previously obtained materials will be carried out, as well as their bioactivity evaluation through in vitro tests in simulated body fluid (SFA) to study their possible application in bone tissue regeneration. The characterization of the materials obtained by both methods has been carried out by different techniques, such as XRD, SEM, ATR-FTIR and Hg Porosimetry. The results indicate the scaffolds acquired by SG and BR had similarities at the macrostructure level. However, they present differences in terms of the phases present, microporosity and microstructure. The scaffolds have an open porosity (~95) whose pore size ranges from 300-600μm. However, significant differences have been found in relation to microporosity, being 12.83% and 48.9% in the BR and SG scaffolds, respectively, Regarding the mineralogical composition, the BR scaffolds are biphasic due to the presence of the C2S and Nurse´s A phases, while the SG scaffolds are multiphasic because they present several minority phases and C2S and TCP as majority ones. The results show a lamellar microstructure of alternating layers of C2S and Nurse´s A for BR scaffolds, whereas SG scaffolds present globular microstructure generated by an agglomeration of particles which have lost their identity and have grown cylindrically. The bioactivity evaluation of the 3D scaffolds was determined by changes in the scaffold´s microstructure due to the dissolution/precipitation processes that take place after immersion in SBF. The characterization was performed by SEM and ICP-OES. Both samples are bioactive, because they generated a Hydroxyapatite (HA) precipitate, mineral component of bone tissue, on its surface. However, SG scaffolds exhibited slower bioactivity (14 d) compared to BR (6 h), thus presenting different reaction kinetics.
El aumento de la esperanza de vida en una población conlleva al envejecimiento de la misma, aumentando así la probabilidad de sufrir problemas relacionados con el tejido óseo. Es por tanto necesario el desarrollo de biomateriales destinados a la regeneración de tejido óseo. En esta tesis se propone la obtención de materiales cerámicos, dentro del sistema Ca2SiO4-Ca3(PO4)2, mediante la técnica de Réplica de Esponja Polimérica (REP) por inmersión de una esponja de poliuretano (PU) en una suspensión de Sol-gel (SG) y otra de Barbotina (BR), seguida de un tratamiento térmico para obtener cerámicas con una estructura 3D porosa. Posteriormente se procede a la caracterización físico-química, mineralógica, macro- y microestructural de los materiales previamente obtenidos, así como la evaluación de su bioactividad mediante ensayos, in vitro, en suero fisiológico artificial (SFA) con el objeto de estudiar su posible aplicación en la regeneración de tejido óseo. La caracterización de los materiales obtenidos por ambos métodos se ha llevado a cabo por diferentes técnicas, tales como DRX, MEB, ATR-IRTF y Porosimetría de Hg. Los resultados indican que los andamios obtenidos por SG y BR poseen similitudes a nivel macroestructural. No obstante, presentan diferencias en cuanto a las fases presentes, microporosidad y microestructura. Los andamios presentan una estructura de porosidad abierta (⁓95 %), cuyo tamaño de poro oscila entre 300-600μm. Sin embargo, diferencias significativas se han encontrado en relación a la microporosidad, siendo del 12,83% y 48,9% en los andamios de BR y SG, respectivamente. En cuanto a la composición mineralógica, los andamios de BR son bifásicos debido a la presencia de las fases C2S y Nurse´s A, mientras que los andamios de SG son multifásicos, ya que presentan diversas fases minoritarias y C2S y TCP como fases mayoritarias. Los resultados muestran una microestructura laminar alternando láminas de C2S y Nurse´s A para andamios de BR, mientras que los andamios de SG presentan una microestructura globular generada por una aglomeración de partículas que han perdido su identidad y han crecido de forma cilíndrica. La evaluación de la bioactividad de los andamios se determinó mediante cambios producidos en la microestructura de los mismos debido a los procesos de disolución/precipitación que tienen lugar tras inmersión en SFA. La caracterización se realizó mediante MEB y ICP-OES. Ambas muestras son bioactivas, ya que generaron un precipitado de Hidroxiapatito (HA), componente mineral del tejido óseo, en su superficie. Sin embargo, la cinética de reacción fue distinta, siendo más lenta para los andamios de SG (14 d) frente a los de BR (6 h).
Keywords/Subjects:
materiales cerámicos
prótesis
tecnología de materiales
Type of document:
application/pdf
Access rights:
info:eu-repo/semantics/openAccess
Attribution-NonCommercial-NoDerivatives 4.0 Internacional
Appears in Collections:
Tesis doctorales - Ciencias e Ingenierías

???jsp.display-item.text9???