Please use this identifier to cite or link to this item: https://hdl.handle.net/11000/25509
La construcción de la innovación en los medios de comunicación nativos digitales: Los casos de El Confidencial y Quartz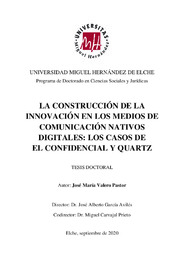 View/Open:
VALERO PASTOR Tesis_firmado.pdf
Tesis digital
8,38 MB
Adobe PDF
Share:
Title:
La construcción de la innovación en los medios de comunicación nativos digitales: Los casos de El Confidencial y Quartz
Authors:
Valero Pastor, José María
Tutor:
García Avilés, José Alberto
Carvajal Prieto, Miguel
Univerity:
Universidad Miguel Hernández
Department:
Departamentos de la UMH::Ciencias Sociales y Humanas
Issue Date:
2021-03
URI:
http://hdl.handle.net/11000/25509
Abstract:
La presente tesis doctoral estudia la construcción de la innovación en los medios de comunicación nativos digitales, en un contexto de continuas transformaciones tecnológicas, sociales y económicas, que obligan a las empresas a buscar productos, procesos, formas organizativas y modelos de negocio que hagan sostenible su actividad. Tras una revisión teórica, se emplea el método del estudio de caso aplicado a El Confidencial y Quartz, dos empresas informativas seleccionadas como referentes innovadores en sus ámbitos geográficos, España y Estados Unidos, escogidas a través de un panel de expertos y un algoritmo compuesto por fórmulas de relevancia social y profesional. Se recurre a la observación participante y la realización de 20 entrevistas en profundidad con responsables y profesionales de ambos medios, así como otros recursos documentales, para estudiar las configuraciones y dinámicas internas de las compañías en torno a ocho pilares que resultan esenciales para la innovación en periodismo: los perfiles, identidades y roles de los profesionales, la formación de equipos multidisciplinares, la dimensión espacial de las redacciones, los flujos de trabajo, el liderazgo, la creatividad, la cultura corporativa, y la transferencia de conocimientos entre las áreas y los trabajadores que componen las plantillas. Los resultados revelan que este tipo de organizaciones contratan a profesionales con especializaciones temáticas y técnicas diversas, que constituyen recursos valiosos en la ideación y desarrollo de los productos y la elaboración de los contenidos. Se fomenta la formación de grupos de trabajo heterogéneos para cubrir todas las aristas presentes en las necesidades de los públicos objetivos. Además, para cumplir este objetivo de manera más eficiente, adoptan flujos de trabajo flexibles como las metodologías ágiles, sobre todo en las unidades de producto, ya que permiten el testeo constante de los proyectos ante los usuarios, y su posterior reformulación o desarrollo. Se constata la efectividad del liderazgo transformacional sobre la capacidad innovadora de las compañías, pues propugna una visión compartida que permite alinear a los trabajadores en torno a objetivos comunes. Así, las empresas promueven la creatividad organizacional por medio de la motivación intrínseca y la autonomía profesional. También se fomenta la transferencia de conocimientos, pues las compañías reparan en los factores que influyen en la difusión de la innovación e intentan influir sobre ellos. El contacto entre las diferentes profesionales provoca que se genere una cultura organizacional más innovadora. Sin embargo, las áreas más ligadas con el contenido presentan mayores reticencias a la innovación debido a una mayor dependencia de los ritmos de la actualidad, y una identidad profesional más clásica. En conclusión, esta investigación contribuye a los campos de conocimiento de la empresa informativa y la innovación mediática, pues aporta un marco conceptual holista aplicable al análisis de casos prácticos, estudia la relación entre la innovación y los procesos que conducen a ella, y construye sobre la perspectiva del actor-red para rechazar el determinismo tecnológico. Además, se extraen conclusiones sobre el desempeño de los medios, y se aporta un decálogo de recomendaciones para integrar la cultura de la innovación en estas organizaciones.
This doctoral thesis analyzes the construction of innovation in digital native media, in a context of continuous and accelerated technological, social and economic transformations, which encourage companies to look for new products, processes, organizational forms and business models in to achieve sustainability. After a theoretical review, the case study method is applied to El Confidencial and Quartz, two news outlets considered as innovation examples in their respective geographic areas, Spain and the United States. These companies were chosen through a process based on an expert panel and an algorithm composed of social and professional relevance criteria. Participant observation and 20 in-depth interviews with editors and professionals from both media, as well as other documentary resources, are carried out to study the companies' internal configurations and dynamics around eight main topics which are essential for innovation in journalism: the professional profiles, identities and roles, the creation of multidisciplinary teams, the spatial dimension of newsrooms, workflows, leadership, creativity, corporate culture and knowledge transference between the different areas and employees. The results reveal that this type of organizations hire professionals with diverse thematic and technical specializations that constitute highly valuable resources both in the ideation and development of the products and in the elaboration of the contents. The creation of heterogeneous working groups is encouraged in order to cover all the aspects present in the needs of the target audiences. In addition, to meet this objective more quickly and efficiently, they adopt flexible workflows such as agile methodologies, especially in those units which are responsible for generating the products, since they allow constant testing of the products with users, and their subsequent reformulation or development.The effectiveness of transformational leadership on the innovative capacity of the companies is verified, since it fosters the creation of a shared vision that allows the alignment of workers' actions. In this way, companies promote organizational creativity through intrinsic motivation and professional autonomy, which are associated with this style of leadership. Knowledge transference is also encouraged, as companies look at the factors that affect the process of innovation diffusion and try to influence them, through various methods. Contact between different professionals and subcultures leads to a more innovative organizational culture. However, those areas which are most closely related to the content present greater reticence and difficulties when it comes to innovating due to a greater dependence on immediacy, and a more classic professional identity. In conclusion, this research contributes to media management and media innovation fields, as it provides a holistic conceptual framework applicable to the analysis of practical cases, studies the relationship between innovation and the processes that lead to it, and builds on the perspective of the actor-network to reject technological determinism. In addition, conclusions are drawn about the performance of these particular media, and a decalogue of recommendations for integrating the culture of innovation in these organizations is provided.
Keywords/Subjects:
empresa informativa
innovación en periodismo
periodismo digital
cultura organizacional
Knowledge area:
CDU: Generalidades.: Periódicos. Prensa. Periodismo. Ciencias de la información
CDU: Ciencias sociales: Demografía. Sociología. Estadística: Sociología. Comunicación
Type of document:
application/pdf
Access rights:
info:eu-repo/semantics/openAccess
Appears in Collections:
Tesis doctorales - Ciencias Sociales y Jurídicas

???jsp.display-item.text9???