Please use this identifier to cite or link to this item: https://hdl.handle.net/11000/1984
Estudio de gestión hídrica en la Comarca de la Vega Baja del Segura. Especial incidencia en el uso agrario del agua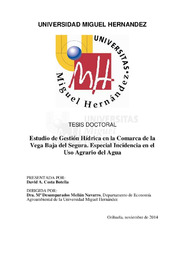 View/Open:
TD Costa Botella, David A_compressed.pdf
1,9 MB
Adobe PDF
Share:
Title:
Estudio de gestión hídrica en la Comarca de la Vega Baja del Segura. Especial incidencia en el uso agrario del agua
Authors:
Costa Botella, David A.
Tutor:
Melián Navarro, Amparo
Department:
Departamentos de la UMH::Tecnología Agroalimentaria
Issue Date:
2015-03-06
URI:
http://hdl.handle.net/11000/1984
Abstract:
El vínculo entre el agua y la comarca de la Vega Baja se pierde en el transcurrir del tiempo. El agua ha determinado tanto el desarrollo demográfico, como socioeconómico de la comarca "bajosegureña" a lo largo de los siglos. Es precisamente el modo de gestionar los recursos hídricos existentes inicialmente (río Segura) como los aportados posteriormente (trasvase Tajo-Segura, explotación de acuíferos, depuración o desalación entre otros) lo que ha transformado y ha hecho evolucionar este singular territorio hasta su configuración actual. El propósito de la presente Tesis es contribuir al estudio de ese vínculo especial entre el agua y la comarca. Por ello, en la primera parte de este documento se realiza una extensa contextualización tanto del territorio objeto de estudio, como de la principal fuente del recurso hídrico en la comarca de la Vega Baja, como es el río Segura. Se describen parámetros físicos, bióticos, socioeconómicos, así como se relatan aspectos jurídicos o institucionales, en lo que supone una primera aportación novedosa al estudio, la recopilación de toda esta información en un solo documento y de forma conjunta. Una vez contextualizado el objeto de estudio, en la parte empírica de la tesis se plantean cuestiones de futuro para el uso agrario del agua en la cuenca mediterránea. El cumplimiento de la Directiva Marco del Agua, el adecuado uso de las aguas depuradas y desaladas, el papel presente y futuro de las comunidades de regantes en la gestión del recurso hídrico y los principales retos a los que se enfrenta la disponibilidad de agua para riego, así como las posibles soluciones a afrontar, son los temas que se tratan mediante la realización de un trabajo empírico, circulando una encuesta on line a un total de 74 stakeholders que por su perfil profesional se encuentran capacitados como expertos para opinar sobre la materia objeto de estudio. Esta técnica de estudio ha permitido identificar si los objetivos planteados en la Directiva Marco del Agua se logran en el plazo establecido por la misma, haciendo especial hincapié en aspectos económicos (coste del agua, tarificación del agua y su influencia en la competitividad de la agricultura, o la determinación de responsabilidades en los costes derivados de la contaminación del aguas por vertidos), aspectos medioambientales o aspectos de gestión tanto del territorio como del recurso en sí. Del mismo modo se han determinado las posibles restricciones en el uso de agua desalada y depurada teniendo en cuenta el tipo de cultivo al que va a ser aplicada, la disponibilidad de otro tipo de recurso, el grado de toxicidad de las mismas o la limitación que podría suponer el precio del agua desalada en el uso agrícola. Para finalizar, se identifican los principales problemas que presenta el recurso hídrico en el uso agrícola. Estos son sobre todo, la salinidad y la falta de regularidad en el suministro, con las consecuencias que ello podría tener a nivel de gestión de los cultivos. Por último, se plantean algunas soluciones, las cuales pasan por avanzar en garantizar la disponibilidad de agua y profundizar en técnicas de ahorro de agua
The connection between the water and the Vega Baja County can be traced back to the beginning of time. This water has been of such importance throughout the centuries that it has determined the demographic as well as the socio-economic development of the "bajosegurena" county. This territory has been transformed and has evolved precisely due to the management of the available natural hydrological resources. This includes but is not limited to the existing Segura River, the diverging canals of the Tajo-Segura, aquifer use, wastewater management and desalinization. The objective and purpose of this thesis is to demonstrate and augment to the study of the special relationship between water and this county. The document begins by examining in extensive depth the objective of the study with emphasis on the river Segura which is the principal hydrological resource of the Vega Baja. The distillation of the physical geography, biological, socio-economic, legal and/or institutional aspects of the matter has been exhaustively compiled into a single encompassing document. Upon contextualizing the objective of the study, the empirical section of the thesis proposes questions regarding the future use of hydrological resources of the Mediterranean region. The highlighted and examined themes are as follows: the implementation of the Directiva Marco del Agua, the appropriate employment and management of waste water, desalinization, the community's current and future role in the hydrological resource management which directly stem from the current challenges and proposed future solutions. All of the prescient themes and challenges explored in this document have been empirically validated by an on-line survey of 74 professional stakeholders' expert opinions regarding these issues. The method used in this study has demonstrated whether the set objectives on the Directiva Marco del Agua can be achieved in the allotted timeframe. Special consideration has been made to the environmental, geographical and resource management and economic aspects (initial and final price consideration of water in terms of its agricultural consumer market end use and the possible costs of spillage and contamination). This study also uncovers various other considerations, including: the possible restrictions of waste and desalinated water considering the agricultural end use and application of these waters, the possible availability of other types of resources, toxicity levels and the considerable cost factors of desalinized water which could impede implementation. Lastly, the intersection of the current agricultural demand and what limited hydrological resources are available is observed. Two of these challenges are the salinity level and absence of delivered-water consistency, which directly affect efficient management of the agricultural use. In conclusion, possible solutions to the issues of guaranteeing the availability of water and the most effective methods of water resource conservation are presented
Keywords/Subjects:
Agua en la agricultura
Consumo de agua
Recursos hidráulicos
Knowledge area:
CDU: Ciencias aplicadas: Agricultura. Silvicultura. Zootecnia. Caza. Pesca: Agricultura. Agronomía. Maquinaria agrícola. Suelos. Edafología agrícola
Type of document:
application/pdf
Access rights:
info:eu-repo/semantics/openAccess
Appears in Collections:
Tesis doctorales - Ciencias e Ingenierías

???jsp.display-item.text9???